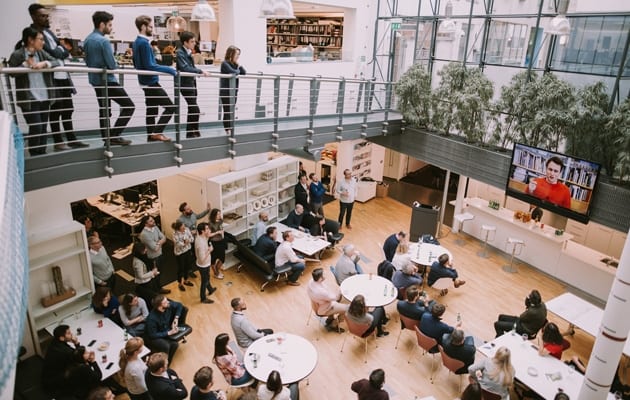 The social atrium space at Grimshaw|||
For architects and designers, creating an office space is increasingly becoming about more than rows of desks and access to natural light. Greater understanding of our mental and physical wellbeing and the impact on our performance is affecting how spaces are conceived and designed – and the global attention now on the threat of climate change means the construction industry are reckoning with the impact the industry is having.
For the younger generation of designers, these issues are already central to their work, as a conversation with Annabel Koeck, associate at Grimshaw and a Global NextGen committee member of the British Council for Offices (BCO).
Koeck chaired a panel at the BCO Conference in Copenhagen, discussing the differences between British and Danish ways of working as well as generational divides and the challenges designers face in tackling them.
"One of the big issues is presenteeism [in the UK]," Koeck tells OnOffice in an interview after the panel. "In Denmark, people have shorter working hours, often they'll walk out of the office at 4.30, 5.30."
But the rise in more flexible workspaces could be one way of reducing this issue in the UK, Koeck suggests, saying the market is already starting to find and provide it, in part due to the increased costs of office space in the UK capital. "Space wise it's much tighter in London, so to try to solve that you go to more flexible working, hot desking… which kind of ties in with presenteeism, because if your workplace is looking to be more efficient, spatially, they're suddenly encouraging quite a millennial way of working."
Koeck also raise the membership concept as a growing form of coworking, a trend that was also highlighted by panellists at OnOffice talk at Clerkenwell Design Week, where the founders of Cuckooz Nest and Fora Space explained how and why they used a membership model.
Equally important to a younger workforce – if not more so than flexibility – is an opportunity to interact and engage, particularly around food, says Koeck. "As part of [the BCO exhibition in 2018] in Foyles, we printed these little questions for everyone who came to answer, how do you imagine your future workplace? There were about 200 responses. We haven't done the numbers, but I feel like 99% of them were food based – it's astounding. So technically, based on our public survey, engagement equals food."
Although anecdotal, the research would appear to back up the Danish model as a means of creating an engaged workforce. Denmark has topped the world index for happiness several years in a row and work-life balance is consistently found to be strong there – it's also a place where a communal lunch break, often with food provided or subsidised by the employer, is commonplace.
"You can see how in workplaces if you just have more kitchens, people just stand in kitchens," says Koeck. "They stand getting tea. It's very social – and probably not terribly revolutionary."
The same is true in Koeck's own office, she explains, where a high-ceilinged central atrium creates a space for people to meet, chat and sit for lunch on a specially designed staircase.
Communal spaces seem to be key to promoting engagement, and Koeck says that clients are becoming increasingly aware of this too, mentioning a fit out at a tech incubator in Bristol where the client requested columns be added specifically for people to walk around and lean against while having a chat.
Equally this flexibility in the workforce needs to be matched by spaces and Koeck is aware of the challenges around long-term viability and sustainability of spaces. "The lifespan of companies as gone from 60 years [half a century ago]; today, it's 12 years. So your lifespan of companies is shrinking. And you think of the permanence of the construction industry and commercial development? How do you marry those two things up?" She adds that designing is now a case of building in "soft spots", places where a future user could cut through a floor or add in a theatre or create a mezzanine to suit their needs.
Koeck references the growing appetite for refurbishment, "particularly in London", and the climate benefits that come with reuse. There's also the tech coming in to help those future designers, "like sensors in foundations, so when someone else comes along in 50 years, they'll know what they can do structurally." Designers might not know what the world will look like in the next half century, or even decade, but they can plan for the next generation. "Everything is about flexibility," says Koeck.