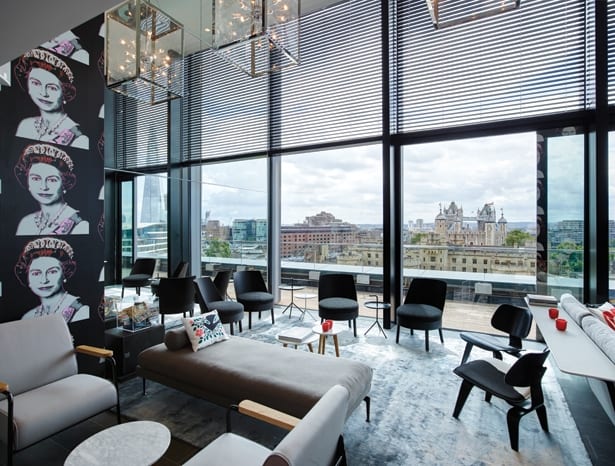 The CloudM bar on the top floor opens up to the London skyline|||
CitizenM's Tower Hill hotel is the brand's exciting new flagship. It's the epitome of the unique, lifestyle experience promised by the innovative hospitality brand and its all-encompassing design team Concrete. Practical luxury and flexible spaces meet high-tech solutions and quirky design details. Concrete works across architecture, interiors, urban development and brand development – the agency doesn't just create spaces for its clients but helps to shape their whole brand identity.
"We have been involved in CitizenM as of day one," Erikjan Vermeulen, Concrete's head of architecture, tells me at the Tower Hill opening this June. "We started to work together and talk about the market and what people really need or want from hotels… developing this idea of taking a five-star room or experience but removing the parts that modern travellers don't need, but still pay for."
A dramatic terrace provides one of the best hotel views in London
The first CitizenM hotel opened in 2008 in Schiphol airport and "from there it got bigger and bigger", says Vermeulen. The two Dutch companies have since collaborated on hotels in Paris, New York and London Bankside. Concrete has been responsible for the architectural design, interiors and incorporation of local architects for each project.
As with the earlier CitizenM properties, the Tower Hill hotel features high-quality design, helpful technology and site-specific art. It boasts new elements too – such as CoffeeM, a dedicated coffee shop for locals as well as hotel guests.
It's the largest hotel yet – 370 rooms over eight floors – and also leads on location. The hotel is built on one of London's most historic sites, opposite the Tower of London. It sits on top of one of the city's busiest underground stations.
The imagery used throughout reflects the hotel's London location
A light glass and limestone facade mirrors the buildings surrounding the hotel and a dramatic terrace provides one of the best hotel views in London, a complete 360-degree view of its famous skyline. "It's part of the whole CitizenM strategy to develop the hotels themselves. As of day one, we are all in control of what we want it to look like," says Vermeulen.
Guests enter through a signature CitizenM red glass box, their attention immediately drawn to the trademark oversized shelves loaded with books, art and ornaments. At this point they are automatically connected to superfast wi-fi.
Vintage cricket bats, Union Jacks, decorative crowns, bulldogs and toy soldiers celebrate London as a whole – and more specifically the Tower of London. Local art and culture has been beautifully woven throughout the entire interior.
Hotel guests can use the top floor for work and lesisure
Vermeulen says it was essential to "embed local influences" into the hotel, from working with nearby contractors to inviting businesses and guests to visit the site and the creative board that met once a month to discuss the design and art choices.
The ground floor was designed to be the heart of the hotel, with self check-in terminals arranged round small sapling trees. CanteenM has an open kitchen format with signature bar, while a working space is furnished with custom communal tables, providing free use of iMacs and printers. Bright red picnic tables on the outdoor terrace look on to an ancient Roman wall.
Concrete ensured that each hotel room has a luxurious bed, a Hansgrohe Raindance shower and a large wall-to-wall window – with views on to the city surroundings. Guests can also look out onto the beautiful kinetic light installation from Dutch design duo Studio Drift where material-covered lamps continuously float up and down past the eight floors of the hotel.
Bright colours and bold furniture give the lounge a youthful feel
Another really fun element is the control iPad."With the press of a button and with one device, you can control everything in the room," Vermeulen explains – from themed alarms and temperature to coloured ambient lighting.
At the top of the hotel is the CloudM bar. From the balcony, which extends from the double-height bar, guests can see a stunning panorama of London's skyline. The top two floors are also home to SocietyM's creative business meeting rooms, where whiteboard and blackboard paint meet with vintage typewriters and Bakelite radios to produce a cutting-edge space that evokes a 1950s design ethos.
Vermeulen sums up the CitizenM hotel design ethos and its target users: "These travellers need a space where they can open their laptop and do some work without getting disturbed, but a space that is still inspirational… At the same time it needs to be a space where they feel at home.
Careful detailing gives bedrooms a luxurious feel
"You can watch television downstairs, you can drink a beer when you want to, you can meet friends and have fun and you can meet someone for business too. It's a really transient, fluid and personalised space where you can do what you want at any moment in the day."
CitizenM Tower Hill is youthful, flexible and luxurious. Its progressive brand partnership has used bold design to challenge what the modern hotel experience means. They are already looking ahead to new hotels in Shoreditch, Paris and New York.
CanteenM on the ground floor has an open kitchen format
It may be full of pictures of the Queen but Concrete's interior for CitizenM's London flagship is no pillar of the establishment