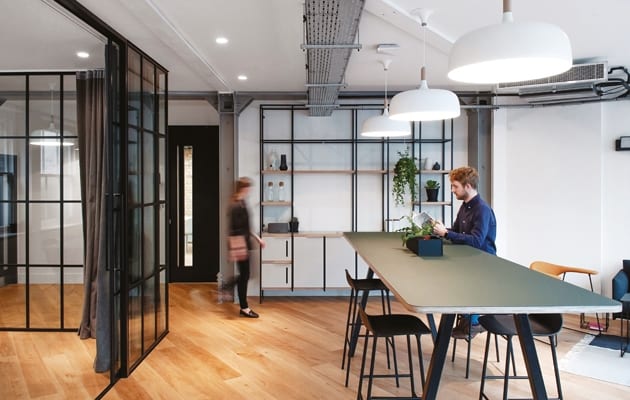 Hût has created an iformal feel using traditional materials, in Storey|||
It's a curious meeting of worlds at Appold Street in the Liverpool Street area of London, where one of Hût Architects' latest projects is located. As you are walking across Exchange Square, Make Architects' stainless steel-clad 5 Broadgate looms large across this dividing thoroughfare that runs adjacent to Broadgate between the City of London and Spitalfields and Shoreditch.
Hût, which refurbished and extended Appold Studios, one of the first iterations of British Land's new flexible working brand Storey (as reported in OnOffce last year) points out that the building is, by a whisker, in fact in Hackney. And, from the moment one enters this converted 19th century furniture warehouse, the feel is definitely – and deliberately – more pegged trousers and loafers than pin-striped suit. British Land hoardings and the developer's plans for a greener, more inclusive City of London are much in evidence walking around this part of town, and this Storey site very much plays its part in bolstering that.
Mini roomsets provide comfortable shared space for tenants. Photo: Emanuelis Stasaitis
"We wanted it to feel warm, inviting and informal," says Hût director Andrew Whiting, who, with associate Rachel Eccles, led the project from the architect side, working with George Jamieson – and who originally showed me around on the eve of its offcial launch in June. Structurally, the original brickwork of the buildings has been revealed and steel columns not hidden either, while the lift mechanism has been replaced.
Storey's office space is flexible, open plan and well lit. Photo: Emanuelis Stasaitis
As Chris Grigg, British Land's chief executive, set out at last summer's launch, the company's three core principles are: "understanding our customers so we can respond to their needs, creating greater environments both within our buildings and their broader environments, and using our scale, expertise and long-term outlook to deliver across our portfolio."
British Land's timely flexible working brand is showing its design muscle with a branch on the edge of the City