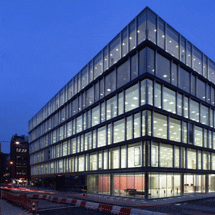 Height restrictions and a deep plan are not promising conditions in which to create grade A office space in an increasingly bearish lettings market. But art and light have come to the rescue to humanise the interiors of the newly-completed Qube on London's Tottenham Court Road.
When you walk into the entrance hall of the 10,000sq m building, designed by London-based practice EPR Architects, the first thing that greets you is a vibrant 15m wall painting of striped colours that wraps around the lobby space. The pattern, created by Turner prize nominee Ian Davenport and poured onto 1m metal wall panels, lends the rarefied feel of a modern art gallery.
Moving up to the first floor, visitors are greeted by a five-storey atrium broken up by balconies that protrude from each floor. The wall fresco, painted by fellow Turner Prize nominee David Tremlett, was conceived "as a way of creatively joining all five floors of the atrium space in a geometrical yet organic way", with flowing lines, arches and solid forms.
The art is bathed in natural light with the help of the fully glazed elevations and the generous volumes of the entrance hall and atrium space. Surrounded by so much characterless glass, it gives a welcome focal point. "The art humanises the interior, bringing warmth and a sense of intimacy, while the full-height glazing gives a sense of connectivity to the outside world," says EPR chairman Gregory Craig. "It's a recipe we have continually found appeals to occupiers, whether they are interested in art or not."
EPR and office specialist Derwent London worked with Kate Sweeney, of art consultancy Perspective. The art is the focal point of an interior that is otherwise rather functional and will need to be further enlivened by the fit out, which new tenants will be responsible for. Openness is facilitated by the post-tensioned concrete slabs with structural spans of 9m and 7.5m, which keep the number of columns down. The height restriction has dictated floor-to-ceiling heights of 2.75m, rather than the 3m-plus preferred by EPR. Extra space is gained by excavating a new plant room below the building and minimising the ceiling void to 525mm. This was achieved by using fan coil units that do not require as much duct work. The fan units are movable, as are the luminaries supplied by Zumtobel that are integrated into the perforated metal ceiling panels.
The building, with its random cladding composition of 3m- and 1.5m-wide glazed panels with distinctive white laminated glass fins, is a bold addition to the Fitzrovia Estate, which is marked by handsome if rather prosaic Victorian terraces and drab Richard Seifert-style 1960s offices in glass and concrete. Derwent London grew out of London Merchant Securities, which originally owned much of the Fitzrovia Estate, and as a result the developer now owns more than 9.3 million square metres in the area. But Derwent London chief executive John Burns claims that the Qube stands out. "Our aim was to create a new focal point for the estate and provide an exciting, uplifting and fresh building to attract new high profile occupiers to the area," he says.
EPR has been involved in studying the refurbishment since 1997, but because of market conditions, work on revamping the original U-shaped 1960 office (designed by CL Eltham & Partners, which EPR grew out of) did not start until three years ago, finally completing in November 2007.
It is hoped that it will attract an eclectic mix of tenants, but so far only one tenant has confirmed a 15-year letting – Aegis Media, which will be taking the first floor (although each floor is sub-dividable by three if needs be). Aegis is taking the space at a healthy £57.50 per square foot, although the deal has been sweetened with a 15 month rent-free period.
The building could have up to 50 per cent in a cellular configuration, following an independent study for Derwent London by Gensler that found there were still considerable demand for it in this part of London. "The interior could be cellular because the glazing allows for it," said Craig. "Many new buildings these days have got a deep plan but less window space, and the capability for cellular drops dramatically as a result."
Earlier incarnations of Derwent London and EPR have been working together in Fitzrovia since 1950 and it is hoped that the Qube has finally brought the estate into the 21st century.