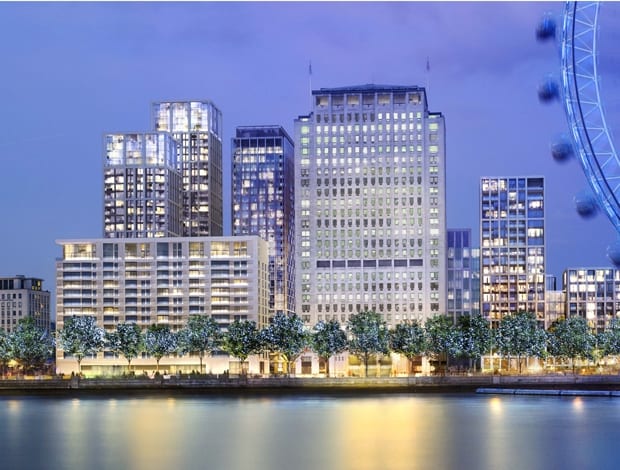 The scheme includes eight new buildings that will cluster around the existing Shell Tower||
Squire & Partners' £1.2bn Shell Centre scheme on London's South Bank has finally been given the go ahead, following "substantial controversy" over its potential impact on the heritage sites across the river.
The development includes eight new buildings – by Squire & Partners, which also created the masterplan, as well as by KPF, Grid Architects, Patel Taylor and Stanton Williams. The existing 27-storey Shell Centre Tower will be the centerpiece of the scheme, but a large proportion of the original 1960s complex will be removed.
Once completed, the scheme will include approximately 74,000sq m of office space; 7,400sq m of retail and restaurant space and up to 877 new homes, including affordable housing.
The so-called 'South Bank revamp' was given the green light in May last year, with mayor Boris Johnson describing it as "world-class" architecture that would provide hundreds of homes and jobs, as well as a "huge economic boost". However, communities secretary Eric Pickles subsequently launched a public inquiry to determine whether it would have an impact on Parliament Square on the other side of the river, which is a Unesco World Heritage Site.
Pickles has now said he is satisfied with the layout, scale and form of the proposed development, and that it is appropriate in the context of its proximity to Waterloo Station.
Michael Squire, senior partner at Squire and Partners, said the scheme would bring massive regeneration to Waterloo.
"[It will create] permeability between the station and the river, bringing life to the site through a new permanent population of workers and residents and introducing a revitalised public realm and a mix of uses, which will make it a genuine piece of the city."
Construction is due to commence this summer and expected to be completed in 2020.