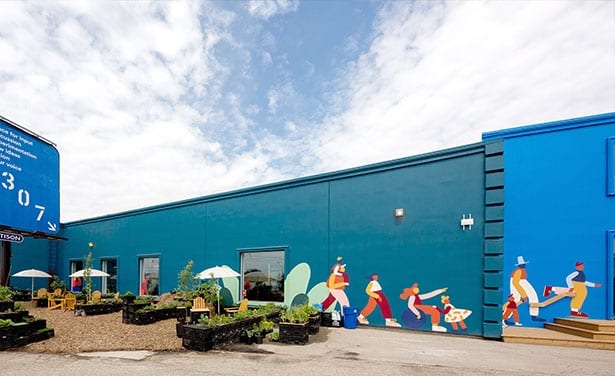 |||
In an industrial corner of Toronto, urban developers, architects and designers have come together to breathe life in to the new Quayside neighbourhood.
Sidewalk Toronto has opened to address urban challenges, engage with the public and ultimately improve quality of life in the city for the next generation.
The project brought in various creative minds to bring the whole concept together.
Photo by Adrien Williams
For the office itself, architecture firm Lebel & Bouliane led the vision. "Our approach was to design a backdrop where conversations between Sidewalk Toronto and the public could happen naturally," architect Luc Bouliane comments.
As for the outer shell, entrance and hybrid exhibition space within, named 307, this was the work of Montreal studio Daily Tous Les Jours, which specialises in participation through interactive installations.
Co-founder Mouna Andraos describes how it analyses how people live in cities: "As urban areas become increasingly dense, it's important to explore how we can care for public space in the future."
For the exterior, Daily Tous Les Jours commissioned Canadian illustrator Cecile Gariepy to create a mural. The line-up of everyday figures (including one with a kayak to reference the nearby lake) hopes to encourage a variety of visitors to picture themselves using the space.
Inside, the fluidity of the design strengthens the warm welcome. All furniture is on wheels and tables can pop out, so the layout can be reconfigured as required.
Guests are invited to lounge on 100 recycled foam cubes, which are easily movable and also serve as malleable shapes for children to play with.
Photo by Adrien Williams
Visitors can also gather outside, where three-step mobile stoops (also on wheels) can be found.
Decorative yet functional and easy to move, these are a good example of how Daily Tous Les Jours approaches form in a way that's "playful but with quality execution", as Andraos puts it.
The materials themselves were chosen for their quality: hi-tech corrugated aluminium and coloured MDF for table tops are raw yet resilient.
The 60 raw wooden table legs were custom built by an artisan from Quebec to "give rhythm to the space".
Daily Tous Les Jours kept in markers of the construction; these details reveal the building's past to help the public imagine what could come next.
The building's fame lends itself to natural light but each unit/table boasts its own fixture to attract the eye.
Photo by Adrien Williams
The building's Public Lab exhibition introduces the evolving vision of Quayside to the citizens of Toronto through a Plan Your Neighbourhood interactive table.
This initiative invites people to play an active role in the future of the area. Users can watch a virtual neighbourhood transform by playing with building density, street type, public space, greenery, lighting, energy efficiency and so on.
Catering for such interactions "encourages people to better engage with their environments", as Andraos explains, and so Sidewalk Labs provides a real potential for Toronto's citizens to shape Toronto's Quayside – a neighbourhood that stands ripe for contribution.
Experimental hub Sidewalk Toronto invites the public to contribute to the future of Toronto's Quayside