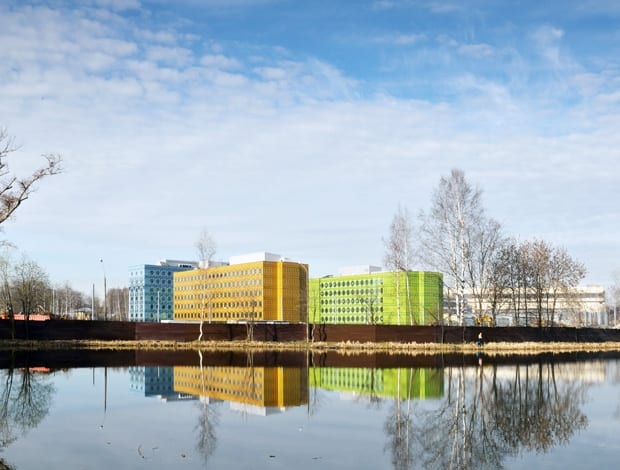 The three buildings sit on the Neva river, opposite the classical Smolny Institute|Osen, Sima and Leto surround a plaza that acts as a car park and meeting place|The reflection of one building in its opposite number creates kaleidoscopic effects|Zima (Russian for Winter), like its counterparts, has a printed glass facade|The jaunty colours and motifs of the glass facades are selectively repeated inside||
With their digitally printed facades inspired by plants,

this trio of St Petersburg office buildings supress their

location's Bolshevik past with pop art exuberance

A long-overdue restitution of nature was the main inspiration behind a new complex of offices in St Petersburg's municipal and administrative district of Kalininsky. The area is named after Mikhail Kalinin, a Bolshevik revolutionary and politician, and the project's three glass buildings appear to have been designed to erase all traces of the Soviet era, during which the area was largely swallowed up by the production facilities and warehouses of a factory that made engines for the Imperial Russian Navy's Rossiya cruisers.

Designed by German architects NPS Tchoban Voss for Russian real-estate developer Teorema, the concept behind the new glass buildings – whose facades are digitally printed with decorative motifs such as flowers and leaves – is highly romantic in its desire to restore nature's presence in this flat, formerly industrial stretch of land on the eastern bank of the river Neva. It's as if the architects viewed it as a lamentably forlorn former Eden, once blighted by the Bolsheviks, which they have now happily resurrected. In fact, the site was once truly pastoral: formerly a tree nursery, it was later transformed into a landscaped private park for the mansion of the aristocratic Kushelev Bezborodko family in the 19th century. Today, this is hinted at by the large expanse of grass dotted with trees behind the new buildings.

"The buildings' nature motifs refer to the large park once located on the mansion's plot," confirms Sergei Tchoban, the project's chief architect. "After the Russian revolution, the green area was destroyed and covered with industrial buildings."

The three new buildings are a playful, flamboyant, maximalist riposte to this industrial landscape, and then some. In fact, they are so flamboyant that their evocation of nature is super-stylised. Each one represents a different season – hence their collective name, Seasons Ensemble – yet the buildings' fully glazed facades, which front three sides of a rectangular plaza, are vividly, artificially colourful. One acid-bright green building is called Leto, the Russian word for summer. Its aesthetic is defiantly pop, its facade's pattern of splashy, outsized floral motifs reminiscent of Andy Warhol's 1960s Flowers paintings. Even the schematic, flat quality of these motifs mirrors those of Warhol's screenprinted paintings, which aimed to mimic mechanically reproduced commercial imagery.

Another in orange, named Osen (Russian for autumn), is emblazoned with autumnal leaf motifs. The third, central one, called Zima (winter), is decorated with cooler grey and blue motifs and – in a nod, perhaps, to postmodernism – deliberately historicist, neoclassical Corinthian columns and corbels in the shape of lion's heads.

The project's pop aesthetic also puts me in mind of 1990s design and its predilection for zesty, citrus hues, from lime green to tangerine (remember those cartoonish plastic Alessi kitchen utensils in zingy, feelgood, childlike shades?). That said, the buildings' decorative skin is part of a very current architectural trend for ornamental facades with organic motifs; think Squire & Partners' house in Mayfair, completed last year, which is adorned with a bronze, shingle-like skin shaped like vine leaves.

In a sense, this maximalist approach is not out of place in a location that is in fact more multilayered historically, more culturally rich than its Tsarist and Soviet incarnations would suggest. At the end of the 19th century, the Kushelev Bezborodko family abandoned their estate, which was then turned into a nursing home. At the time, Alexandre Benois, a Russian painter, art critic and designer for the Ballets Russes, spent time in the neighbouring resort of Polyustrovsky, where he promoted the avant-garde art movement, Mir Iskusstva. Founded in 1898, this championed the principles of Art Nouveau. In light of this, it's possible that the nature motifs wrapping Seasons Ensemble pay homage, too, to Art Nouveau.

The project is also situated opposite the Smolny Institute, a wedding cake-like Palladian building that was Russia's first educational establishment for women. In 1917, Lenin commandeered it as the Bolsheviks' HQ during the October Revolution; it's now the residence of the governor of St Petersburg. A further, unexpected layer of history can be found in the Leto office block, which incorporates one of the original, unfinished Rossiya factory buildings – the only vestige of the site's Soviet legacy.

How did NPS Tchoban Voss come to design this project? "We've worked with this client before on other projects in St Petersburg, including converting buildings into offices," says Tchoban. As he explains, there's more to Seasons Ensemble than pretty facades: more subtle than they first appear, they become more transparent or opaque in response to different weather conditions.

"Due to its northern location, St Petersburg has little daylight all year long, especially in winter," says Tchoban. "The colourful facades can be backlit, which counteracts this gloomy atmosphere." So, in foggy conditions by day, the buildings, when illuminated, look ethereal since their harsh, geometric silhouettes are softened. In strong sunshine, however, they appear more solid and opaque. And on a more mundane note, there was a practical reason why the architects plumped for glass: "Glass facades are easy to clean, which is especially advantageous in St Petersburg, one of Russia's most polluted cities."

Glass panels printed with motifs have also been installed in the buildings' interiors, making them equally colour-drenched, while the metal elements on the glass-enclosed lifts have been coated with metallic green Duraflon, a stove-enamel finish used on facades and windows. What's more, claims Tchoban, the double-glazed facades offer a high level of insulation, rendering the buildings sustainable.

Meanwhile, the plaza is designed as a social space. "It's where employees get together," says Tchoban – although it also serves as a car park. The project wasn't devoid of difficulties. "The glass panels, which were made in Germany and had to be transported all the way to Russia on trucks, come in different sizes, so cutting them in such a way that the motifs fitted on them perfectly was a big challenge," says Tchoban.

At first sight, the impact of Seasons Ensemble's colourful glass carapace seems superficial – primarily pop and fun. But the fact that it becomes animated in different ways as it reacts to changing weather conditions lends it some subtlety. Even so, the project's unapologetically bold, jaunty aesthetic also begs the question as to whether it will stand the test of time.