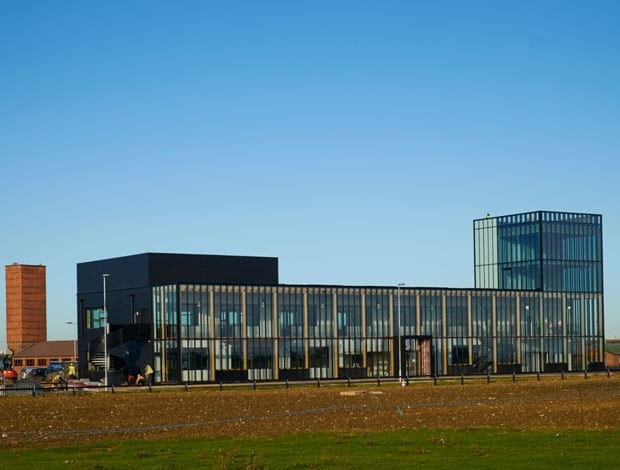 AHMM's Alconbury Incubator © Timothy Soar|WWF-UK's Woking office by Hopkins © Richard Stonehouse Architects|Sum Studios by Studio Gedye|Alfriston School by Duggan Morris Architects ©|Manchester Metropolitan Studen Union © Hufton + Crow|Orms' Uppingham Science block © Killian O Sullivan||
Educational projects are leading the way in this year's RIBA Regional Awards, while offices lag behind with just three awards.
Of the six regions announced so far, nine university and schools have received awards and three office projects. The news comes as universities across the UK announce multi-million pound investments in their buildings. These include £1bn by Manchester University; £350m by Manchester Metropolitan University; £275m by the University of Exeter and £260m by Birmingham City University.
Demand for offices, especially in London, has picked up as the economy continues to grow. Capital values have recovered by 28 per cent from their recession low; however, they are still 29 per cent below the 2007 peak. This increase in commercial property values is set to continue in 2015, offering a solid proposition for investors and developers.
Winning offices include AHMM's £2.5m Alconbury Incubator building from RIBA East; WWF-UK's Woking office by Hopkins Architects (view case study) from RIBA South East; and Sum Studios by Studio Gedye from RIBA Yorkshire. The latter two also took the Sustainability awards in their regions.
Orms took the RIBA East Building of the Year for the Uppingham School Science Centre, as well as the Client of the Year and Project Architect of the Year awards (view Orms profile). John McAslan + Partners' Lancaster University Engineering Building also snagged multiple awards, taking RIBA North West's Sustainability and Architect of the Year awards.
Other winners include Make's £5.9m 'The Barn' at the University of Nottingham; Manchester Metropolitan University Student Union, Feilden Clegg Bradley; and St Bosco Arts College by BDP (view case study).