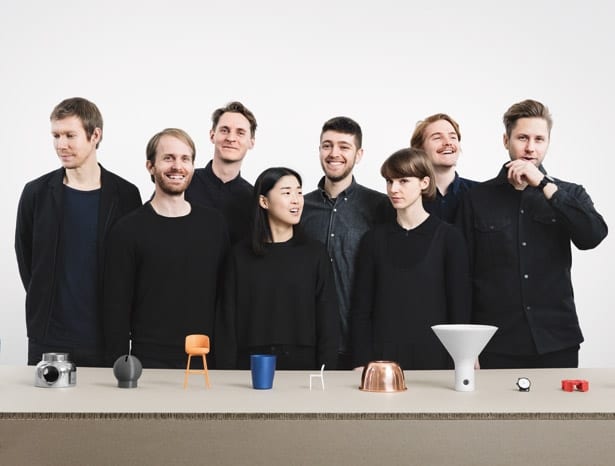 |||
Greenhouse
Once again, designers and design schools from across the globe will exhibit at the Greenhouse, the fair's hall for independent, upcoming designers. This year, design studio Form Us With Love was commissioned to design a concept for the hall's strategic development. Based on feedback from 2016 and with help from students of Berghs School of Communication, it developed a mentorship programme. Five mentors will each select a protegé on the first day of the fair, sharing their invaluable industry knowledge for one year.
Design Bar
The task of creating this year's Design Bar went to Stockholm-based Note Design Studio, founded in 2008. Working with the concept "Sulla bocca di tutti", meaning "on everybody's lips", the studio will provide a warm and inspirational experience for visitors – a cross between an exhibition and a world-class restaurant. The layout will be open, with a colour scheme that ranges from light pink to deep burgundy.
Talks forum
Sustainability is the theme for this year's Stockholm Architecture & Design Talks, highlighting trends in sustainable design through lectures, panel discussions and interviews. There will also be an update on last year's topic: the development of Stockholm's architecture and urban profile. A series of small talks will also take place at the Welcome to Woodland exhibition of innovative contemporary wooden architecture.
&tradition
Danish design company &tradition creates products that team craft and art, function and form. A series of launches at the fair include the Working Title table lamp by Harri Koskinen, a classic design archetype with the added functionality of a dimmer button; and the Fornell by Andreas Bozarth Fornell, a pendant lamp that plays with aluminium to create a matt-finished exterior and a polished, mirror effect on the interior.
Bolon
Bolon's latest collection was designed by Pritzker Prize-winning French architect Jean Nouvel and is the Swedish company's first architect-driven flooring. With its clean material expression and flexible application, the collection Bolon by Jean Nouvel Design was created to address the concerns of architects. The woven vinyl provides a textural effect and comes in six colour combinations of black, grey, red and blue.
Camira
Hayley Barrett, designer of Camira's Patina range, was inspired by both the patterns and colours of nature. Based on an intimate blend of wool and flax, Patina balances composition with construction, reflecting the beauty and softness of nature as well as its subtle technical excellence. Its palette of 43 colourways are drawn from the natural world, with fresh new shades that complement the existing Camira portfolio.
James Burleigh
James Burleigh's Mylo benching system was designed with flexibility to the fore. The system is available in various solid timbers and a wide array of fabrics, and its exposed natural wood grain provides a contrast to the upholstery. Mylo can be selected in a range of width spans for greater adaptability. The bench was designed to be extra deep for comfort, making it ideal for waiting areas and gallery spaces.
Piiroinen
The Pi furniture collection from Piiroinen was designed by Dutch architect Diederik Fokkema and uses unique veneer technology. Its innovative three-dimensional flex veneer keeps the chair light yet rigid, while the flexible movement offers both strong support and comfort. The Pi collection will include stools, bar stools, chairs, armchairs, sofas and tables for dining, conferences and lounge areas.
Trend exhibition
Lotta Agaton, one of Sweden's leading interior stylists and creative consultants, has designed the Trend Exhibition 2017/18. Based in Stockholm, Agaton has worked on international styling projects for over 20 years. Exploring the theme of Contrasts, she will present contrasts in materials, furniture and style. The stylist will also play upon the blurring of residential and commercial interior aesthetics – no longer a clear contrast and currently providing one of the most influential trends in the furniture and lighting industry.
Stockholm Furniture and Light Fair, 7-11 February 2-17
The Stockholm Furniture and Light Fair is a design calendar highlight, promising the very best in Scandinavian and international design