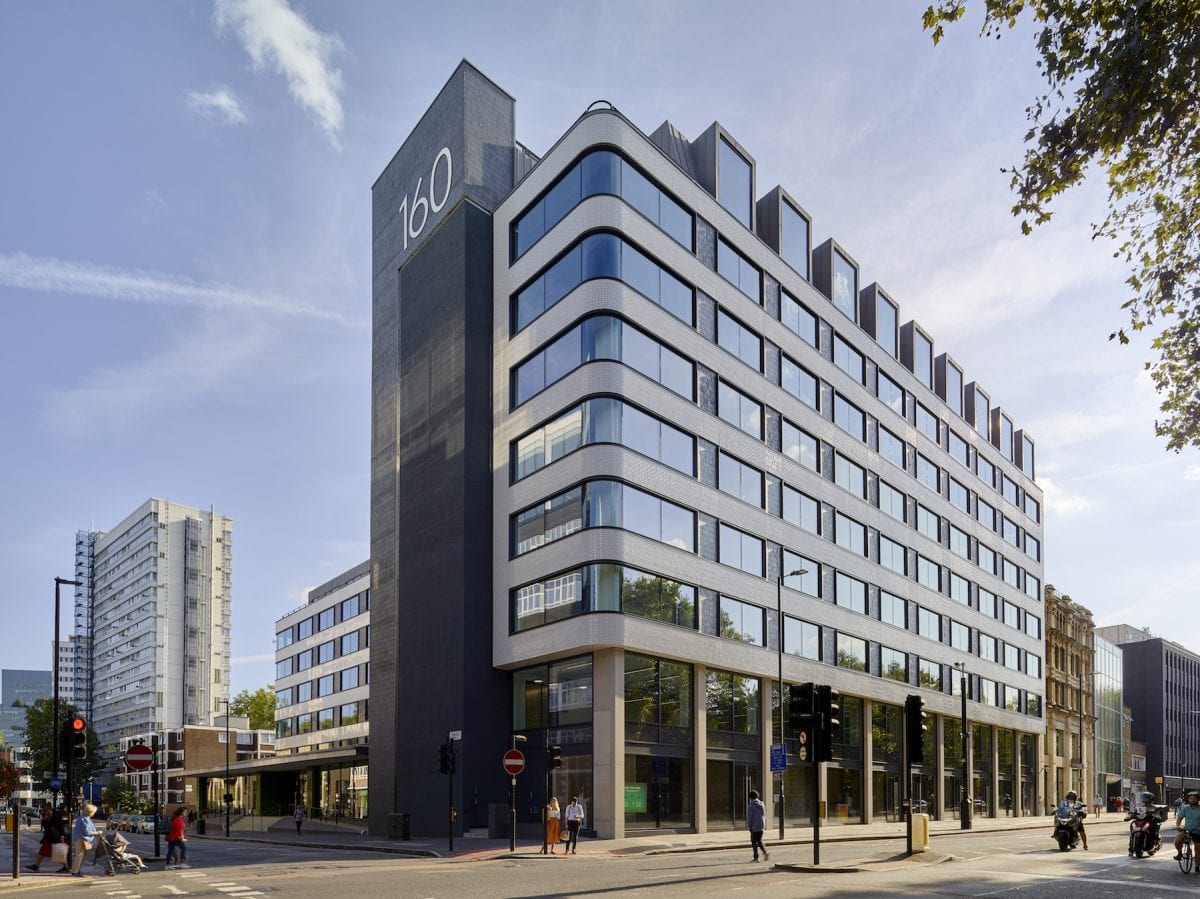 |||
A former Royal Mail Centre on Old Street, London has been converted into a contemporary office building, with 153,000sq floor space across 11 levels.
The project was led by Shoreditch-based architecture studio Orms, working with developers The Great Ropemaker Partnership. It has been fully occupied by the global media firm Turner Broadcasting, and includes a custom-built CNN newsroom.
The original structure, which dates to the 1970s, was built from brown bricks and brown single-glazed windows. Built to a relatively poor quality, in recent years it had suffered from ageing services and energy inefficiency. The 70s design was perched over a car park, reinforcing the building's disconnection from the street.
The interiors feature light, open office spaces, many of which have access to external terraces. Photograph © Timothy Soar.
The new design comprehensively transforms the building, within and without. The brown walls have been replaced by glass, grey-blue engineering bricks and glazed white bricks, creating a more engaging facade. The building's corner has been curved, softening its impress on the street below. A new entrance pavilion, on the calmer Bunhill Row, features green piers in volcanic brick, which subdivide the hallway in an echo of the building's overall open structure.
Orms have expanded the building by 65 per cent, a record for the practice. Most significantly, two additional floors have been added above the existing level, clad in zinc; the building's original lift shaft has been extended to match this new height. The Old Street facade is propped up by a double storey colonnade with voluminous open windows.
The entrance hall is clad with glazed green tiles. Photograph © Timothy Soar.
In order to facilitate the flow of air and light, upper levels have access to roof terraces on the building's south side, while three landscaped courtyards have been created for the basement floors. Once used to house Royal Mail vans, these levels have an expansive height.
Ensuring the survival of this history was crucial to the project. "Our challenge as designers," says Orms director Oliver Richards, "was to enjoy the building's unique history, using the strongest 'found' elements and balancing these within a confident but sensitive modern architecture." On Old Street, Orms have succeeded in honouring its site's original purposes while improving on its architecture.
The 1970s block on Old Street has been comprehensively refurbished and extended