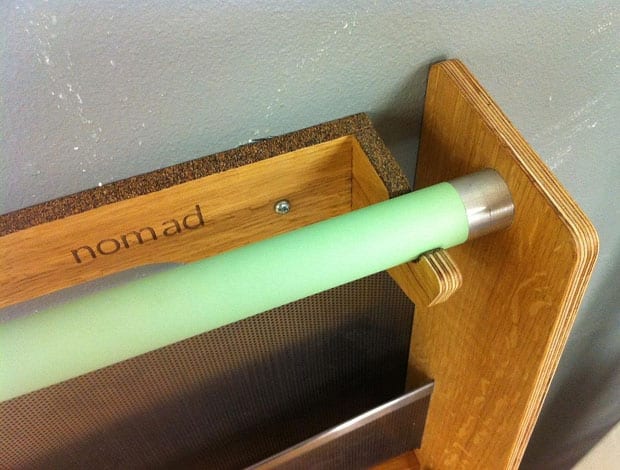 ||
This year was the 30th annual New Designers show, and presented a particularly strong crop of graduate design talent.
We scoured the show to find the freshest and most innovative ideas for the workplace, which we'll be presenting in our upcoming September issue. In the meantime, here's a taster.
Ben Ashby
For his final year project, Northumbria graduate Ben Ashby looked into human interaction around furniture in public places such as waiting areas and foyers. His Esker bench aims to visually define the number of people it seats while still being simple and adaptable. He's done so using a subtle upholstery technique, where the stitching alternates direction, therefore delineating sections for users to sit within. Ashby worked with professional upholsterers to develop the design, with a cushion wrapped in Blazer fabric by Camira, on a solid ash frame.
Chloe Q Fan
Inspired by Chinese landscape drawings, Kingston University graduate Chloe Q Fan has come up with a decorative yet functional item for open plan workspace. Landscapes is a bent steel coat stand with movable hooks, with a base that is angled to fit neatly into a corner. It comes with a fabric 'sock' that fits over the form to create an acoustic screen. It comes in two heights, both using the same size base for efficient manufacture.
Leo Shih
Drawing from his counselling training, Leo Shih based his FortyFive bench design on the theory that a therapist and patient should sit at 45degrees to one another. According to Shih, this is proven to make people feel more comfortable, less intimidated and more attentive.
The Kingston University graduate has applied this to a seat for the workplace, where two people can have a casual meeting while sitting at a 45degree angle. The seatbacks are low, for resting elbows, and joined in the middle to create a platform for notebooks, laptops or drinks.
Wesley George
Nomad was one of a few wall-mountable desks onoffice spotted at the show, but Wesley George's attention to detail made it stand out from the crowd. Made from CNC cut oak-veneered plywood, Nomad has softly angled edges that allow it to fold into a compact form. It hangs on a hooked unit on the wall via a mint green carry handle, and features a perforated steel storage rack to hold desk paraphernalia.