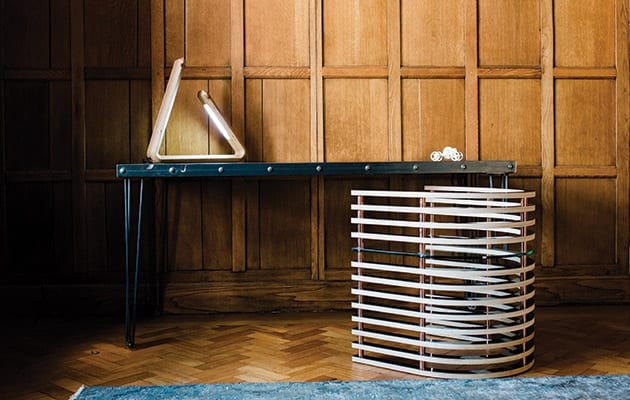 |||
After making a debut appearance at last year's 100% Design event, Odddot – a UK-based company founded by Paul Adams and Mags Gesta – launched a new furniture and lighting range that gave them an irresistible urge to return to the show.
As part of The London Design Festival, 100% Design will bring together more than 400 architects, product designers and interior specialists, as well as welcoming emerging and established brands alike. Presented within a zone titled Design London, Odddot is set to bring forward its utmost appreciation for small details, craftsmanship and for the more bespoke range of products.
So what can we expect this year? These details will be bestowed within a collection of plywood furniture, which includes products for any interior situation – such as home interiors, the office, kitchen or bedroom. "The new collection will be slightly different than the previous [exhibited at 100% Design 2017]," says the company. "We released a huge project not too long ago, when we had to laminate a lot of different shapes out of plywood – and that was when we fell in love with
flexible ply."
The Zynk Console Cabinet will be shown at this year's event
Although relatively new, this adoration with plywood isn't a newfound passion. The brand relies on constant experimentation and has always been drawn towards utilising a more natural materiality. "We have always loved wood, but plywood, in particular, started fascinating us a few years ago. We love experimenting, which is why we will most likely use many other materials in our collections," the company explains. For the collection set to release at 100% Design, the company explains how it will "be more down to earth" and that its purpose will be to "add character to any cherished room".
The Odddot ethos lies in five pillars: to be unique, quirky, thoughtful, attainable and restless. Each pillar represents a value to see things differently and to harness creativity as much as possible. "Mass-production is a dirty word to us," says the company's bio, which means, "every item is made with love, integrity and thought".
There are always factors – both positive and negative – to reflect back on when exhibiting for the second time running. For Adams and Gesta it was a completely positive experience: "We have been overloaded with love from last year. That was our first exhibition, so we didn't really know what to expect. But we have met so many amazing people, which is why we've decided to come back."
Exhibiting for the second year running, Odddot returns to 100% Design with a completely fresh furniture collection made out of plywood