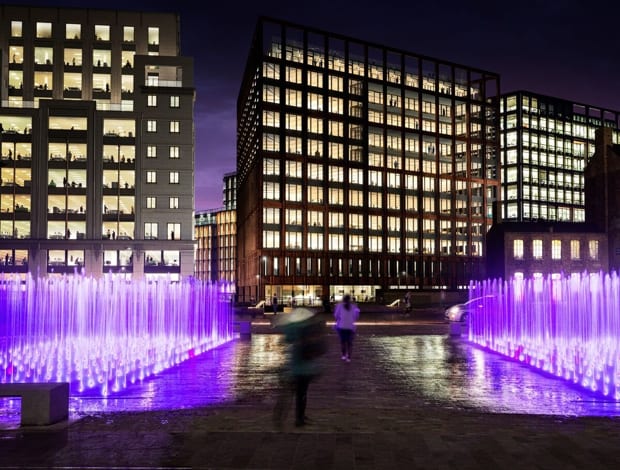 ||
Gensler, AHMM & Eric Parry took the top gongs in the office categories at today's NLA awards ceremony.
AHMM's 10 Burlington Street project won 'built winner' in the office-building category, while Eric Parry's proposed Four Pancras Square was named 'unbuilt winner'. Two Tabernacle Street by Piercy&company was commended.
The UBM office by Gensler won the 'built winner' award for office interiors; and Brian O'Tuama Architects' London Fields Office was commended.
Three office and mixed-use projects received Mayor's Prize Commendation awards. These were Pop Brixton by Carl Turner Architects, Here East by Hawkins Brown, as well as the Camley Street Incubator and Gateway Sites Regeneration by AHMM, Glenn Howells and KSR.
Overall, office and mixed-use office projects received 14 awards and commendations. The figure reveals a 75% increase in office projects recognised in 2014; and a 250% increase on 2013.
This jump could be attributed to an increase in both the quality and quantity of office projects in the capital. Additionally, growth in multi-purpose officesbuildings meant that offices were recognised in six categories, including Temporary, Mixed use, Housing and 'Conservation and Retrofit'.
Office Building
Four Pancras Square, Camden (unbuilt)
Eric Parry Architects
Completion: March 2017
10 New Burlington Street,
 City of Westminster (built)
AHMM
Completion: March 2014
Two Tabernacle, Islington (commended)
Piercy&Company
Completion: February 2015
Office interiors
UBM, Southward (built)
Gensler
Completion: February 2015
London Fields Office
, Hackney (commended)
Brian O-Tuama Architects
Completion: January 2014
Conservation and Retrofit
Commonwealth House, Camden (unbuilt)
Orms
Completion: March 2017
82 Baker Street
, City of Westminster (commended)
Marks Barfield Architects; Interiors by Forme UK
Completion: March 2015
South Bank Tower
, Southwark (commended)
Kohn Pedersen Fox Associates (KPF)
Completion: 2016
Housing
Lime Wharf
, Hackney (built)
Stephen Davy Peter Smith Architects
Completion: July 2014
Mixed Use
Mayor's Prize Commendation and NLA's unbuilt winner
Camley Street Incubator and Gateway Sites Regeneration, Camden
Allford Hall Monaghan Morris (AHMM), Glenn Howells Architects and KSR
St. Mary of Eton, Hackney (built)
Matthew Lloyd Architects LLP
Completion: October 2014
The Clockwork Lanes, Hackney (commended)
Cazenove Architects
Completion: November 2016
Mayor's Prize Commendation and NLA commendation
Here East, Hackey
Hawkins\Brown
Completion: Phased 2015-2016
Temporary
Mayor's Prize Commendation
Pop Brixton, Lambeth
Carl Turner Architects
Completion: 2017+