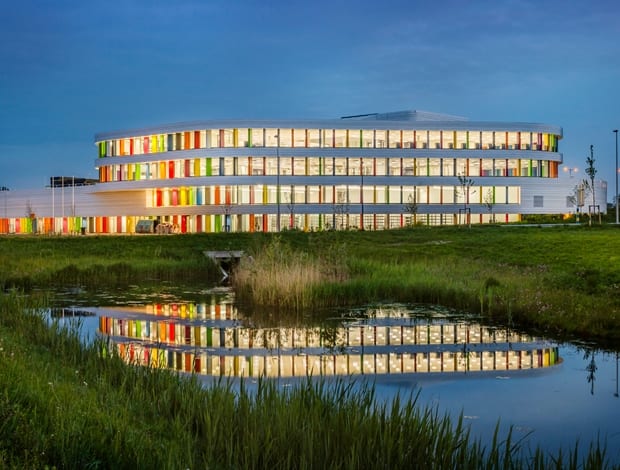 Dutch architecture practice LIAG has designed the building to resemble a bookcase|The car park is based on the roof to reduce the building's footprint|The facade is made from aluminium composite panels|The building combines the production and editorial departments to help streamline logistics|The brightly coloured exterior contrasts with the light and airy central atrium||
Dutch firm LIAG Architects has created a striking new office building for library-book provider NBD Biblion, which is designed to look like the very products the company is producing.
LIAG Architects has designed a new premises for NBD Biblion in Zoetermeer, the Netherlands, to resemble a bookcase.
NBD Biblion, which provides services for public libraries and multimedia centres, was previously based in different buildings and across a number of floors, which segregated employees. The aim of the move was to consolidate the 450 people in production and editorial in the same building, in order to improve production logistics and communication between the two departments, thereby reducing costs and improving logistics.
White bands of composite aluminium wrap around the building, designed to resemble the shelves of a bookcase, while the distinctive vertical blocks in a range of bright colours look like the spines of books. These 'book panels' also act as ventilation hatches and are orientated to act as sun blinds. The white bands also help to emphasise the junctions between the floors and create a fluid connection between the office space and production area.
A large, airy atrium with a mezzanine sits in the heart of the building. The wooden floor cuts down into widely spaced steps that have been cleverly curved out in spaces to create breakout-seating areas.
The building is 14,000sq m with 4,700sq m dedicated to office space and 9,300sq m for production. Its shape has been designed to fit with its immediate surroundings, so it appears to have been "trimmed to fit the contours of the plot" says the practice. The car park has been positioned on the roof to save space.
It also incorporates a number of energy-saving measures, such as heat pumps used in combination with an underground thermal energy storage system. Water-filled pipes run from the storage system and help to cool the building in summer and heat it in the winter, as well as keeping the roof parking deck from freezing in winter. Additionally, skylights and a large amount of window space ensure that natural daylight floods through the building, and this can be supplemented with LED lighting if required.