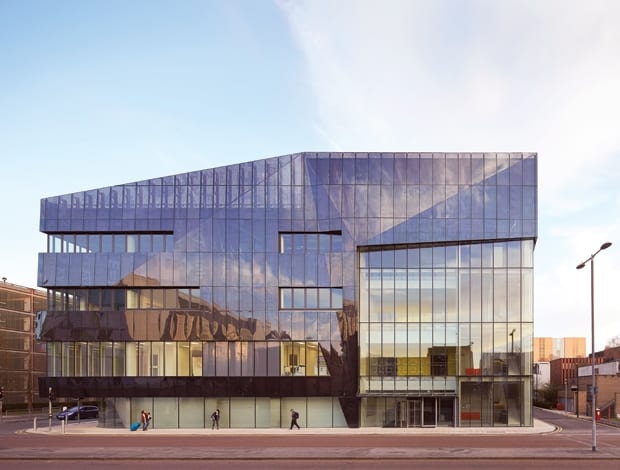 ||
The 'veil' of black stainless-steel panels reflects the evening sky
Of Jestico + Whiles' 40-plus educational projects in recent years, the recently completed National Graphene Institute in Manchester will surely garner the most attention.
The discovery of graphene is of international significance, and the institute's £61m new home is designed to live up to that status. Sir Kostya Novoselov and Sir Andre Geim first isolated graphene at the University of Manchester 11 years ago, and were joint winners of the Nobel Prize in Physics in 2010. Graphene's properties are astounding: it is a form of carbon a million times slimmer than a human hair, tougher than diamond, more stretchy than rubber and better able to conduct electricity than anything else.
J+W's research and incubator centre in the university's Science Quarter is seen as an essential component in the UK's efforts to stay at the forefront of research into this revolutionary material, building on its initial isolation to develop and commercialise it.
Clean rooms are tightly controlled for temperature, humidity and vibration
As well as laboratories, offices and ancillary accommodation such as a seminar room, the five-storey, 7,600sq m building accommodates two clean rooms, where temperature, humidity and dust levels are highly controlled to allow the scientists to work with nano-scale particles.
"The larger clean room is the heart of the building," says J+W director Tony Ling. "It has to be as free from vibration as possible, such as traffic outside or people walking around, because that could affect the accuracy of the measurements."
So the firm placed the room in the basement close to the bedrock, 4m below street level. However, researchers are not hidden underground – their activity is on show for passers-by. On two sides of the building the ceiling is angled sharply up around the edge of the room and the external walls are glazed, a feature that Ling calls a "visual corridor at street level so that people can look down into the room."
While the building's skin needed to be high-performance, "there are infinite possibilities of what that system can be," says Ling. The inner skin of standard insulated metal cladding "would look extremely plain," so a perforated stainless steel 'veil' wraps around the different parts of the building to provide a unifying texture and shape.
This shell is chemically treated "to give it a reflective surface and a black colour in the shade, like a black mirror. But when it's exposed to the sky, it becomes colourless or blue or red." The activity inside is represented in an abstract way by those perforations, which spell out the equations used in graphene research.
Meanwhile a vast artwork on the walls of the three upper floors, made from many layers of graphite, has been created by Mary Griffiths, an artist and curator of Modern and Contemporary Art at Manchester's Whitworth Art Gallery, whose extension by MUMA opened in February.
These are busy times for Manchester, which is 2016's European City of Science. J+W's institute will be followed in 2017 by the £60m Graphene Engineering Innovation Centre by Rafael Viñoly Architects, which will work on fast-tracking the development of graphene products.
Scientists working with nano-scale particles had some very specific design needs for the National Graphene Institute