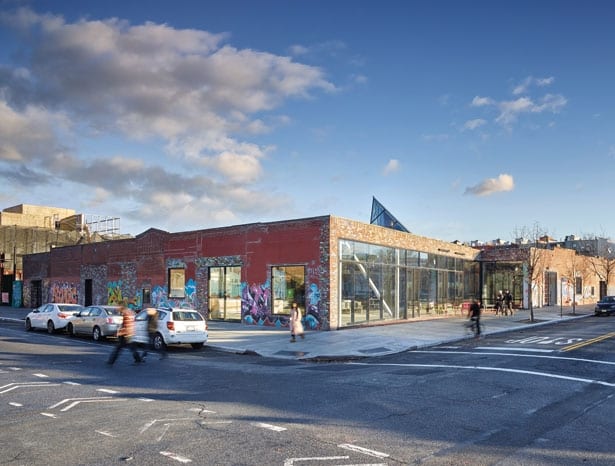 |||
A/D/O is sitting pretty on the border of New York's fashionable districts of Williamsburg and Greenpoint. So far, so atypical hipster. But what sets this Brooklyn-based workspace-cum-cultural-hub apart is its joined‑up usage – from places where the public can drop in for coffee, to professional making facilities, to a multidisciplinary festival featuring a star-studded lineup. A hangout purely for headphone-clad Mac users it is not.
"It's a multifaceted space supported by a resource – it's changing up physical space in Greenpoint," says Daniel Pittman, director of design at A/D/O – a man perfectly placed to talk about how its various elements are stitched together. The 2,140sq m space includes a "Workspace", public and outdoor areas, a restaurant and bar, and a retail space. Automotive brand Mini provides the financial impetus behind A/D/O – which refers to the original Amalgamated Drawing Office, the team that designed the first iconic car – but the project wears this branding lightly. Clearly, in a post No Logo world, companies are savvy to what works with such collaborations.
"It's in one of a handful of areas [in New York] that is still an industrial business space," Pittman continues. "We are surrounded by fabricators, a stoneyard – there are a lot of production facilities in the area." A/D/O has made good use of these, with many of the contractors coming from the local vicinity.
The mirrored "periscope" remixes the rooftop murals
The building itself was once a bakery and, as Eric Bunge, principal with nArchitects, the Brooklyn-based practice responsible for its transformation, explains: "The principle of 'remix' was a guiding theme for its design." But think subtle reinventions like a 12-inch disco record rather than the architectural equivalent of a thumping EDM bassline-driven rehash.
"We applied this to both the physical building and its programme," he adds. "This involves placing existing and new conditions into varying and often ambiguous relationships – rather than simply dividing the existing warehouse into various zones for different activities or, on the other hand, creating a continuous and undifferentiated space."
Bunge continues: "Some aspects of the existing building have been maintained, while others have been rebuilt in ways that make it sometimes initially unclear which part is new and which part is old. In other places, we have sought to create tension or contrast between existing and new conditions or between different materials."
A/D/O's Norman restaurant space is open to the public
For example, the building's exterior "remixes" the existing brick with what Bunge calls "reconstituted graffiti" – reincorporating the colourful remnants of murals from over the years. Exposed brick and other indicators of the building's past are visible throughout the design, while the colour palette consists of white, grey and earthy neutral shades. Mimi Hoang, nArchitects' principal and co-founder with Bunge, adds: "What was really important to us was to create a project with rich layers of history, of the building and of the community."
Bunge continues: "We chose to create variable connections between gastro, event, design, exhibition and retail spaces. Neither rooms nor an open hall, the spaces kind of bleed into each other, allowing people who are curious to see what would normally be going on behind closed doors."
The Workspace area covers 185sq m, with designated desk spaces for both full and part-time members that can be rented month to month, as well as all manner of production facilities from a CNC router via screen-printing kits to laser cutters and mini-lathes. As well as offering workspace, A/D/O is home to Urban-X, an accelerator for startups, run by Mini and venture capital fund SOSV, which has the slightly hifalutin-sounding mission of "Engineering the city as a service". Here a mix of working styles are catered for, from open workspace to three private meeting rooms and two breakout areas.
A colourful roofspace sets A/D/O apart even when seen from the air
The generously sized tables in the Workspace are by local firm Uhuru. There is also a custom-built interactive table, designed by Huxhux Design with Brooklyn design studio Withers & Grain, with inset storage compartments that users can access by manipulating magnetic pyramids and shapes on the tabletop – a Rubik's cube for collaborative working.
The architect itself was responsible for several pieces of custom furniture. The large X-shaped modular Crosstalk table marks the spot for casual working, while the practice also designed the Pie Lounger, which functions as both seating and a stage, a design library and bleacher seating. A/D/O's Nordic-themed Norman restaurant, which operates from breakfast bite to late(ish) night hangout also boasts custom-designed tables.
Structurally, one of the most noticeable additions to the original building comes at the main entrance, where the architect removed a large, triangular piece of the facade and replaced it with full glazing, giving the public a better glimpse of what's going on. Here nArchitects introduced a circular bench in two-tone marble, crafted by yet another neighbouring firm, ABC Worldwide Stone.
The design store acts a retail platform for the design community
"The design of the space emerges from a kind of urban approach, in which we want the street and public to flow through the building," explains Bunge. "It's a very democratic space that welcomes the public to engage in design in ways they might not be accustomed to."
A further structural addition is the Periscope. This 5m tall mirrored skylight was conceived by the architect and fabricated by local firm Caliper Studio. Through some clever articulation of mirrors, this reflects the surrounding landscape right into the building's interior, so those who've bagged the communal seating below can take in kaleidoscopic views of both the Brooklyn and Manhattan skylines. As Bunge says: "We wanted to create a new perspective on the changing city around us." The Periscope provides a centrepiece to the communal areas of A/D/O. "It's a mix of semi-private space: the accelerator [Urban-X] and the Workspace and public space: freespace plus the outside and courtyard areas," he adds.
In the outdoor court, the roof adjoining the south entrance has been removed and replaced with an open steel frame. This area is used as a restaurant's al fresco dining area, and has a folded Corten steel sculpture and a planter designed by the architect. Beyond this court, another 185sq m of additional space is used for special projects. Says Pittman: "A/D/O is multifunctional and varies according to different needs – different aspects of the space expand and contract depending on needs."
"Reconstituted graffiti" on brickwork adds a historical patina
One of the first "special projects" was by Turner Prize winning design company Assemble (OnOffice's cover stars in October 2015), which built a factory making ceramic tiles as part of the Utopia vs Dystopia festival which launched A/D/O's Design Academy in January. This event featured talks by designers Yves Béhar and Stephen Burks, writer Alice Rawsthorn and even Talking Heads' David Byrne.
The Design Academy offers seasonal programmes, residencies and research, and the same careful consideration that defines the overall concept has gone into its making. Spearheaded by Pittman, with an advisory board, it offers exhibitions, talks, workshops and residencies – some open to the public, others just for members – as well as opportunities for third parties to take over parts of the space.
Full-length windows connect the interior with the streetscape
This is facilitated by the flexibility of the interior space. The restaurant can be sectioned off from the free space to give sound privacy, thanks to the inclusion of a zig-zagging "curtain wall". The Architectural League of New York recently held a ball here – I'm imagining Met Ball glamour but with better eyewear and more black.
It's quite remarkable what A/D/O is proposing to do under one roof (well, that bit it opened up notwithstanding): a place where products can be prototyped, ideas hatched and connections made – and it all feeds back into the local community. As Pittman points out: "[Until now] the area has been underserved by institutions."
In a former bakery in the heart of hipster Brooklyn, a new workspace hub offers everything that a local design startup could wish for – from fabrication facilities to a Nordic restaurant