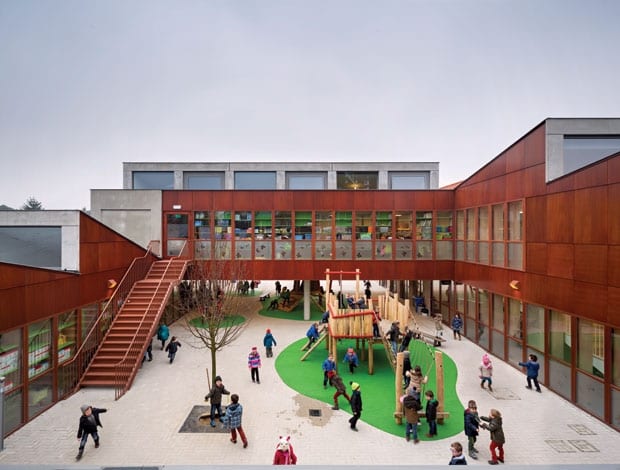 The courtyard playground, a contrast to the brick exterior|One wall incorporates floor-to-ceiling storage with display shelving|The school is light and spacious, with double-height volumes|The pine joinery is punctuated by walls and furniture in apple green|The 1930s town hall had permission to be demolished, but architects Moke instead opted to incorporate it||
Moke Architecten has built a Belgian kindergarten around a characterful former town hall, adding a light-filled extension for the main learning areas, and playful features such as mezzanines and picture windows
Perhaps the underlying premise behind the new Gekko kindergarten in Bonheiden, Belgium, is to encourage its 240 pupils to grow up more quickly. After all, during their formative years, these four- to six-year-old toddlers are exposed to an unusually sophisticated school environment that boldly meshes the past and present.
Kids might symbolise our future but, at this kindergarten, they get a taste of tradition as well as of how schools might look in years to come.
The project came about when Bonheiden's municipality initiated a competition to create a facility with ten classrooms, a sports hall and multi-purpose room. This was won by Dutch practice Dok Architecten, but in the end the project was overseen by its former employee, Gianni Cito, after he left it to co-found his own Amsterdam-based firm, Moke Architecten.
The 2,380sq m project yokes together a disused town hall, dating from 1935, with a new structure. A rectangular, empty space behind the former is used as a playground. Wrapped around this, in the new building, is a 'cloister' – a corridor of 3-6m wide that can also be used for classes or as a play area.
"The brief permitted the town hall's demolition but we thought it would be a pity to pull it down since it's one of Bonheiden's few remaining historic buildings," says Cito. "Our practice believes that making use of the context of our projects makes them more interesting."
The new building takes the place of an old, dilapidated kindergarten a few yards down the road, and the different uses of the new structure and converted town hall (which has been superseded by a bigger one on the town's outskirts) are clearly demarcated.
While the old building now houses the main entrance – a dramatic one, given its imposing height, steeply pitched roof and ornate facade – and the school's administrative areas, the new build, by contrast, is ultra-modern and impressively spacious. The latter's external rust-coloured and grey walls are made of bricks and concrete.
Internally, soaring ceilings allow for intriguing mezzanine levels; the walls are white and the doors and built-in cabinets are made of pine, pepped up with apple green accents. One wall inventively incorporates a floor-to-ceiling storage unit with shelving used to display objects made by the children.
One of the new building's most appealing qualities is its luminosity. Daylight floods in through enormous windows (some of them horizontal and at a low level so the children can look through them easily) and north-facing skylights. "The skylights provide excellent indirect daylight and prevent classrooms from overheating, a common problem in contemporary schools because of the high number of children per square metre," says Cito. "Here, there's no need for air-conditioning."
He adds: "I wanted to create a building with surprising vistas, beautiful daylight and a comfortable temperature. I strongly believe all this is relevant to a learning environment that should inspire and stimulate kids."
Ironically, while the word kindergarten sounds infantile, Gekko seems to treat its tiny tots more like grown-ups.