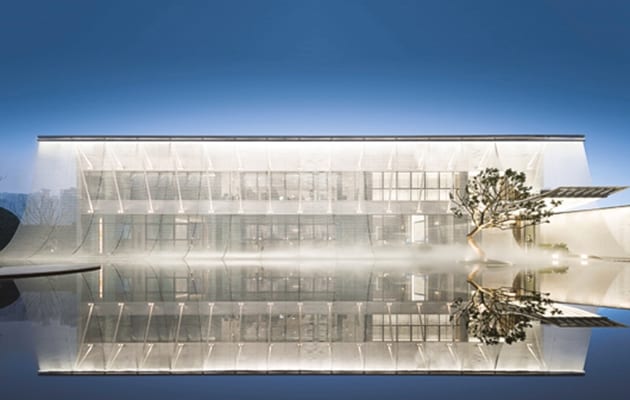 AOE's Sunac One Central mansion Sales Office was a MIPIM awards finalist.|||
Cannes might be known for its red carpet glamour and constant stream of sunshine, but in March it was something else entirely that brought the coastal French city to life.
With a whopping figure of 26,000 real estate, city and political leaders who gathered over from over 100 countries, this year's MIPIM made quite a splash.
Not surprising, really, that the world's leading international real estate business, conference and networking event drew a crowd of such amplitude – 2017 was, after all, a record year for real estate investment in Europe, according to CBRE, with volumes totalling €291bn. And with 5,400 investors pooling in, there certainly was a lot of room for discussion.
Feltrinelli Foundation & Microsoft House won best office development
Among the key talking points were, of course, the growth in real estate investment expected this year and investment strategies set on targeting cities over countries, but hot topics like urban development and tech were discussed at length too.
"This year, tech is increasingly integrated into the MIPIM programme," said MIPIM director Ronan Vaspart. Conference discussions on topics like self-driving cars having an impact on cities and millennial expectations of future smart houses placed technology at the forefront of MIPIM.
Now seems like a good time to mention that MIPIM has also launched a new event in Paris this June, called MIPIM PropTech.
"Technology is increasingly providing innovative solutions and ideas for the real estate sector," says Reed MIDEM's real estate director Filippo Rean, "and MIPIM PropTech Europe will be a unique opportunity for real estate leaders, tech companies and investors to come together to discuss tech trends and do business."
Ateliers Jean Nouvel's Real 2 in Lima was a finalist for best office development
Naturally, a MIPIM review would be incomplete without the mention of the flamboyant MIPIM Awards. Worthy contender of the Cannes Film Festival, the gala ceremony at the Grand Auditorium of the Palais des Festivals saw the Feltrinelli Foundation and Microsoft House in Milan snatch the Best Of ce & Business Development award.
Designed by Herzog & de Meuron with developer COIMA, the Feltrinelli Building houses Microsoft's Italian headquarters, with interiors by Milan-based studio DEGW.
Other finalists in this category included Chongqing Sunac One Central Mansion Sales Of ce by AOE, Real 2 in Peru, designed by Ateliers Jean Nouvel, and the acclaimed Bloomberg European HQ in London featured in our April issue.
Never miss a beat with OnOffice's new weekly newsletter. Subscribe here.
Workplace developers and designers were out in force at MIPIM 2018, where a lof the the talk turned to smart technology