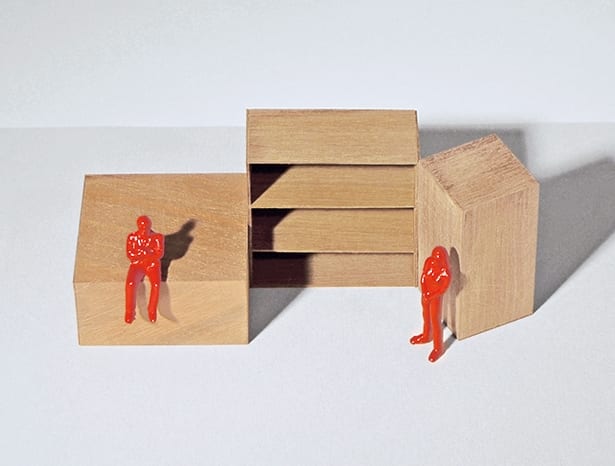 |||
Visitors and exhibitors from across the world will return to Milan on 4-9 April for the Salone del Mobile's 56th edition and its four key exhibitions: International Furnishing Accessories, Euroluce, Workplace 3.0 and SaloneSatellite. Expect outstanding design, both Italian and international, rising design talent and a whole host of networking opportunities and events.
A Joyful Sense at Work (above)
Workplace 3.0 will also present A Joyful Sense at Work, curated by architect Cristiana Cutrona. Four installations will create a vision of the future of work, while representing the cultural characteristics of the designers' areas of provenance. Primo Orpilla and Verda Alexander of Studio O+A will present American design, Ahmadi Studio will explore Iranian and Asian approaches and Europe is represented by UNStudio and SCAPE of Holland Alfonso Femia and Studio 5 + 1AA of Italy.
Everything is Connected
Norwegian design will be highlighted at Ventura Lambrate by the Everything is Connected showcase. Architect Katrin Greiling will curate the exhibition and has selected the pieces, including the Tangent series by Norwegian craftsman Sverre Uhnger and British designer Thomas Jenkins. Tangent is a series of lamps with an LED strip light tangentially fixed to a pedestal. The positioning of the LEDs allows the functional and aesthetic lighting effects to match the requirements of a space.
Tom Dixon
Tom Dixon studio will bring Multiplex to the iconic cinema and Galleria on via Manzoni to tell the stories of products from "Yesterday, Today and Tomorrow". Multiplex will celebrate classic veteran designs as well an exciting product of tomorrow: the new sofa bed Delaktig in collaboration with Ikea and set for launch in 2018. New collections under the Today category include the Cut series, futuristic pendant lights with a magical kaleidoscopic effect thanks to a diamond-cut, vacuum metallised interior.
Lasvit
Slovakian designer Boris Klimek continues to take inspiration from playfulness, fantasy and emotion with this uplifting collection for Lasvit. Klimek has experimented with the technique of slumped glass and produced a fanciful collection of lights that resemble lollipops. Made of amorphous glass plates, the Lollipop range is combined with a metal holder and inserted light source that becomes the stick form. The Lollipop collection consists of table and standalone lamps, as well as pendant lights.
Moroso
The Josephine sofa by Gordon Guillaumier is a tribute to Josephine Baker, an icon of emancipation in the 1930s. The design is inspired by her femininity and defined by the rounded elegant shapes of its armrests and backrests. Three separate pieces embrace the seat and the delicate proportions are made even lighter by the seat, which is raised off the ground. Josephine comes in sofa or tête-à-tête versions and can bring the sophisticated feel of a boutique hotel to various contract projects.
Porro
Mediterranean/Nordic duo Enrico Fratesi and Stine Gam's latest product for Porro is the Kite armchair, an elegant guest chair that fits into a multitude of environments, ideal for an office waiting room. The soft, femininity of the chair contrasts with the strong black-painted frame and the leather or fabric-covered padding draws on the world of fashion and is reminiscent of a sweeping coat collar. The slightly protruding high seat cushion boosts ensures comfort as well as style.
Swarovski
Swarovski will launch aspirational new home decor and lighting collections at Milan as part of its evolving Atelier Swarovski Home range. The series of sleek Paperweights by Studio Brynjar and Veronika for Swarovski would make an elegant addition to any desk space. The designs are based on the German-Icelandic duo's 2016 Swarovski Designers of the Future presentation at Design Miami/ Basel and come in three variations. Crystal polygons with coloured coatings bring prismatic reflections and a sense of the natural world into a home office or workspace.
Studio Thier&vanDaalen
Studio Thier&vanDaalen will return to Ventura Lambrate with the Vapour light, an irregular lamp that contrasts straight and organic shapes. Iris van Daalen and Ruben Thier were inspired by natural movements such as blooming flowers, rising vapour and rolling water. The graceful, aluminium Vapour lamp can be hung both vertically and horizontally and brings a calming rhythm to a space. The series varies in shape, colour and intensity and the flexible outer shell means that the form can be manipulated.
The word on everyone's lips this month is Milan. Here we offer a sneak preview of what you can expect to see this year