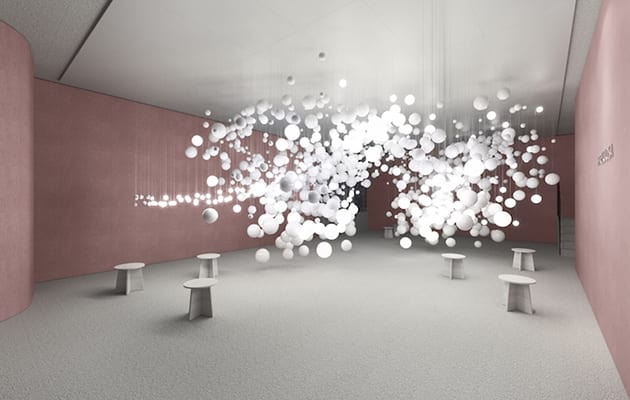 |||
Taking place between the 17th and the 22nd of April, the five days of Milan design week are some of the biggest in the design calendar. With exhibitions and installations set all over the city nailing your itinerary key.
As well a full cultural programme, the annual Salone del Mobile brings together some of the biggest designers and brands from around the world, many of which launch new lines and products at the fair.
Many other major names in the business are behind some of the best inner-city installations, talks, and – yes, parties – so it can be a challenge just to figure out where to go.
With that in mind, OnOffice has picked some of the best happenings in Milan this year:
Norwegian Presence
Top names in Norwegian design will gather in Milan design week 2018 for the Norwegian Presence exhibition. Set in the Zona Tortona from the 17 to the 22 of April, the show will explore 'the making of modern norway'.
The exhibition is a collaboration between three independent institutions: Klubben, a union that supports interdisciplinary collaboration, Design and Architecture Norway (DOGA), a hub for exhibitions and events, and Norwegian Crafts, a company that strengthens the nation's craft artists.
Expect a range of furniture, textiles, lighting, sculpture, tableware and domestic accessories. Plus various small objects and installations, design icons as well as innovative new ideas that will be released at the fair.
MINI Living – Built by All
MINI Living has teamed up with London-based architects Studiomama to present the 'MINI Living – Built by All', at this year's Salone del Mobile in Milan. The concept is designed to enable close interaction between residents, showing how considerate architecture can address individuals' requirements within small urban spaces.
Alongside the installation, MINI is setting up an experience area called 'Factory of Ideas'. Next to Studiomama's self-contained neighbourhood of living spaces, gyms and communal kitchens, there will be a space for visitors to realise their own architectural visions through models and interaction
TYPECASTING by Vitra
During Milan Design Week Vitra will show the exhibition 'Typecasting', a panorama of some 200 objects curated by designer Robert Stadler. Drawing on the extensive Vitra archives, Stadler places current products alongside icons, prototypes, special editions, rejects and future visions. The social function of furniture in today's society is a central focus of the exhibition, which is set in the former sports arena La Pelota.
Stadler looks at the objects in this installation outside the context of conventional furniture categories, such as their functional uses or historical origins. Instead, he regards them as characters and assigns them to groups that reflect stereotypical behaviour patterns and personality profiles in contemporary society.
Preciosa
Preciosa will be presenting Breath of Light, a playful, contemporary installation, breathing new life into light, located in La Posteria, a beautiful hall from the early 20th century as part of the Brera Design District.
Preciosa will also be launching a new pendant, Pearl Drop. This statement lighting piece by designer Frank Tjepkema is classic in its reference to pearls but modern in the simplicity of its overall shape. ​ A selection of both historic chandeliers and stylish pendants will also be on display. I have attached a press release along with some renders for your perusal.
Artek
At Salone del Mobile, Artek presents an installation of Compact Living that explores the challenge of an urban reality: scarcity of space. In a display of less than 10 m2, Artek will showcase the transversal functionality and small footprint of both classic and contemporary products, demonstrating that even spaces of limited dimensions can be beautifully and intelligently furnished to server different needs.
HAY's new order units. Photo: HAY
HAY
After taking a year out, Danish designers HAY will be staging a comeback of sorts at Milan design week this year.
Partnering with WeWork and Sonos, HAY will be occupying the historic Palazzo Clerici to showcase a series of installations looking at past and future living solutions.
Nendo: forms of movement
Japanese design powerhouse Nendo, headed up by Oki Sato, will be presenting a series of 10 concepts around the theme of movement. Visitors will be able to see a variety of works in progress, mock-ups and final products – an invaluable glimpse into the process of a major studio.
Lee Broom at Ventura Centrale 2017. Photo: Ventura Centrale
Ventura Centrale
Now in its second edition, Ventura Centrale is the new project from the brains behind the now-defunct Ventura Lambrate blow-outs, and just as worthy of your time as its predecessor. Set in erstwhile abandoned vaults beneath Milan's central station, the cavernous rooms now host a variety of art shows, design exhibitions and installations.
Some highlights this year include Stephan Hürlemann with horgenglarus, Surface in collaboration with David Rockwell and 2×4, Baars & Bloemhoff, Editamateria with Antonio Aricò, Nitto, Asahi Glass, a project by Fabrica with Pierre Frey, Denis Guidone, Franco Mazzucchelli, and EILEEN FISHER presents DesignWork, curated by Li Edelkoort.
Milan design week is just around the corner, so OnOffice has put together a handy guide of shows and installations that shouldn't be missed.