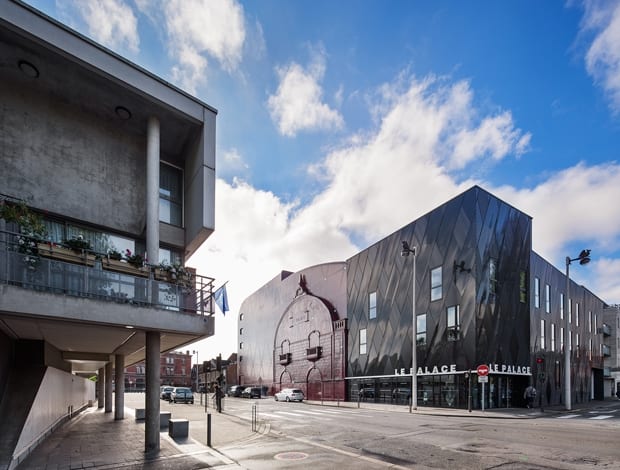 The centre was originally building in the 1930s as a movie theatre|The new corner extension joins the two existing buildings|The pattern on the new building's cladding reflects the diamond stencils on the main structure|The cladding references the light and dark of artist Pierre Soulage's painting|The new bar/lobby area|The main theatre space|The 1994 building before the extension was added||
Manuelle Gautrand Architecture (MGA) has realised its original vision for La Comedie De Bethune, a national drama centre in northern France, 20 years after it began work on the project.
The process began in 1994 when the firm won a competition to redevelop a 1930s movie theatre. However, the government was unable to buy a house on the corner of the plot, so the centre was constructed as two adjacent structures with cramped floorplans. The house's subsequent demolition has allowed MGA to realise the full scope of the project.
The design juxtaposes structures from three-different time periods with the new extension curving around the corner to link the existing buildings. Clad in black crossed-metal panelling, it mirrors the black diamond stenciled on the purple-lacquered 1994 renovation. The latter, also incorporates the preserved and restored 1930s facade, which has been similarly covered in purple lacquer as if it is "progressively erasing the presence of the former façade of the movie theatre".
The cladding on the extension combines both matt and glossy grooved panels that reflect light in different ways depending on the strength and orientation of the light. On particularly bright days, the black panels become "shiny, bright and almost white", and in this way they reference French artist Pierre Soulage's painting.
Along with a rehearsal room and additional offices, the extension houses the relocated entrance hall, so it now opens onto the corner of November 11th Street and Avenue Victor Hugo. This improves the public area's visibility at street level and, by moving its coffee bar from the lower ground floor, encourages passers-by to stop by and enjoy the naturally lit space.
The interior design echoes the exterior incorporating a mixture of dark shades, ranging from black to purple and picked up in the polished concrete floors. This provides a stark backdrop for the white-coated coffee bar and furniture, as well as the long fluorescent tube lights that hang vertically from the ceiling.