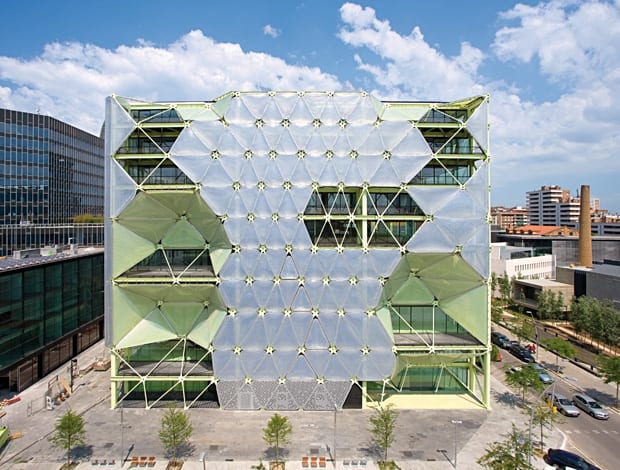 Barcelona practice Cloud 9's high-tech flagship in the city's technological district|Media-TIC's hangar-like floorplate|The southest facade fills with nitrogen gas to filter out UV light|Under the sea: inspired by jellyfish, the interior is covered with bioluminescent paint||
Cloud 9 turned to digital design to create a high-tech flagship building in Barcelona's technological district
Sustainable architecture tends to come in two guises. The woody, Spartan, passive kind and the ultra-modern, all-singing, all-dancing, technological showcase. The Media-TIC building in Barcelona's burgeoning technology district unquestionably falls into the latter.
Conceived by local architecture practice Cloud 9, the project is a dynamic demonstration of digital design and its potential contribution to the sustainability question. Iconic architecture as a concept may be as dead as bellbottom jeans, but this project aims to be a great deal more than the sum of its parts. Designed and developed for Consorci de la Zona Franca, an organisation that champions sustainable development, it represents a major step forward in the 22@Barcelona project, a scheme aimed at converting 200 hectares of the city's Poblenou district into a digital hub.
The building features a cocktail of high-end offices (the most expensive in the city), start-up company space and a media museum, auditorium and workshops all enveloped within its cushioned ETFE facade.
Rather than being shackled to its own vaunted architectural history (who doesn't think Gaudi when discussing the city), Barcelona is looking to reinvent itself as a green "smart" city, and Media-TIC is seen as a gateway to this bright new dawn.
"We are in a very interesting moment in the history of sustainable design," says project architect and Cloud 9 principal Enric Ruiz-Geli. "Today we are in what I call a radical Taliban period. We are architects fully committed against global warming. In fact, we are really kind of mad about it."
This passionate rhetoric is matched by Media-TIC's impressive stats. Surpassing the European Union's 2020 targets, the building cut emissions by 60 percent and gained a LEED gold certificate.
To achieve these numbers, Cloud 9 created a unique ETFE facade, which not only filters out ultraviolet light but also reacts to the changing weather conditions.
"It is a radical building, but we need this radical moment because currently conscience is not in place here. But it will be"
Housed in a lightweight steel frame, the southeast elevation features 104 inflatable cushions each controlled by an independent computerised sensor. Each cushion contains three chambers – a transparent outer layer and a middle and third layer with a reverse pattern design.
When the sun's rays reach a certain strength, air is pumped into the third chamber, joining it with the middle layer to create an opaque facade that protects the structure from wilting under the Catalonian sun.
Dispensing with a central "brain" imbues the facade with a degree of autonomy, a privilege not extended to Media-TIC's human inhabitants.
"The users are not allowed to play with the cushions, they are not allowed to put up screens," says Ruiz-Geli. Although this seems a rather autocratic notion, he sees it as a crucial step towards a general understanding of sustainable architecture. "It is a radical building, but we need this radical moment because currently conscience is not in place here. But it will be."
The southwest facade continues with a variation of the same theme. Here the cushions are arranged vertically, stretching the building's full height to form a chamber. By injecting nitrogen into the chamber, Cloud 9 created, well, a cloud that filters out solar radiation. Watching this innovation take effect is undoubtedly impressive, but ever so slightly eery. The facade is broken up by a large open terrace/atrium space in the centre of the building.
The less vulnerable northern elevations are devoid of ETFE and the steel exoskeleton is left exposed. Working with engineering firm Boma, the practice adopted state-of-the-art laser-cutting technology to construct a net-like configuration that diverges from point to point across the entire facade. The structure impresses an air of solidity, providing a counterpoint to the nebulous nature of the ETFE.
"We concluded that a digital building should not be about weight, and sustainable design means being lighter. This steel does not look like steel, it has the same thickness as your table leg."
Designed exclusively using CAD/CAM technology, Media-TIC is truly representative of the digital age and Ruiz-Geli firmly believes this is the future of architecture.
"We built it really fast with no mistakes and no overspend. This is why machines are so good," he says.
"We are in a very interesting moment in the history of sustainable design"
Further efforts towards the green goals come in the form of a photovoltaic roof, which produces half of the building's energy, while rainwater is stored and used in the WCs. Taking inspiration from a slightly unlikely source, jellyfish, Cloud 9 daubed the interior in bioluminescent paint. Absorbing energy from the sun, the paint then releases it throughout the night, meaning the building radiates with a soporific green glow.
"It is a building that lights itself, but it does not light up the whole neighbourhood," says Ruiz-Geli.
Undoubtedly it's a pleasing effect, and this leads to my last question. Is this building one of beauty?
"I'm happy you asked," says Ruiz-Geli. "This building has the beauty of showing what it is. You see the steel, the sensors, the computers. People will see this knowledge and it will create a certain consciousness. A very good way to do this is through the use of beauty. We look forward to a phase when we will not be Taliban and radical. When technology will become transparent and all around us." So, that's a yes?