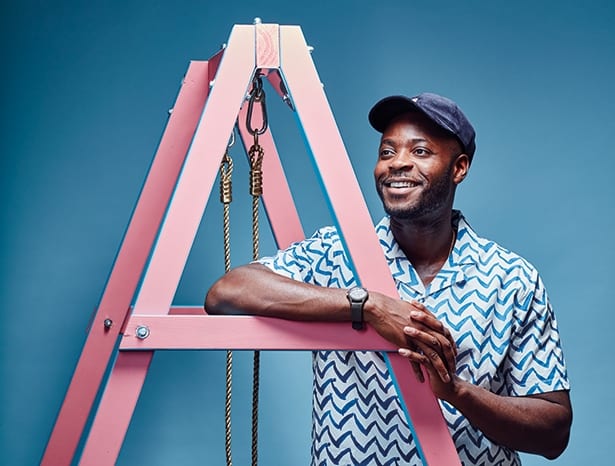 |||
Time flies when you're in the design industry. It's 15 years since the London Design Festival (LDF) began gathering together the various players involved in the business of promoting great design in the UK – and arguably the world – and giving them an umbrella platform, not to mention some standalone installations and talks. This month's issue sees a bumper preview of what to expect (from p125). 100% Design, of course, predates the foundation of LDF and, as such, is one of the best known shows of the year. Don't miss our sneak peek of all the goings-on, including my talk at the Arper Bloggers Lounge.
Year after year, LDF is where well-known designers came to prominence and 2017 looks like being no exception. This month's cover star, Yinka Ilori, looks set to break through to wider recognition with a major installation at the Citizen M hotel. His love of colour and substance as well as style (he's a keen upcycler) had it sold as far as we were concerned. Don't just take our word for it – seasoned design journalist and author Dominic Lutyens is an ardent Ilori fan and therefore perfectly placed to profile this up-and-coming innovator. Read all about it in the magazine.
Our intern Isabelle Kulick caught up with another one to watch, lighting artist Flynn Talbot. His installation at the V&A looks like one to put on one's must-see list, while on Grant Gibson gives Atom, the new creation by Simon Pengelly for Boss Design, a preview.
Erstwhile editor of this magazine Elizabeth Choppin gives us her take on slick new co‑working space the New Work Project, aimed at upwardly mobile creatives, and quite rightly takes issue with a number of objects "inspired by" contemporary designs. This Brooklyn scheme nonetheless looks the part, with black velvet, marble and brass.
Elsewhere in our OnSite section, Samantha Tse reports on the workspace results of what happened when luxury Italian firm Yoox and online retailer Net-a-Porter joined fashion forces. In the entrance Grimshaw Architects has created a striking "arbour walk" made of timber that provides that initial wow factor to the old BBC building in White City.
Several designers and manufacturers have been working wonders in wood, as Charlotte Taylor discovers in our desking special. She found that once again flexibility, whether that be modular elements that come apart or together as required, or height adjustability, is the order of the day.
Speaking of adjusting one's height, there probably won't be much scope for a sit down during LDF, ironically, despite the mass of seating being launched – but I hope to catch some of you while trying to fit in as much of the festival as possible.
IN THIS ISSUE
We preview London Design Festival, and meet one of furniture design's rising stars as he prepares to transform a business hotel into a playground