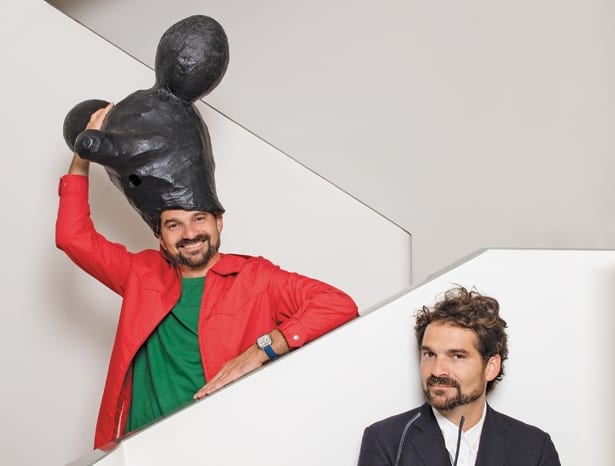 |||
Some things change very little in ten years. A decade ago, Kanye and Coldplay were in the charts, the X Factor was ruining watercooler conversations the land over and the England football squad were disappointing fans in a major championship.
The year 2006 was also when the first OnOffice landed on the desks of architects, designers and specifiers – and, in terms of how the workplace looks and feels, my how things have transformed since then… We take a trip down memory lane (with some help from the magazine's erstwhile editors) this month. The first issue launched with a bang at Orgatec in Cologne and we return there this year too; see our highlights of what's on offer, including the latest offerings from PearsonLloyd and Tom Dixon.
Our cover star, Jaime Hayon, also looks back on a decade collaborating with BD Barcelona. The manufacturer put on an exhibition in the Spanish design supremo's honour at its UK base in Clerkenwell. As I caught up with him to ask how the business has altered he pointed to the preponderance of Instagram and the like, reporting design news in a flash without much time to contemplate and consider. Heck, we had to wait until 2007 for the first iPhone to come out.
Social media definitely adds to the whole buzz of international design shows, OnOffice was as trigger happy as the rest of the industry in capturing all things London Design Festival as they happened. We get the best of both worlds as we also bring you our more considered views of LDF, including an interview with architect Asif Khan on his take on the third space between home and work, 2016-style.
Ten years ago Mathias Hahn was picking up his MA in product design from the RCA. Now he is one of the designers whose work can be seen in German furniture manufacturer Zeitraum's In Residence exhibition in St John's Square in EC1. Where Hayon talks about Scandinavian tropical, monkeys holding tables and why he's a spicy kind of guy, Hahn's designs are more understated (and beautifully so) and his manner a more serious and analytical one. Despite their differences, the world of design needs both types of people.
Clare Dowdy reports on the rise and rise of Airbnb and the travel giant's approach to workplace design in various locations around the globe in our OnSite section this month while our deputy editor Charlotte Taylor finds out how private members' clubs have ditched the smoking jackets in favour of a style that is more contemporary in both aesthetic and cultural outlook. All that's left to say is "cheers" (or should that be "Prost!" to get in the spirit of Orgatec?) and here's to another ten years of OnOffice.
OnOffice celebrates its 10th year by reminiscing with its previous editors and considering how the industry has changed