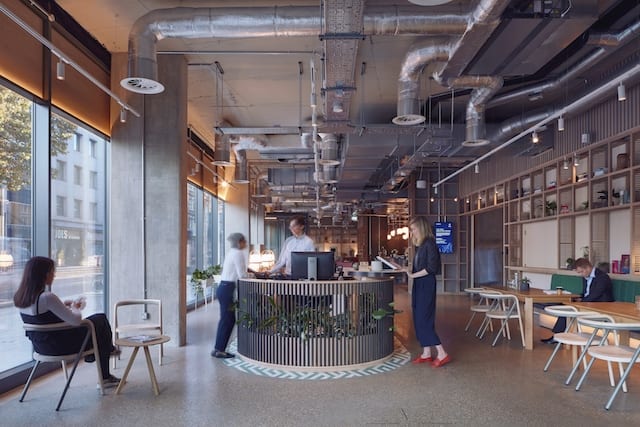 |||
Urban resorts where people also happen to get work done – such is the new breed of workspaces burgeoning across cities like London, where one-stop-shop hybrids are increasingly becoming the new status quo.
With its third location at Borough, co-working provider Fora is well aboard the hybrid bandwagon, and with ground-floor offerings like Scandinavian restaurant Borealis and a cafe open to the public, it caters for its "Residents" while also being outward-looking. Of course, the building's public face helps Fora comply with planning regulations all the while pocketing the cash, but it's fair to say the choice of Nordic food lends itself rather beautifully to the restaurant's pared-down and balanced aesthetics.
Designed by London-based Scandinavian firm JLK Design and subtly implemented into the overall scheme by architecture firm Hassell, the restaurant is a medley of Nordic Chic touches with blond wooden chairs by Danish architect Hans J Wegner, colourful bespoke rugs, a sumptuous black wood bar, and exposed ducting lurking behind low lighting.
Kelly B tables and Mags sofas in the reading room
"Food is really important to us," says co-founder Katrina Larkin, who minutes later shares a smile and a nonchalant wave with Danish restaurateur Søren Jessen who runs the dining show at Borough. When asked about the choice of cuisine, Larkin is adamant it's not about following a trend: "This was more about Søren. He was completely right for Fora."
This people-focused approach seems to run through Fora's veins. The receptionists – or "guest experience managers" in Fora-speak – are all trained at École Hôtelière de Lausanne, the reception feels more like a breezy, ultra-functional hotel check-in desk that isn't the focus of the entrance way, and the lobby features a set of tables for ad-hoc work, open to any non-Fora member who might need an hour to field emails in between meetings.
The atmosphere is laid back, and for those occasional passers-by who may not be up to speed with Fora's bearing, the ground floor certainly doesn't scream co-working space – and that's the point. Fora is a recessive brand; the logo and shouty typography are replaced with a delicate snowflake pattern repeated throughout the space – an unbrand designed to facilitate the self-expression of the Residents, not Fora.
An airy double-height space offers room for work and leisure
"The building belongs to the people who work in here," says Larkin. "When we first started looking into the co-working market, we were very inspired by it, we like the shared economy[…], we thought we were rightly positioned to draw on co-working but almost elevate that experience to a more professional level – we call it pro-working."
A high-spec workspace where style meets substance, Fora's third location is attuned to the Borough crowd where creatives mix with City workers and major transport hubs are as close as cultural landmarks such as the Tate Modern. This eclectic scene is reflected in the space, but subtly.
"Each Fora offer is contextually different," explains Felicity Roocke, practice leader of interior design UK at Hassell. "Each site reflects the neighbourhood context with signature local and unexpected details in the arrival ground-floor experience and event roof terrace spaces." Roocke, who headed up the design in close collaboration with co-founders Larkin and Enrico Sanna, adopted a "low or no contrast" approach to finishes on work floors.
"The local Borough market narrative and context was abstracted in the use of colour and tone," she says, pointing out details like statement bright colour, real textures, signature feature tiles by Solus and hospitality-infused furniture.
Al fresco work and leisure set against a backdrop of the Borough skyline
"If technology allows you to work anywhere, then workplaces need to reflect desirable experiences that attract you in – places you want to be, places people love," says Roocke. With a choice of offerings ranging from hi-tech meeting rooms, through to phone booths and scope rooms, to a roof terrace, double-height event, cafe and breakout space plus a mezzanine-level reading room, it certainly seems like a place to love.
As for the main reason we're here – to get work done that is – Roocke explains the design was heavily influenced by non-workplace trends. "We knew we had to do something creative with the glazed partitioning and break down corridors with usable nook spaces," she says. To that end, Hassell opted for a Crittall-like timber-clad acoustic glazing system, with taupe partitioning powdercoat and lime-washed oak textured timber.
"Consistently questioning whether you would have this type of glazing in your home or home studio became a measure," says Roocke, highlighting a general approach driven by residential hints, with art ledges, picture rails, planting and shelving dressed into the joinery to create a "friendly, intimate residential feel".
The overall style is refined yet functional, and hospitality tones (themselves inspired by the comfort of home) seep right down to the furniture choice. Miniforms' Lem sofas and armchairs are used on the ground floor arrival and in the reading room, along with Tacchini Kelly B pink coffee tables and Hay Mags sofas in multiple fabric colours. The rooftop terrace features Andreu World Siesta long sofas and Petite Friture Iso coffee tables, plus Emu Yard chairs with Pedrali Nolita with palm print seat cushions.
In true pro-working style, the office is also fully serviced, with a members' club service culture, bathroom and shower facilities stocked with DR Harris products, complimentary refreshments and "room service" ranging from meeting room set-up to organised client lunches in the boardroom. Equipped with a smartwatch and an app, Fora Residents can contact the concierge, book meeting rooms, explore events, and even book their own personal training session, to be had in the gym below ground.
Is all this too much – or is it merely a reflection of the time-poor 21st century worker and consumer who wants it all within reach and available at all times? Should we really spoil the end-user with a we've-thought-of-everything-so-you-don't-have-to approach? "I don't do their work," Larkin remarks rather shrewdly, reminding those who may have forgotten that, regardless of the five-star hotel resemblance, "it's about productivity".
A signature spiral staircase mixes traditional and modern
By the time you read this, Fora will have opened two more locations in Reading and Fitzrovia, with outposts in Spitalfields, Soho, Portobello Dock and Shoreditch in the pipeline for 2019. Yet Larkin is adamant "it's been about quality, not quantity". With a co-working space at every turn, choosing the right location seems like a tall order, but the Fora team knows what it wants: headheight, floor layout, space, connection between floors and light. Above all else though, "it's the feel of it," says Larkin. "When you buy a house, you have to go with it."
Indeed, every building is owned by Fora, and with each new location, the team moves in for six weeks, no-doubt part of the cross-pollination it advocates for. Reading aside (the Crossrail promise makes it practically London), does Fora want to leave the capital? "We're focusing on the London market," says Larkin. "It's about building up that connectivity, not just in the building but between our buildings too."
It's about building a city-wide forum then – or should I say fora?
Fora's revolution in workspace continues apace, this time with a distinctly Scandi accent