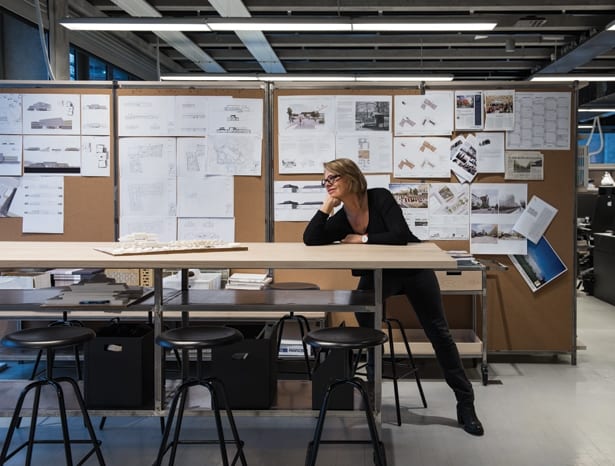 ||
How do you move an entire town? Scandinavia's largest architectural firm, White, has been tackling this unprecedented challenge since it won a bid in 2013 to relocate Sweden's northernmost town, Kiruna; its answer to the question says much about its people-focused approach.
Work began in spring 2015 to move Kiruna and its 18,200 citizens more than three kilometres east, to prevent it falling foul of massive subsidence caused by iron ore mining. It will take decades (the migration is planned to complete in 2033, part of a 100-year masterplan), but from the start White aimed for a communicative operation, setting up shop in the current city centre.
The Kiruna office's multi-height communal desk
"We wanted to open a studio there, to have conversations with the residents while doing our work and show what's going on," explains Monica Von Schmalensee, CEO of the 800-strong firm, when onoffice meets her in London. Our straight-talking, down-to-earth cover star is very much about egalitarian architecture. "It's become a meeting place as much as an office, like a town hall," she says of the studio. "Often architects' offices aren't right by the street, but we work with people, so this should be at street level."
The pop-up office, called Ett Arkitekt Kontor (An Architecture Office), occupies an old travel agency, and has an informal, ad hoc aesthetic that is a symbol for the project as a whole. "The idea was not to have this flashy, luxury office, which wouldn't suit the project, nor us," she says. Kitted out with recycled furniture and reclaimed materials collected from the city, it is imbued with a local identity. Some pieces are retrofitted with new elements and functions, such as a large desk with segments at different heights, allowing staff to work at a computer, make models or have a coffee break on a single shared surface. It can be seen as a metaphor for the new Kiruna, for which 20 old and listed buildings will be taken down and rebuilt amid their new surroundings. Materials from the demolished buildings will also be repurposed, to infuse the new town with a familiar character.
The phased relocation of Kiruna in northern Sweden
From within the Kiruna pop-up, dialogues between Kiruna citizens and the architectural team will influence how details of the wider masterplan pan out. "It's extremely important when you move a whole town to find out its qualities and bring the memories to the future town," says von Schmalensee. "It shouldn't all be brand new. We should rebuild existing buildings not just for preservation, but because there are qualities from these buildings that make Kiruna." This includes how the old buildings will interact with the new ones, she says. Rather than simply recreating the old town, White aims to evolve Kiruna to benefit from contemporary ideas of city planning, making it more sustainable and economically diverse.
As for day-to-day life, there's no difference between London and Kiruna, she says, because people want the same things: to be close to the shops and nature, to have diversity of culture, for their children to be safe, and to be able to walk around. Hence the plan is a regular division of blocks, but with a twist, as each city block features a mixture of building type, including homes, workspace and public space. "When we talk about future cities, we talk about walkability and quality of life," she says. "We have the advantage of doing this from scratch, unlike other cities that grow organically, so we can take these human needs into consideration from the planning stage and disperse everything in a democratic way."
White's shop-front office in the centre of town
Talking of democracy leads me to quiz von Schmalensee on White's reputation as a near-Utopian workplace. Founded in 1951 by Sid White and PA Ekholm, the practice achieved early success in designing residential and healthcare projects with wellbeing at the heart of its practice. This aligned with Sweden's political movements at the time, so social democracy is ingrained in its company culture, says von Schmalensee. White believed in a shared ownership model, and today it is owned by more than 500 of its employees, 122 of which are partners, which adds to the anti-hierarchical spirit that retains staff so well. Yes, there is a CEO, but she's a woman (hooray!) and far from being a poster girl for the firm, she is part of a unit. Unassuming and quiet but in a commanding, measured way, von Schmalensee is proud of the firm she represents. "There's not one person who has the power," she says. With hundreds of partners, how do decisions get made? "We wonder that ourselves sometimes," she laughs. "It's very much about conversation. It's difficult but it's part of the success story."
Von Schmalensee also attributes its happy workforce to its interdisciplinary nature. The company has every imaginable expert in house, from architects, interior designers and urban planners to researchers, and digital and furniture designers – whose prototype for a bench for public spaces also features on our cover. Its broad portfolio includes the Johanneberg Science Park, an education, research and workplace campus in Gothenburg; Stockholm's Yasuragi hotel; Gothenburg's Apple Orchard residential development; the award-winning Royal Pavilion on the UK's Southend pier; and the redevelopment of Oslo's harbour promenade.
One of the new Kiruna's mixed-use neighbourhoods
White has an in-house social anthropologist, a fact that impressed Sweden's housing minister so much, says von Schmalensee, that he mentioned it to his British counterpart on a recent visit. Employees are encouraged to try new things, get involved and work across disciplines, hence many stay at the firm a long time because they don't get stuck in one niche, they can diversify. "Students like it because it's like going into another academy," she says. The work of an architect is much more complex today, she believes, and White has the resources to put a lot of money into R&D, to invent and do innovative projects, which is what young architects are interested in. "Of course salary is important, but it's more important to be at the forefront, and create interesting work."
There are two ways to work in architecture nowadays, says von Schmalensee, which is either to be big or small. White has size on its side, so can cover every competence from landscape architecture to facade design and placemaking, and small firms can specialise. The mid-size firms, however, won't be able to do innovative projects, she says, and will find it difficult to survive unless they focus on one sector alone.
Katsan, White's canalside Stockholm office
Another factor in White's popularity as a workplace is its support of women. Also present at our interview is the MD of the Stockholm office, Ulla Bergström, one of many female executives. Sweden has a world-leading track record for women's rights at work, which is a strong part of its culture, and White is testament to that. So what can the UK learn from Sweden in that respect?
"I've been discussing this a lot with British architects," von Schmalensee says with a smile. It's changing now, she says, but it will take time of course. One thing that helps is that White, like many Swedish workplaces (H&M being another well-known example) has nailed work/life balance. For example, employees can work flexible hours, and it's common for men and women to share parental leave – as is the case across Sweden, where shared leave became a right in 1974, yet only just became so in the UK. "I read that lots of women [in Britain] don't have children because they had to choose either work or family. I can't say we had to make that choice. But you can't just say 'do it like us', because it's different."
Inside Katsan, with Monica von Schmalensee
"Also I think [in the UK] people work too-long days. We have to produce such intense amounts of work, but we shouldn't have to stay late. It's a mindset. It's a question of leadership. You say, it's not OK to stay here over the weekend. We talk about it a lot. This workplace should be about quality of life, not just quality of working life."
The firm now has 14 offices with a headquarters in Gothenburg and a landmark site in Stockholm, the location for our cover shoot. White designed the rectangular glass building, named Katsan, in 2003, inspired by industrial harbour warehouses as it overlooks the Hammarby canal. It was also a chance to advertise the firm's sustainability focus. Water is piped from the canal to aid the cooling system within the exposed concrete joists, and computer-controlled sun awnings help to maintain the indoor climate.
Impressive timber framing at Octapharma's office
The vast, open floorplates are bright (despite it being December) and the interior hits the balance between effortlessly cool and cosy that Swedes often do so well, with wood floors, concrete walls and ceilings, and chic furniture. Rows of desks are broken up by small seating areas, high teamwork tables and plenty of shelving and screens, to control acoustics and create areas of privacy. It houses around 300 staff, yet feels approachable.
Also impressive (in a different way) is another of White's recently completed workplace projects, the Stockholm offices of Swiss pharmaceutical company Octapharma. The building's former life as a brewery in the late 19th and early 20th centuries has inspired a heavy use of copper and similar tones throughout the scheme, creating a feast for the eyes. Walls of meeting boxes and an entire reception desk are coated in the warm tones of this luxurious metal, matched by soft leather seating in a creamy orange, and complemented by pine and limestone floors. Each desk even has an embossed leather pad. "It's very seldom that a client wants the best of the best," says von Schmalensee, describing the elaborate, no-holds-barred approach to materials. "It's extremely elegant and beautiful, classic and smart."
Copper refers to the building's past life as brewery
Southend Pier Cultural Centre leans seaward
Voluminous ceilings in some spaces, which remain from the existing architecture, are accentuated by exposed timber details, its rich colour contrasting with the white walls and ceilings, and pale wood floors. One of these rooms is the restaurant, where all staff, no matter what level, benefit from catering that von Schmalensee equates with the top restaurants in the city.
As a project, Octapharma demonstrates White's ability to deliver luxurious interior detailing at the same time as designing a modern workplace. Meanwhile, the practice has been simultaneously working on a competition masterplan for Oslo's government quarter; developing 'schools for the future' in Norway that are inspired by workplaces; and more cultural projects in Stockholm and Denmark. As the huge firm continues to expand, the plan is to stretch its legs further afield, and its currently tiny office in London is growing from four people to double digits. "I think the time has come where we are needed here," says von Schmalensee excitedly. So what ideas will White be importing? "I think Swedish architecture is good at programming and value-based design, taking into consideration the whole, going from the inside out but also the outside in," she says, returning to Kiruna and the firm's interactive, personable design process. "I think the Swedish approach is a more holistic approach."
Johanneberg Science Park in Gothenburg
It thinks on a grand scale (and is even relocating an entire town), but White architecture's focus is on human experience. Its CEO, Monica von Schmalensee, talks about what we could learn from the Swedes' holistic approach