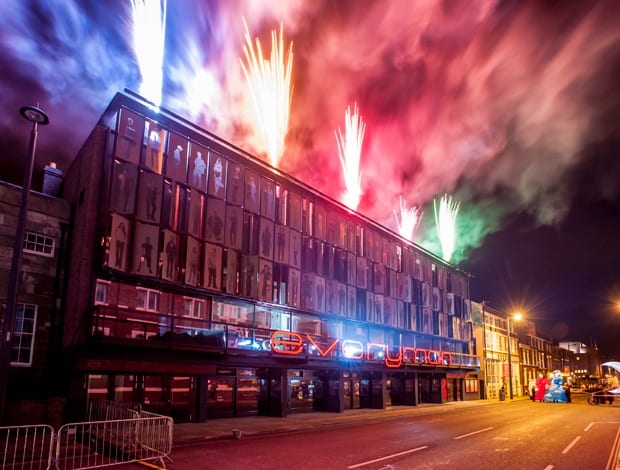 "The perfect balance between continuity and change"|The new building incorporates key features of its predecessor|The solar shading featuring 105 Liverpudlians|The public spaces were praised for being both welcoming and generous|A writers room within the theatre|Natural materials and subtle lighting in the public bar|The auditorium was built with bricks reclaimed from the shell of the chapel that the original theatre was built within||
Haworth Tompkins, perhaps the outsider in this year's RIBA awards, has won the Stirling Prize for the Everyman Theatre in Liverpool.
RIBA president Stephen Hodder praised the firm's close involvement with the local community throughout the £28m project. He said it had succeeded in finding "the perfect balance between continuity and change to win the hearts and minds of the people of Liverpool".
Over a period of almost ten years, the architects pulled down the original 1960s theatre, which was based in the shell of a nineteenth-century chapel, and replaced it with a sustainable building that retains key features of its predecessor.
Located in one of the city's main streets, the "theatre of the people" wears its heart on its sleeve with images of 105 Liverpudlians adorning the solar shading on the façade.
Haworth Tompkins reused 90% of the materials used for the old theatre, including the well-worn red bricks from the chapel structure. Cork, stained plywood and lab benches used bar counters add further character to the space.
The 440-seat auditorium is the first naturally ventilated auditoria in the UK and uses a series of hidden tunnels to expel air without affecting the acoustics.
The judges noted the welcoming and generous public spaces, including bars, lounges and a café, which made the most of a tight site.
It is the first time Haworth Tompkins has won the Stirling Prize. The practice was nominated in 2007 for the Young Vic theatre in London. Although the Everyman is its first 'new-build' theatre, Haworth Tompkins has worked on a raft of theatre projects, including the Royal Court in 2000 and the 'Shed' outside the National Theatre.
Read about the other architecture practices and projects shortlisted for the Stirling Prize 2014.
Read out recent article on Haworth Tompkins' Chichester Festival Theatre.