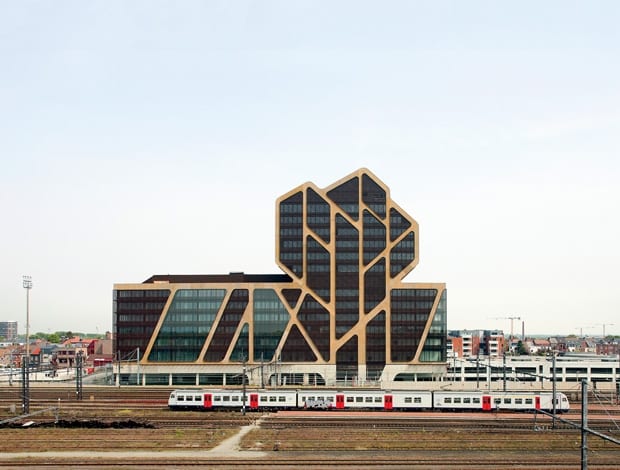 A twin building (on hold for now) was originally planned for the same site|The cellular facade is made from Kerto laminated wood and perforated steel|Courtrooms are done out in rich woods and autumnal upholstery|A veined leaf in exploded size picks up on the building's tree-like form||
Inspired by the shape of a hazelnut tree, and imbued with a little 1970s swagger, Hasselt's Court of Justice cuts a distinctive dash
The distinctive rounded rectilinear forms of the Court of Justice in Hasselt, Belgium, are the calling card of Berlin-based architect J Mayer H. A quick perusal of his firm's portfolio confirms it: the Ada1 offices in Hamburg has curved oblong window boxes that pop out from its facade, while Schlump One, another Hamburg block, is brought to life with his knack for organic shapes.
This project, however, is a departure from the retro-futuristic monochrome aesthetics of those buildings. Imbued with warmer colours and textures drawn from both the city's industrial steel structures and its art nouveau character, its skin is clad in Kerto laminated wood with decorative perforated reddish-brown steel grids shading the windows.
The building's shape, a haphazardly shaped prism emerging from a cuboid block, also shows the firm's unique interpretation of its context. "Firstly, it is based on a hazelnut tree, an important icon for the city," explains project architect Marcus Blum, "following the idea that, in former times, they would hold court underneath a tree." Stylistically though, it evokes the firm's passion for 1970s architecture: "We really like the progressive ideas of that era, so we try to continue and improve on them using new technologies."
The interior was designed in conjunction with two local architects, a2o-architecten and LensºAss architecten, with the joint aim of creating an open and transparent civic centre. It houses courts, done out in rich woods and autumnal upholstery, a university library and auditoriums, and offices with a rooftop cafe where employees can enjoy panoramic views of the city. The tree theme continues, with a large mural of a leaf behind reception, a strong use of raw wood and a beautiful dappled light effect created by the steel facade panels, or "leaves" as Blum refers to them. Metallic flooring and white walls take away from this effect, but serve to make the interior more contemporary.
The Court of Justice forms part of an extensive central masterplan for the redevelopment of a former railway station into commercial, residential and public buildings and parks. When J Mayer H won the design competition, it was one half of an identical pair, following a local tradition for twin buildings, but the fate of this building's other half is now undecided. Despite being fantastic fodder for the pages of architecture magazines, perhaps, in the historic city of Hasselt, just the one J Mayer H building is statement enough.