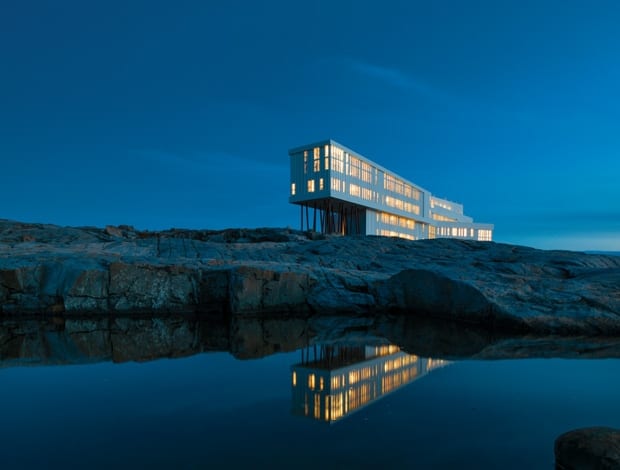 The hotel may look alien from afar, but is made using local materials and processes|All north facing, the guest rooms look out to the Atlantic's Iceberg Alley||
A 45-minute ferry ride north of Newfoundland, Canada, Fogo Island has become an unlikely hive of contemporary architecture and design, driven by tech millionaire and former resident Zita Cobb.
Aiming to put a rocket under the island's dwindling economy, Cobb founded the Shorefast Foundation, a charity set on turning the world's heads towards its rocky shores by rejuvenating its local arts community. First, it commissioned Canada-born, Bergen-based architect Todd Saunders to build six artists' studios across the island (onoffice 54) – modern, angular structures that stand in dramatic contrast to the craggy surroundings. And now there's the Fogo Island Inn, a 29-room hotel that aims to set a precedent for modern local architecture with minimum disturbance to the ancient landscape.
"We wanted to make a building that looked like it was always there; like it was almost growing out of the rocks, but at the same time new," explains Saunders. "There's never been a modern hotel design on this island before, so we had to ask ourselves, what is contemporary Newfoundland architecture?"
So how do you create something starkly modern that also feels natural to old environs? Form-wise, Saunders says he could do anything he wanted, but when it came to construction he stuck to local materials and craftsmanship, such as the locally sourced and milled black spruce used on the exterior cladding.
"Some local carpenters came to visit and they were laughing as they walked up to the building, saying it looked like a spaceship," says Saunders, "but when they got up close they got excited because they recognised the materials and processes used." It's a style the architect describes as strange but familiar, playing off strangeness of form with familiarity of materials.
Built in a cross formation, the two-storey base volume contains mostly public spaces including an art gallery, dining room, bar and lounge, library, gym, meeting rooms and cinema, plus eight guest
rooms. On top of this is a two-storey linear wedge that houses the rest of the rooms, the widest end perched atop slender stilts, giving it the feel of a wilderness lookout post.
All the guest rooms are unconventionally orientated north to put the focus on this location's jaw-dropping views, with every bed facing an area of the North Atlantic referred to as Iceburg Alley. The rooms range from 32-102sq m in size, with three double-height suites at the tallest end, all featuring a minimalist aesthetic made homely by specially designed cool and craftsy furnishings by Nina Tolstrup, Donna Wilson, SCP, Ineke Hans, Simon Jones, Glass Hill, Tjep and numerous others.
The structure also incorporates technology to conserve energy and water usage, including an extremely well insulated shell (fitting for its northerly coordinates), cisterns for harvested rainwater and a solar thermal system that provides hot water for things like underfloor heating. With no box left unticked, all we're left wondering is, what will pop up next on Fogo Island?