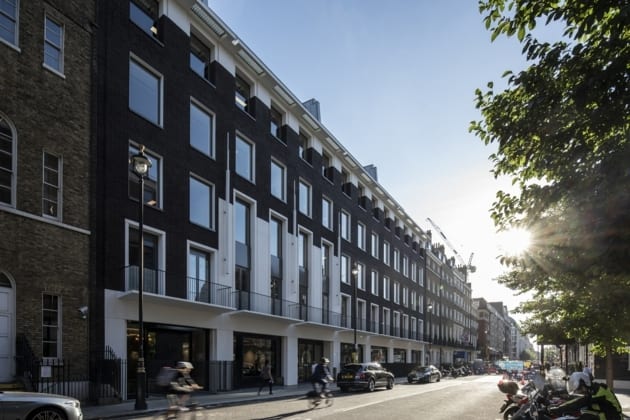 |||
The Portman Estate has completed its largest direct development to date, at 1-9 Seymour Street, bringing to Marylebone 78,500 sqf of mixed-use space comprising grade A offices spanning five floors, a ground floor restaurant, educational premises and 24 apartments.
Designed by Eric Parry Architects, 1-9 Seymour Street is the only building to boast a level 4 rating for Code for Sustainable Homes (CfSH) and a BREEAM Outstanding rating for the office space, both on the same site. The residential units were all pre-sold prior to completion, while the office space at 7 Seymour Street is now fully leased.
With Marble Arch and Bond Street a stone's throw away, 1-9 Seymour Street also benefits from excellent connectivity, and when the Elizabeth Line opens – now due in autumn 2019 – it will improve transport links even further.
The redevelopment of this 1970s former police station forms part of The Portman Estate's ten-year strategy of reinvesting £350 million in Estate-wide assets to ensure long-term growth and create vibrant spaces for the Marylebone community.
Eric Parry, Founder and Principal of Eric Parry Architects, said: "1 – 9 Seymour Street is a project of urban repair and renewal, exemplifying what is wonderful about London, a city of many cities. The ambition was to create an absolutely contemporary building, which in its own right can become a classic over time, works with its context but at the same time has a freshness. The use of materials, the twinkle of the cornice and the dressing of Seymour Street, the attraction of the artwork in the office entrance space and the beautiful piece at the Bryanston Street entry to the community space; all add richness and another layer. The architectural challenge to improve what was there and add to the layers of history, working in relation to the street – this is a lovely problem to have."
For more news like this, subscribe to the OnOffice newsletter!
The Portman Estate completes the development of former Marylebone police station into a seven-storey mixed-use building, courtesy of Eric Parry Architects