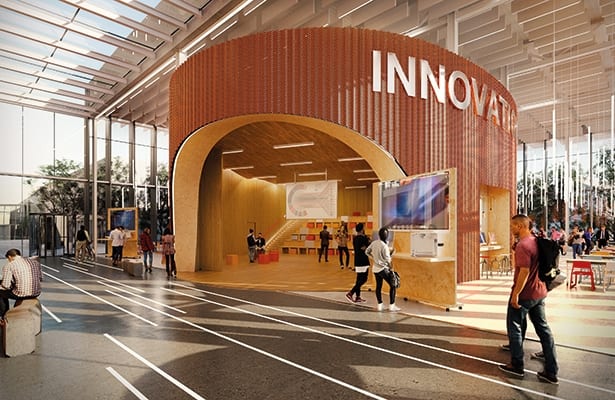 HawkinsBrown's Innovation Central at Cardiff University|||
The Welsh capital city of Cardiff is the country's commercial and cultural centre and the location of many of its arts and sporting institutions. As the home to four major higher education institutions – Cardiff University, Cardiff Metropolitan University, University of South Wales and the Royal Welsh College of Music & Drama – a commitment to education and collaboration lies at its core.
Cardiff University has enjoyed significant growth in recent years, including Innovation Central, a £300m project described by its designer Hawkins\Brown as "the world's first social science research park". Researchers, practitioners and policy-makers will be co-located within the 12,000sq m space, alongside 2,800sq m of commercial units for start-up businesses and 500sq m of commercial wet lab space.
The Oculus design encourages collaboration
"Collaboration has been a key focus of the design," Julia Roberts, a partner at Hawkins\Brown, tells me. She explains one concept that is central to the design: "The Oculus is a sculptural, open staircase that travels through a slanting void, which enables connectivity between all floors, celebrating and promoting the variety of uses within the building." Social spaces hug the Oculus, she adds, focusing collaboration and breakout at each level, with quieter and more private activities programmed further away.
The impressive mix of tenants will "mark out Cardiff University's approach to the societal challenges of our time", says Roberts, adding that the centre will provide the university with a "front door" for businesses: "Its focus will be to foster and develop industry partnerships, providing a range of innovation, enterprise and engagement activities and events."
Innovation Central on its Maindy Road site
Cardiff is the leading location for Welsh business, from Cardiff Bay's business hubs through to the Capital Tower, the tallest office building in the city. The 11,200sq m tower office scheme is owned by Topland Group and includes a 1,860sq m business centre which provides flexible working solutions for a variety of firms.
Since it opened in April 2014 on a single floor, the business centre has expanded over three floors to a capacity of over 200 people. Topland Group recently celebrated this growth – and a series of new tenants – with a refurbishment of the entrance reception, main lobby and cafe by fit-out specialist Paramount Interiors.
S3's cinema-style presentation area can be screened off
The work in the reception area included removing the existing revolving door and side screens and installing a new frontage. The space is mainly white, with splashes of the Capital Tower colours, and is finished with freestanding lighting and artworks by Cardiff artist Julia Brooker.
Another recent project from Cardiff and London based Paramount Interiors is advertising firm S3's new space in Central Square. A typically quirky ad firm fit out, the office features colourful communal and recreational areas. Among the many bold features are two 600kg lion statues and a 32sq m stadium-style cinema/presentation area, which can be screened off for privacy. The entire space comprises a mix of static desks, hotdesks, meeting rooms and a dedicated video production room.
Colourful signage in Paramount's design for S3
Creative businesses are continuing to head to Cardiff's Central Square, immediately in front of Cardiff Central railway station. The area is undergoing an ambitious masterplan and will eventually see around 90,000sq m of new office, residential and leisure space. One top dog to make the move is the BBC; Cardiff has long been the Welsh base for its broadcasters (BBC Cymru Wales, ITV Wales and S4C) and its relocation to Central Square is set to strengthen Cardiff's standing as a leading media city.
Its 14,000sq m space has been designed by ID:SR, with plans to complete in 2019. Alan Bainbridge, portfolio director at the BBC, tells me: "At the heart of the ID:SR Sheppard Robson design will be a media hub of studios and editing suites that will allow us to take television, film and radio content through all stages of the production process on one site."
Two lion statues are among S3's quirky features
As part of the move, the BBC ran a competition with Welsh universities to find the brightest design talent. Students from Cardiff School of Art and Design, Coleg Sir Gâr, Swansea Metropolitan University and University of South Wales (USW) were challenged to create futureproofed, flexible furniture for the media hub.
The winning designs will be manufactured by Bisley and Camira, and their creators offered work placements. One winner, James Gould, an interior design student at USW in Cardiff, created a modular storage system that flexes to the requirements of users, while Emily O'Reilly from Carmarthen School of Arts at Coleg Sir Gâr designed fabrics inspired by the poetry of Dylan Thomas.
"I think [the new space is] going to make us feel much more part of the city and closer to our audiences, staff and partners," Bainbridge concludes. "We wanted our new offices to feel rooted in Cardiff and the surrounding communities."
This article first appeared in our August 2017 issue
Students, researchers, startups and media are making the most of the new collaborative spaces that have been springing up in the Welsh capital city