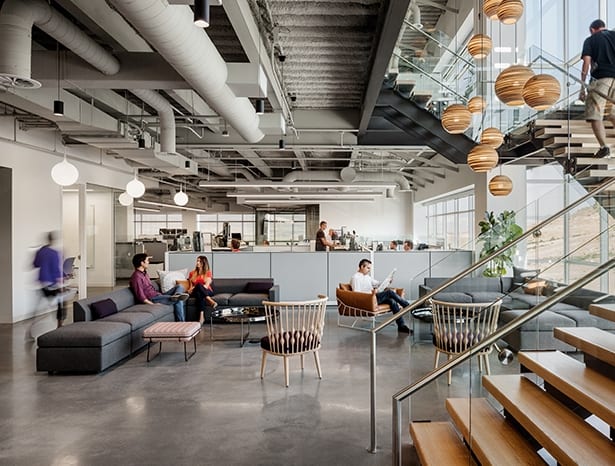 |||
At every turn the design of Ancestry.com's new headquarters in Utah takes its cue from its reason for being: the study of what makes up our "selves". Well known for its purpose of tracing familial and personal history, the organisation has now branched out into the field of science – providing a service to analyse swabs of DNA to find the races and geographies you are made of. This, rather excitingly, is leading to progress in the world of individualised health care that can be set to your own makeup, and the future that may bring. And, just as a person is made up of a past, present and future, so is Ancestry.com's path – something that had to be taken into account in Californian design firm Rapt Studio's plan for the 19,500sq m new build.
"Ancestry.com are an interesting company," explains Rapt's CEO and creative director David Galullo. "It has its huge background in genealogy, but where they will be in ten years is actually a big question mark. This was a step into the future, away from the walls of old family photos and the vintage feel of the old headquarters and a chance to keep the pages open, so our design reflects that."
Galullo continues the analogy further, stating that just as people are made up of a series of pieces of information, so was this new office space a sum of its components, its teams and their interactions. Galullo describes these teams as "an interesting array of folk" – a mix of old school and new school, if you will. There are those trained as librarians transferring and researching data from old records and books, then there's the tech and web design team who work on the interface for this information, making it accessible and user-friendly, and now there's a whole new team of geneticists, as well as the "normal" office part of the mix of marketeers and administration.
For this reason, the layout is modular, with up to four meeting rooms on each of the three floors, as well as a breakout space on every level. Communal work spaces feature at the centre but there are plenty of booths tucked away in corners. Comfort is key, with breakout areas that resemble living rooms with ottomans and sofas. On the entrance level, there is a large gathering space – big enough to accommodate the whole organisation should they need to.
"Imagine if you will," describes Galullo, "the way an introverted historian who just loves the smell and feel of an old book will work, compared to the tech nerd who spends his day working on algorithms, compared to the creative and PR team who are constantly collaborating."
He continues: "Our job was to build an office that allowed for those different types of personalities and their tasks. So there are lots of quiet spaces, meeting points, gathering zones, there's a lot of choice. Again, back to the analogy of the human makeup, we wanted to highlight that there is not just one way of working, there are different ways of looking at the same thing."
In the lobby there is an art installation that represents the diverse historical backgrounds of different populations, indicating 15 principal ancestries with 15 principal colours, forming a multi-coloured dimensional graph. Each sampled population (for example, those currently living in West Africa) is portrayed in a single column, with the colours that make up that column expressing the group's many ancestries. These colours continue to pop through the space as palettes for meeting rooms and wooden ceiling slats.
This feature of diversity on display was something that both the client and Rapt wanted to reference throughout the project: the global and cultural aspect of the human makeup. This can be seen in the use of ethnic and heritage-patterned textures, wallpapers and upholstery – and even ceramics, in the shape of tiles from Washington company Statements and an installation of plates from all over the world. This is displayed in the large communal canteen area, which has been given the name Sunday Dinner at Grandma's House to conjure up thoughts of familial gatherings.
The Rapt team was keen to source these pieces from multiple locations, rather than buying a job lot, to get that authentic feeling of a whole that is built up of smaller parts over time. So they called in pieces from vintage dealers, custom-made many objects, as well as going to outlets such Anthropologie and West Elm or international makers. For example, the wooden benches are from De La Espada and floor lamps are from Muuto, both companies with footprints in Spain, Portugal and the UK.
The floor is in varying degrees of polished concrete and the beautiful staircase has warm oak treads. Rapt's designs for the staircase were modified as the building was going up, to maximise the breathtaking scenery of Mount Timpanogos and the surrounding valley which can be seen from all around the glazed structure. "We decided that the staircase should pop in and out of the building to allow people to connect to the landscape as they travel around the office," says Galullo, "and we also made sure the staircase runs through the communal 'living room' type spaces as it goes, so there's a feeling of integration between floors. Again, something of a nod to the importance of immigration and convenient and fortuitous collisions that make up the human race!"
An installation of cardboard globes swirls up the well of the central stair, created to loosely suggest the idea of distributed linearity of a timeline, a family tree, or a even a double helix. And, of course, the old family photos have not been forgotten, but this time they have been given a connection to the current moment, pairing employees with archival photographs of their relatives, found through the website.
Rapt Studio has created something very clever in this new headquarters, a fresh, exciting space for a company with a foot firmly in the past but with a future yet unwritten, connecting the dots between back then and what's to come, while being something quite beautiful, pertinent and poignant in the here and now.
Rapt Studio's HQ for genealogy firm Ancestry gets right into the company DNA