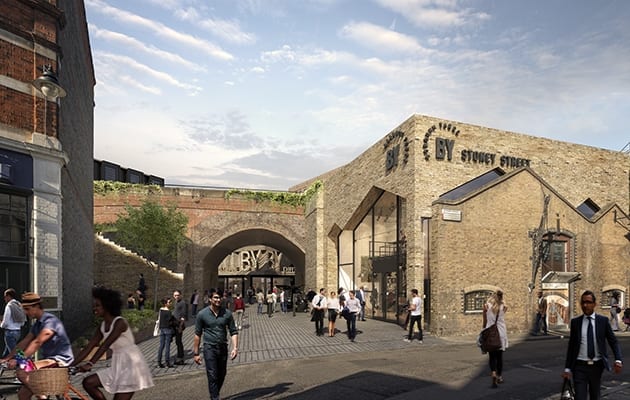 |||
Construction work has begun at Borough Yards in Southwark, London SE1, the £300 million mixed-use development designed by SPPARC for Meyer Bergman.
The development will sprawl around the jugular of the South London railway viaducts, which will be open as pedestrian lanes. Below, the arches will be opened up and transformed to create raw-brick cathedral-like spaces for a new retail environment, cultural spaces and gallery. A simple glass frontage with industrial scaled structure will be recessed between each arch to allow a visual appreciation of each impressive Victorian span.
The proposal incorporates retained façades of forgotten warehouses which will be sensitively blended into the new Borough Yards district, providing elevations to two, six-storey office buildings. Inspired by Victorian terraces bounding its Stoney Street site, the long elevation of the largest new building incorporates a series of folds that respond to the rhythm of the townscape whilst reaffirming the re-emergence of the location.
The scheme, which received planning permission in March 2017, and is due for completion in 2020, will feature five mixed-use buildings including Grade A workspace, retail, gallery, restaurants, cinema and creative spaces. The high-quality public realm scheme will restore and reinvent the lost medieval street pattern of the area adjacent to the world-famous food destination Borough Market.
Restoring and rejuvenating an important part of south London's Victorian railway heritage, the landmark scheme will also re-purpose 8,500sqm of existing railway arches. SPPARC's design weaves together historic fabric with contemporary architecture and new public spaces to open up the site to its Bankside context and bring new pedestrian permeability and amenities to the area.
"Borough Yards will become a new cultural destination that reflects the work/play balance of modern London," says Trevor Morriss, Principal at SPPARC.
In addition, the project will see the complete redevelopment of former wine-tasting venue Vinopolis and neighbouring sites fronting the pedestrian paths linking Tate Modern with Borough Market, the newly reconfigured London Bridge station and The Shard.
A strategic approach to design includes landscaping and street furniture for newly created public spaces and yards. Several historic local street names will be revived within Borough Yards, including Dirty Lane, Clink Yard and Stonecutters Yard.
Subscribe to the OnOffice newsletter to get all the top news delivered to your inbox!
Historic railway arches in South London are set to get a swanky upgrade featuring Grade A workspaces, a gallery, restaurants, a cinema, and creative spaces