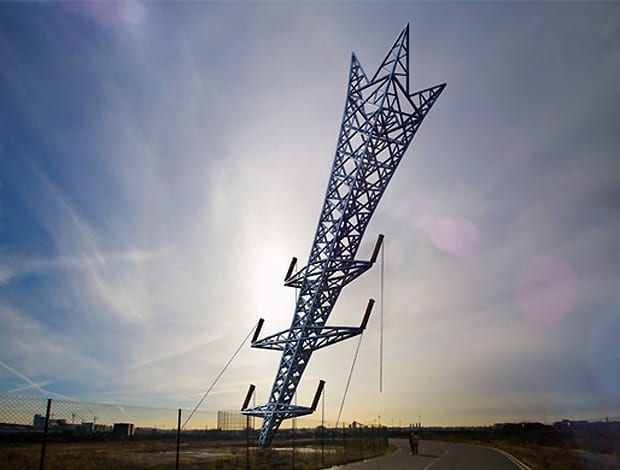 A Bullet of a Shooting Star|A Pound of Flesh for 50p|A Pound of Flesh for 50p|From the Knees of My Nose to the Belly of my toes|Take my Lightning but Dont Steal my Thunder||
What can you tell us about your next project, the headline installation for this year's London Festival of Architecture?
It's called A Bullet from a Shooting Star. Basically, it's a 35m-high, upside-down pylon that leans over a road on the Greenwich Peninsula at a 60°angle and uses 1186 m of steel.
It's my biggest project so far and, although I don't want to jinx it, my work seems to be gaining momentum.
Has it been a challenging project?
Conceptually it's very simple, but structurally, technically and logistically is very complex. I don't want to just hand it over and step away. I'm too anxious about it and I care too much to detach myself from it.
I've developed a practice for making these projects and I've figured out how to delegate, but I still can't quite let go.
Your projects tend to have quite abstract names – can you tell us more about them?
It's my last creative indulgence. The projects are 5% creative and 95% execution and management. It makes me feel like an artist again – for a moment.
¬
With A Pound of Flesh for 50p (the melting wax house), the expression has a pleasing familiarity, it rolls off the tongue and goes into the ears more easily. The wax was the pound of flesh. The house began looking twee, but ended up looking quite macabre. Also, the buildings halved in size and mass over the period, so it was like a £1 flesh for 50p, that was halving too.
How much money would you have made if you sold off the wax?
Quite a lot of money – that was seven tonnes of wax.
You've mentioned the role of familiarity in your work. Why is it so important?
Familiarity is an interesting platform for distortions and surprises. Art elevates these things and distorts the world around us. I think architecture is a good medium for this.
A lot of your work is architectural, but you're building something that's meant to be temporal or to melt away.
A Bullet from a Shooting Star will be in place for nine months and that's very important to me. Although they speak the same language visually, materially and in their dimensions, they're devoid of function, which places them in the camp of art.
You've said you are inspired by 'personalities', in what way?
Absolutely, it's not necessarily their work that inspires me but certain characteristics or the way they approach their creative practice.
The people that most excite me at the moment are Alexander McQueen and it's hard not to be excited by Thomas Heatherwick. The rapper Kendrick Lemar – his new album is brave. When people have achieved a certain level of success their work can be repetitive, but he's innovating and taking risks.
I'd like to think I'm not a repetitive practitioner, every time it's new materials, new processes, new collaborators, new locations.
Thomas Heatherwick is a designer who swapped over to architecture, do you have any interest in doing that?

All the time, but I just want to be as ambitious, as productive and as exploratory as I can. But I need to contain that energy and ambition and drive to one pursuit – for the moment.
Are there any artists or sculptors that inspire you?
I like the work of the German artist Michael Sailstorfer, Peter Coffin and Richard Wilson.
I also like the work of American artists in the 50s, 60s and 70s – Dan Flavin, John Chamberlin, Jackson Pollock, Mark Rothko – it was just an incredibly ambitious period. I'd love to be a painter but I wouldn't know what to paint that hasn't already been done.
With them, it's this idea of catharsis and energy, which is exactly what my practice lacks. There's no opportunities for catharsis or abstraction, that's why I do my titles.
Is public art important to you?
Certainly the projects I've been making in the last two years fit in that category and they quite accessible in their theatricality and novelty. I think artists are selfish creatures and I'm not pretending I'm not one of them, but there's something rewarding about that.
Having said that, I'm becoming more interested in public institutions. I've got so many pieces that I want to make and processes and materials I want to explore, I think I want to develop a practice that's allows smaller, but a greater number of projects.
I was relieved to leave art school because it gave me a complex, you were exposed to critique everyday, and you're making art for artists and it isn't your own. I'm a little wary of returning to art galleries and institutions because of that.
The work of Alex Chinneck is widely known, but the man himself still retains some anonymity – at least, for now. When onoffice arrives to interview the artist and designer before his talk at The Scin Gallery, we're told to look for a 'tall, ginger, bearded, arty and cool-looking man'. We soon realise this applies to a considerable portion of the crowd – a few were even called Alex. Once found, he only matches three (at most) of these descriptors. Beyond that, he proved a fast, insightful and candid talker; we quizzed him on his upcoming LDF project and his renowned public artwork.