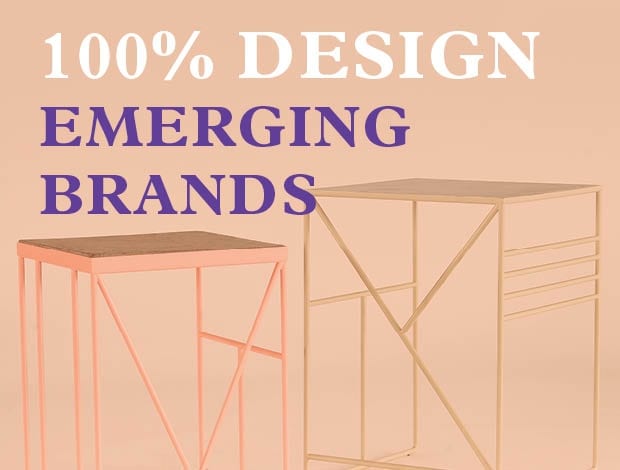 ||
A selection of the most exciting and innovative up-and-coming talents showing at this year's Emerging Brands section at 100% Design
FÆRID
Icelandic design studio Færid will be bringing its Berg nest of tables to 100% Design, having launched them earlier in the year in Reykjavík. The two tables have slender, geometric bases made of plastic-coated steel in a range of powdery colours, topped with concrete (on the smaller table) and aluminium (on the bigger one) made by local craftsmen; these surfaces were inspired by rocky, volcanic Icelandic scenery.
ANNA GLASBROOK
Somerset-based designer Anna Glasbrook will be launching two ranges that can be used as glass building blocks to create space dividers, reception desks or feature panels. Glow Blok (above, background) features neon ribbon 'stitched' through lit-edge vinyl, which captures light to make its colourful loops appear as if it's lit from within. Aria Blok (above, foreground) is similar, but stitched through two layers of transparent film (also used for water tanks at the NASA international space station). The lines of stitching create vibrant three-dimensional 'drawings' in space.
FORMAT
This Belgian firm cites Andy Warhol, Daft Punk and Nietzsche among its inspirations, but perhaps it was looking to a higher power when it designed its Altar tables. The minimalist table is made from lacquered MDF and is available in black, white and a range of bright colours, including the cerulean blue pictured. Format will also be launching its latest collection at the show, the details of which are still under wraps.
COUCOUMANOU
CoucouManou will be showcasing its Loop range at 100% Design, including this low cabinet. The collection juxtaposes an American walnut frame with doors in black Valchromat (a wood-fibre panel engineered for strength), with colour filling the patterned grooves. An interest in the efficient use of sheet materials –components are often cut on a CNC router – allows CoucouManou to keep prices down.
JAKOB GOMEZ
Hailing from Mexico, Jakob Gomez designs geometric furniture with precise lines. At 100% Design, Gomez will show his interpretation of a wingback chair, the GiBooth, which creates intimate spaces within public areas.
MASAM
New French brand Masam is the brainchild of artists Said Njeim and Marianne Guély, and will launch its first collection in the UK at 100% Design. Working with a variety of materials – alabaster, brass, walnut, paper and leather – the duo creates strong architectural and decorative forms using folding techniques.