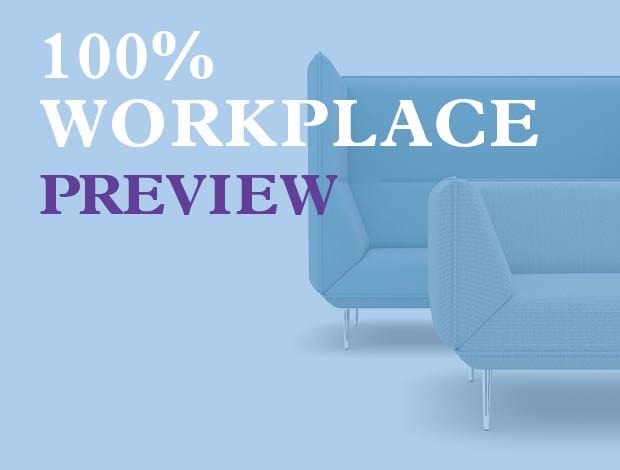 ||
100% Workplace is the UK's only dedicated exhibition of design for the workplace, and is one of four distinct sections at 100% Design alongside Interiors, Eco Design & Build and Kitchens & Bathrooms. The 100% Workplace show will feature new furniture and products by BuzziSpace, Bestuhl, Ergo and many more. Here's a selection of what visitors can expect to find

TERENCE WILLIAMS DESIGN
Design veterans Terence Williams Design – the British company has been going since 1990 – manufacturers a range of tables, seating and accessories in chrome, leather and glass, with sleek finishes that are suited to a modern hotel or upscale office breakout environments. Its Aero table (pictured) has a beam frame, with a top in glass, wood or composite material.
TOPSTAR
Office chair specialist Topstar will showcase the latest Wagner ranges, W1 and W7. The W1 chair (pictured) incorporates Wagner's three-dimensional Dondola joint, which holds the base of the chair and causes micro-movements to relieve and strengthen the spine. The chair's matt-chromed steel frame forms a loop, which is the main visual focus since technical elements such as handles and levers are hidden away. The W7, meanwhile, features a mesh backrest and a headrest. It is trumpeted for its full adjustability – including the seat depth and angle, and headrest height, depth and angle.
SOUNDTECT
Acoustics expert Soundtect has broadened its range of products, introducing panels for walls and ceilings that can be printed with corporate branding, logos and advertising. Soundtect's core collection (including Cubism, pictured) is made from recycled PET bottles.
CMD
The British technology company will launch PortHole III, a wireless charging device that can be fitted into a desk via a standard 80mm grommet hole. The device emits a beep when a successful connection between phone or tablet has been achieved and beeps three times if a foreign object is placed upon it. PortHole III is compatible with the iPhone 5, iPad, and other brands such as Nokia, Nexus and HTC.
---
NOWY STYL
The Polish manufacturer will expand its Hexa range with the introduction of the Hexa Media Pod. The pod is designed to filter noise in open-plan or noisy offices and features a media wall with an integrated meeting table, with options for mounting monitors and television units.
---
BOSS DESIGN
Birmingham-based contract furniture company Boss Design continues to build on its Soft Office range, first unveiled at last year's Clerkenwell Design Week, with a new sofa collection and single-seat work booth. The sofa is intended for use in breakout spaces and has a compact design to counter rising office rents. It has rounded corners with oversized piping on the back, arms and seat and comes in low- and high-back versions.
---
BUZZISPACE
The Belgian acoustics specialist has branched out into furniture in recent years, always with a radical approach. At 100% Workplace, the company will officially launch BuzziPicNic, a wooden indoor picnic table aimed at social spaces in offices or other commercial interiors. The company will also show rereleased design classics by Ernest Race, including the BA3 and Rocker chairs.