Forbo Flooring Systems combine beautiful textile floor coverings with resilient planks and tiles to get the best of both worlds
When it comes to designing office spaces, taking a holistic approach is key. Read on, as Lewis Cooper, Segment Marketing Manager for Offices at Forbo Flooring Systems, explores how you can create integrated flooring schemes quickly and easily, by combining beautiful textile floor coverings with resilient planks and tiles to get the best of both worlds.
The role of flooring in modern office design goes beyond simply being a surface for people to walk on. Specified correctly, flooring can be a fundamental part of creating high-quality and fully functional spaces that staff, employees and visitors can enjoy working in, as well as having a positive effect on their health and wellbeing. In fact, studies have shown that an office interior that focuses on employee and workplace wellbeing can result in improved productivity, increased morale, less sick days and better staff retention. Key factors such as lighting, indoor air quality, noise control and thermal comfort can all contribute to better indoor office environments.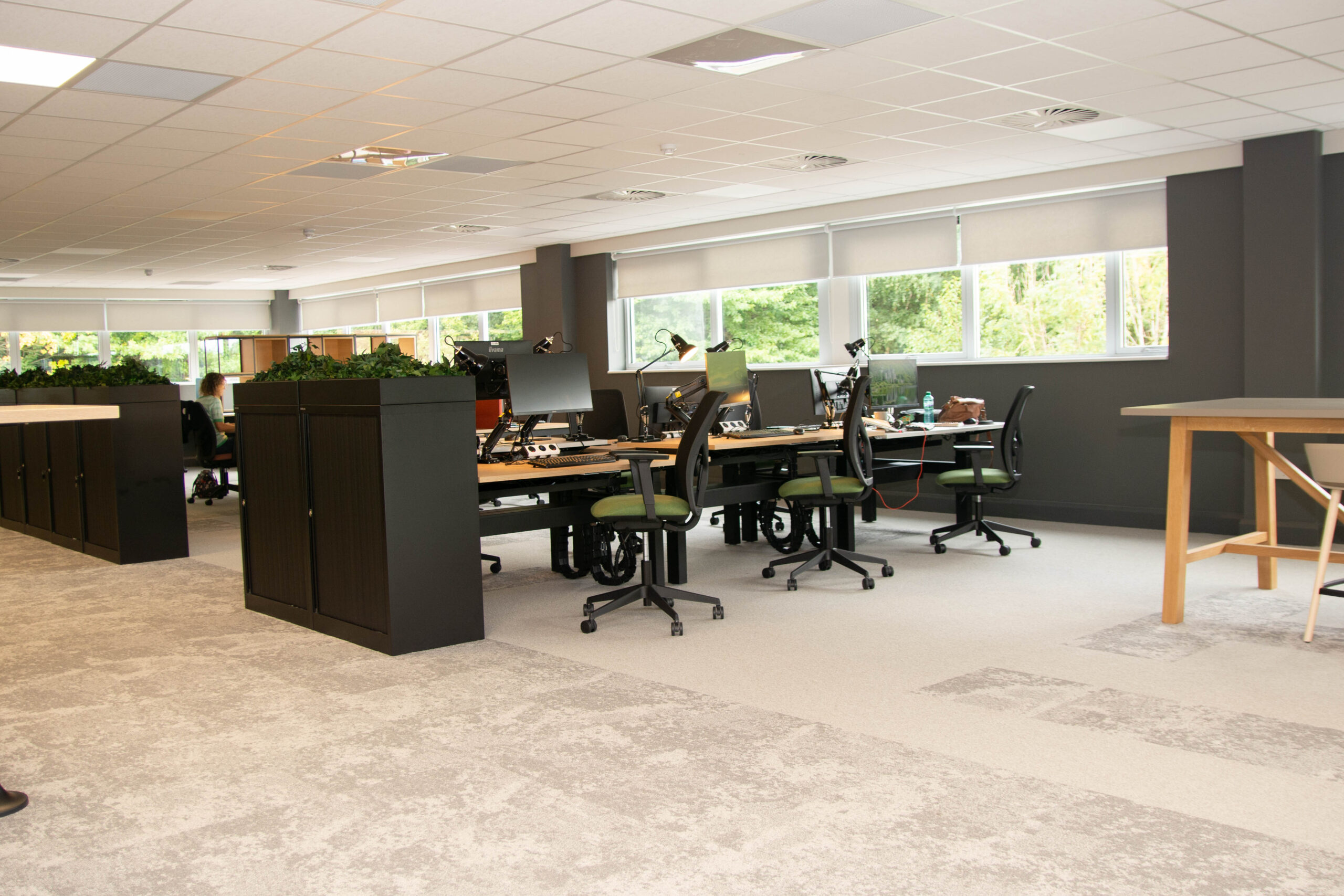 Looking at the actual design of an office, there are many different areas within a single office setting – all of which have their own individual flooring requirements. For example, in the main workspaces, improved acoustics and underfloor comfort should be a priority as this can affect productivity. Meanwhile, in corridors and circulation areas, products that provide a more sophisticated look and feel, yet are able to withstand heavy traffic, might be considered.
With the continuing trend for open-plan office spaces – facilitating a more collaborative, productive and friendly atmosphere – it's important to look for flooring solutions that can work side by side, ensuring a seamless transition from one area to the next. It's also important to consider creating individual yet integrated zones, guiding employees and visitors on a journey through the office space. For example, there may be breakout areas, tea points and kitchenettes, which all connect to the main office.
It is for this reason that Forbo has created a comprehensive portfolio of textile and resilient floor coverings that can be easily installed alongside each other, such as Forbo's Tessera carpet tile collections and Allura Flex" LVT planks and tiles.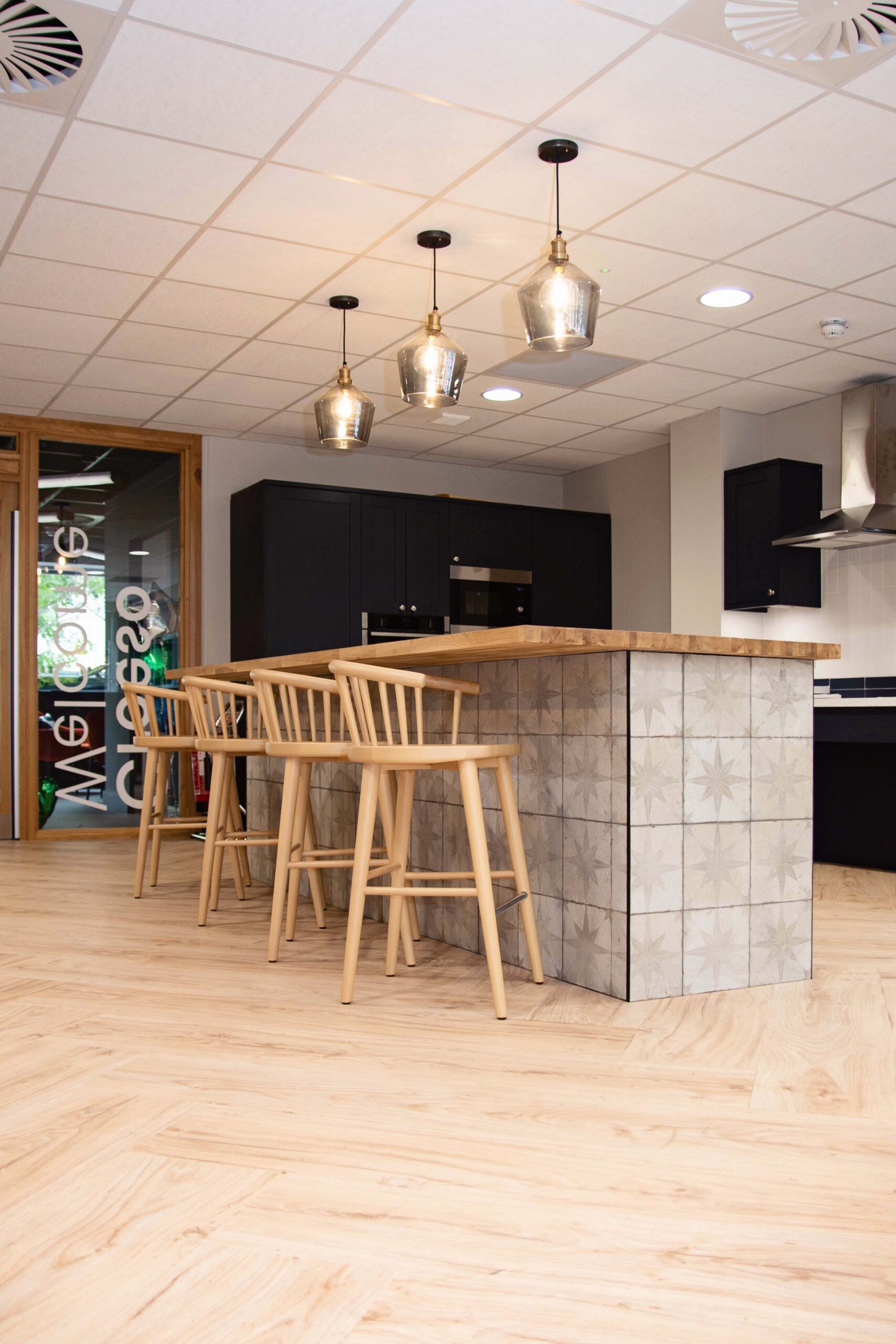 For areas where spillages may be a risk, such as within breakout areas and kitchens, these easy-to-clean luxury vinyl tiles, installed using a tackifier, can be easily fitted alongside the Tessera carpet tiles, often chosen for quiet workspaces, without the need for transition strips or subfloor build-up. This allows the creation of stimulating and inspiring, yet functional and practical, integrated flooring schemes with minimal fuss and hassle.
However, for areas that have raised access floors and where tackifier is not a viable installation option, LVT and carpet tiles can also be installed adhesive free using solutions such as IOBAC's MagTabs™. Utilising a dry tack on one side and magnetism on the other, MagTabs™ provide a two-dimensional grip, locking the flooring in place.
By using this method, these modular flooring solutions can be simply laid onto a metal raised access floor and then magnetically attached to the subfloor. This makes for a much faster installation process than using adhesives and has many benefits for both contractors and building owners.
Featuring a softly striated, contemporary design, Forbo's new Tessera Accord carpet tile collection comprises colourways that have been designed to tonally match each other – perfect for creating beautifully integrated flooring schemes within office spaces. There are six neutral shades, including linen pearl and morning dew, as well as six accent colours, such as coral kiss and clover leaf.
Allura Flex is part of Forbo's popular Allura LVT collection, which is constantly being updated and refreshed to reflect the latest interior trends and finishes. Offering creative freedom with a large variety of sizes available, including herringbone and XL installations, the collection includes beautifully realistic wood and material designs. Allura Flex is also available in an adhesive free format, enabling faster and more environmentally conscious installations.
Although knowing what products can be used together and where can be a challenge, liaising with manufacturers such as Forbo can be a big help, as it'll enable architects, specifiers and interior designers to discover a wide range of textile and resilient modular flooring solutions, which have been designed to be installed together.
For more information about Forbo's office solutions visit forbo-flooring.co.uk
Photography courtesy of Forbo