Mara are exhibiting a myriad of new collections for both office and home at Orgatec after a four year hiatus from the furniture exhibition. Multiple new products will be showcased, with a single common thread that unites them through the theme of "Setting Colours".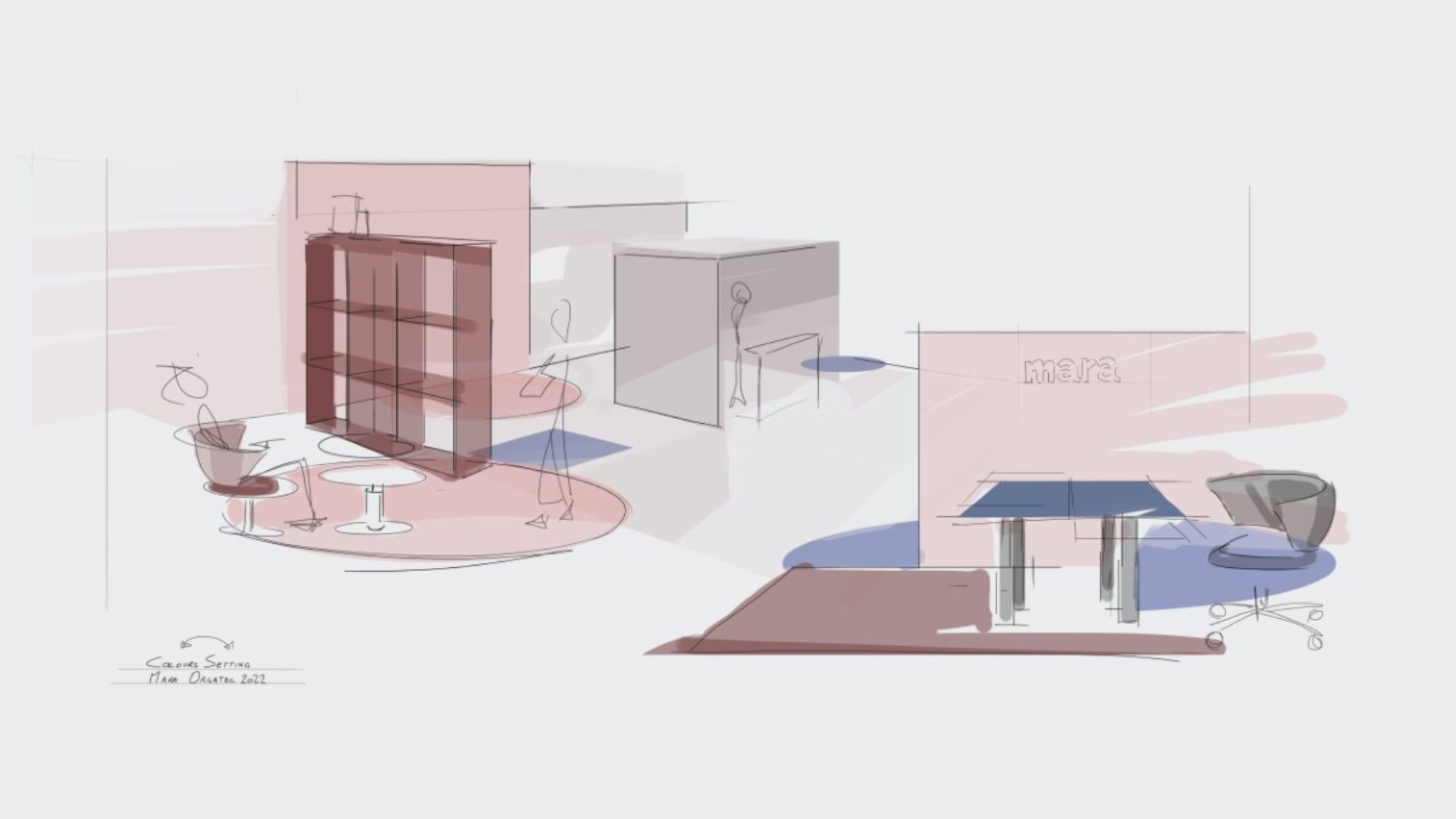 It is precisely the colour red that defines their stand theme this year; an intense, deep and almost mysterious shade that creates a link between the numerous furnishings presented by Mara for the first time. The colour, available as a finish for their collections, is not only an aesthetic expedient to enhance the emotionality of an environment, but is also a symbol of the company's evolution and new image.
This strongly identifying colour, like Ariadne's thread, traces the path through the stand and amongst the various sceneries created, to represent the multiple expressions that Mara furnishings take on. These include collections suited for co-working, meeting areas, office spaces, home offices and residential settings.
Visitors are guided to the centre of their exhibiting space through a large corridor that opens at the sides to portray different pictures of environments that, much like film sets and scenes, come together to compose a unified narrative plot. The story conveyed is in Mara's design language – in it's most accomplished form.
The new collections
Mara's collection of tables, seating and accessories have a multitude of destinations and uses; from traditional office space use to home environments where greater aesthetics and comfort are sought.
The Icon Collection
Created in collaboration with Marcello Ziliani, the Icon collection has been designed specifically to conform with both home and office environments. Comfortable yet innovative, Icon has a well defined and linear aesthetic, featuring clear cut profiles and a backwards facing armrest that create an attractive and modern product. The collection also includes the Icon Stool and Icon Desk, which features an integrated writing tablet.
The Loto Recycled Collection
Loto Recycled has fully addressed the issue of sustainability. From the Loto chair (originally designed in wood), Mara has now developed a "green" version which has been created with 100% recycled and recyclable polypropylene, featuring the traditional steel tube base. Although the design remains the same, Loto Recycled's impact on the environment is now almost zero. It's sustainability is reflected through it's colour range of pastel finishes; pink, sage green and greige.
The Follow Collection
With a patented mechanical system, the Follow collection is a world-first collection of sit-stand tables. Composed of five versions (Desk, Tilting, Bench, Meeting and Follow Me), the range has been expanded to include two new models. The first, Follow Meeting Large,  is characterised by it's large adjustable top and a double steel base. The second, Follow Meeting Cone, repeats the central column design of Follow Meeting – but with a conical and smoother looking base.
The Savio Collection
A further extension of Mara's range, the Savio Table Collection (which includes the Tilting top and Folding legs versions) now offers the Libro version. It features a patented anti-shock system and vertically folding top. Thanks to it's design, Savio Libro's footprint is minimised as a large number of table frames can be shipped in a very small space – an apparently irrelevant detail for consumers, but one that has a considerable positive impact from an environmental point of view.
The B302 Collection
Finally, the B302 System makes it's official debut. Born as a single steel bookcase module designed by Francesco Barbi, the B302 Roll features a mobile storage system on castors, the B302 Bench includes an upholstered cushion and the B302 Desk incorporates an integrated worktop. The collection's light and minimalist composition is capable of defining a space, be it residential or office.
For more information, visit: marasrl.it/en
Images Courtesy of Mara.