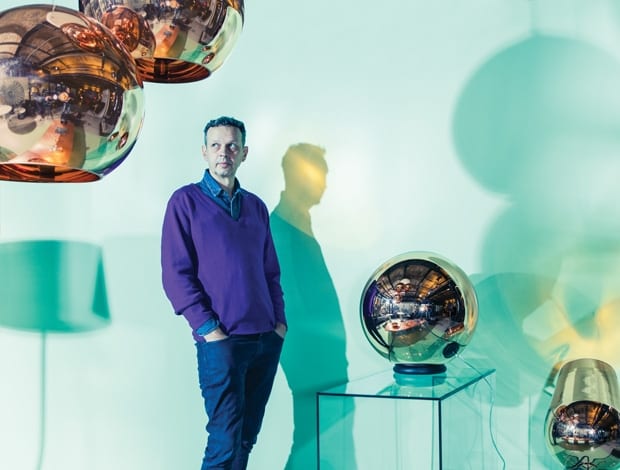 Dixon among his shiniest creations at The Dock, his west London HQ|McCann Erickson's New York HQ, created by Design Research Studio|Bespoke furniture mixes with off-the shelf Tom Dixon lighting|Completed in 2007, members club Shoreditch House was designed by Dixon to appeal to east London's new entrepreneurs|Produced by Cappellini, the S-Chair set Dixon on a course to stardom|The Etch light, made from digitally etched stainless steel|The Fan Chair, modern take on the Windsor, has a more crafted feel|Flask is made from two hand-blown components and gives a rippled glow|In 1994, Dixon experimented with plastic for the first time with the innovative Jack light|True to its name the copper clad dining table Mass is overscaled and monolithic|Launched in 2013, the robust Y chair is designed for commercial settings|Dixon's Copper Shade is a bestseller, kickstarting a whole line of polished lights||
Via his interiors firm Design Research Studio, Tom Dixon has finally got round to creating a workplace, ad agency McCann Erickson's New York HQ. And with an international supply chain, as well as universal recognition, pretty much everything's going global for the British designer
Tom Dixon has a strong handshake. It is tempting to add the caveat "for a designer", but then Dixon never learned his trade in a classroom. The firmness of his grip betrays his early beginnings welding bits of scrap metal to make lights and furniture to exhibit in a vacant shop on Kensington High Street. He still welds, but the skill is no longer intrinsic to production. From this rudimentary start back in the early 1980s, Dixon has evolved into a global brand with manufacturers across the world.
Dixon, however, is curiously wedded to the idea of nationality. "In an odd kind of way, I am trying to define what a British designer might look like," he says.
His showroom offers contrasting definitions as to what that might be. He sits opposite me in an adroit reinvention of a traditional Windsor chair made from bent ash, while close by dangles his ubiquitous copper pendant lamp – a doomed attempt at an anonymous product that ironically turned into Dixon's defining one.
A chunky, robust aesthetic unites much of what's on sale here, but the collection's eclecticism is both its strength and weakness. "Our Achilles heel in a way is that we are involved in so many different categories of business," Dixon says. "Wooden tables have got no connection with plastic chairs in terms of how they are made or what tests they undergo." And how to reconcile these disparate elements? "Fuck knows," he sighs. "No – it is scale, isn't it?"
In contrast to the well-schooled earnestness of today's rising stars, Dixon is a rebellious freewheeler. He played bass with Brit-funk nearly-men Funkapolitan – footage of a Top of the Pops performance is on YouTube, in case you are curious – before a motorcycle accident forced a career rethink.
He once gave away 1,000 polystyrene chairs in Trafalgar Square. Rarely seen without his decrepit rescue dog tucked under one arm – the hound pokes out from under his overcoat for the duration of our interview, snoring continuously – he remains one of design's more intriguing personalities. Spiky, forthright and occasionally bloody rude, his talent and influence are beyond question. Name another British designer who could set up a temporary headquarters during the Milan furniture fair and immediately rival far more established design hubs, as Dixon did with Most, held at the city's Museum of Science & Technology.
Dixon can claim to be the most successful British designer of his generation. He remembers Terence Conran saying that he only started making money when he was 35 ("I was 32 at the time"). The aforementioned copper pendant has achieved failsafe status among interior designers wishing to add some sparkle to anything from a corporate hotel lobby to a warehouse conversion; as LEDs replaced traditional halogen bulbs, Dixon used the reflective glow of the material to counter the new technology's coldness.
But the quiet success story of the brand has been the steady rise of the interiors wing of the business, Design Research Studio.
So far, it has concerned itself with pleasure as opposed to business, conjuring louche hangouts for creative types in east London and Tokyo, such as Shoreditch House. That changed late last year when it completed a dynamic new office refurbishment for advertising giant McCann Erickson in New York.
The brief, set by incoming creative director Linus Karlsson, was nothing extraordinary: shake up the stagnant workplace culture by ripping away the corridors and cubicles, and replace them with a more elastic, informal layout better suited to the business of advertising. "I had not really seen a proper American workplace. I was quite horrified by how people were nesting in their boxes with dead plants, cuddly toys and funny photographs, and actually very few people in there," says Dixon. "They were using it as a reason to not be in the office because nobody could see whether they were there or not."
"I can bring a fresh perspective because I am an expert at nothing"
Dixon divided the office into zones tailored to the various departments in an effort to encourage informal working. In the lounge, upholstered banquette seating and booths coupled with wireless connections prove there is life after the cubicle.
Elsewhere, there is an imposing angular reception desk, a blue tiered seating area underneath a fleet of flying-saucer ceiling lamps, and a suitably bling gold boardroom table overlooking the Manhattan skyline. Dixon is unafraid of bling. He has a gold tooth and owned a gold Mercedes.
With McCann Erickson, Dixon's lack of experience conversely became his strongest hand, which is a familiar theme. "I think the defining feature is that I don't know what I am doing," he jokes. "No, the idea that I can bring a fresh perspective because I am an expert at nothing has been my secret weapon." Most prevalent in working trends has been the steady convergence between work and play – or bleisure, as it has been so annoyingly dubbed. McCann Erickson clearly shares DNA with places like Shoreditch House and the Paramount, where closing the deal seems to hinge on how cool your surroundings are. The similarities are nothing if not apt.
Since 2009, Dixon has conducted operations from a revamped wharf building on Portobello Dock in deeply unfashionable Ladbroke Grove. Although Innocent Drinks moved in next door a couple of years ago, there is no escaping the fact that city's creative power has swung east. Never a man to follow a trend, Dixon went in the opposite direction, moving here from Clerkenwell to realise his ambitions for a hub that housed design, cuisine and commerce under one roof.
Dixon belongs to a generation of designers that, as domestic manufacturing crumbled, were forced to look abroad to consummate their most inventive proposals. Gone was the optimism of the 1960s when moulded plastics promised a future as bright as the colours and forms they took. Designers like Robin Day and Fred Scott found their skills complemented by ambitious UK companies like Hille. And for a brief but incredibly fertile period, the two forces of design and manufacturing pulled in the same direction.
Dixon views this not-so-distant history with a certain degree of sentimentality. He is often quoted as saying that he would like to design something useful, so it's no shock that an era where design was embedded in the great civic programs of the day, such as the Routemaster bus and motorway signage, is alluring.
That said, Dixon's hard-headed individuality makes it difficult to imagine him working obediently within a complex bureaucracy without losing patience. A forger of his own archetype, he invokes the get-on-your-bike spirit of Tory pitbull Norman Tebbit as opposed to any old Labour grands projets. Nevertheless, he rues that the diminishing public sector seems to have swept design to the margins. "I think it is a shame that governments don't take it a bit more seriously as a tool for change and improving things.
There is a lack of visionary characters and a hands-off approach. It is not by knocking out another designer chair that you are going to change a great deal."
But Dixon has rarely attempted to precipitate social change, like Yves Behar, for example. His work is decorative, occasionally flamboyant, but not essential.
Indeed, it was a chair that transformed Dixon's career when in the mid-1980s Giulio Cappellini took a shine to his S-Chair – a sinuous, steel structure with a seat that fans outwards like head of an enraged cobra (above). Cappellini helped refine the product with alternative materials, but stayed true to its dynamic form.
Originally designed in 1987, the chair was released by Cappellini in 1992, and it has became a permanent part of the V&A's collection. Dixon sees parallels between his own experience with a patrician-like company head and that of the previous generation. "A lot of people from that generation had a personal connection with the boss. I think many of the problems with innovation is that many shareholder-owned companies take a one-step-removed attitude to the whole thing. Often it takes an owner/entrepreneur to make decisions about design. That is what I found with the Italians."
A path appeared mapped out, but in time Dixon rejected the traditional route towards design superstardom. Though he continued to design for Cappellini, producing Stool in 1992, and a prototype chaise longue, Spaghetti, that resembled a mess of steel wires, the relationship never approached the symbiosis of, say, Citterio and B&B Italia. "I didn't want to be somebody's pet," is how he sums up.
Nevertheless, Dixon remains slightly in awe of Italian design prowess.
Contrary to the doomsayers who have written Europe off as a faded power slipping inexorably towards mediocrity, he adopts a more hopeful stance. "The whole thing is never static. There is no reason to |suppose that Chinese manufactured goods are going to be as cheap as they have been for much longer, and the Italians are clever at making things. In Milan, you can hop in a car and get almost anything made within a radius of 30 miles." With a manufacturing base in Shenzhen, Dixon's opinion actually counts.
The Italians may have lifted Dixon out of his amateurish beginnings, but the designer still believed in homegrown mass production.
In 1994 he founded Eurolounge with welder and artist Catherine Johnston. The company produced work from designers like Michael Young, but struck gold with the amiable Jack light (above) – a stackable lamp made from rotation-moulded polyethylene, a method usually in the manufacture of traffic bollards. Jack sold by the hatful and the fleeting success of Eurolounge led Habitat to appoint Dixon as its head of design, a position he held until 2008 while continuing to develop his own company.
"There's a revolution going on. How things are made, who makes them and why is changing as we speak"
Despite, or perhaps because of, the current uncertainties the industry faces, Dixon believes this era is a tremendously exciting time for new designers ("anyone with SketchUp can be a designer").
Direct access to a global market means that success or failure no longer rests in the hands of a company exec. It echoes the punk DIY spirit that Dixon embodies, with the online showroom replacing the abandoned shop on Kensington High Street. "There is a revolution going on.
It is very early in its landscape but how things are made, who makes them and for what reason is changing as we speak." The designer recently began exploring the possibilities of a global supply chain with spin-off brand Bespoke (onoffice 75), which as the name suggests offers unique, customised interpretations of Dixon products, often made in far-flung corners of the globe. Given the increasing potency of the interiors team, it seems logical to broaden a client's options. Bespoke was launched in Milan last year with a boulder-sized version of his Etch shade (left).
The Tom Dixon brand is majority-owned by Swedish company Proventus and he has no intention of buying them out. "I can't afford me," is how he puts it.
But however compelling his name might be, Dixon is more than just a figurehead. While the design department refines the detailing, the grand vision is his own, and to that extent he is involved in every product. "I realised quite early that I needed to surround myself by people that are more rigorous. I have set up a space where I can just be in charge of the ideas part and direct business," he says. "I need to employ people who are good at programming stuff, so I sub-contract bossiness."
The coming year is likely to be a busy one with more interior design work on the horizon.
Most significant will be returning Sea Containers House on the South Bank from office block to 370-room luxury hotel, which was the developer's original intention for the building. Dixon promises to resurrect this unloved monolith with a potion of postmodern references towards naval architecture – a huge copper-clad wall in the lobby is supposed to mimic a ship's hull – and a glamorous art deco-inspired rooftop. The facade is lined up for a blue-neon-infused makeover.
After nearly 12 years, Dixon feels he has achieved a kind of equilibrium with the company. Carefully nurtured relationships concerning manufacturing and distribution are now starting to blossom. In theory, things should get easier from now on, but Dixon rarely allows himself time to reflect. "You never know where it is going to go, but it is not like it has all been a surprise. Sometimes I thought it would go faster."