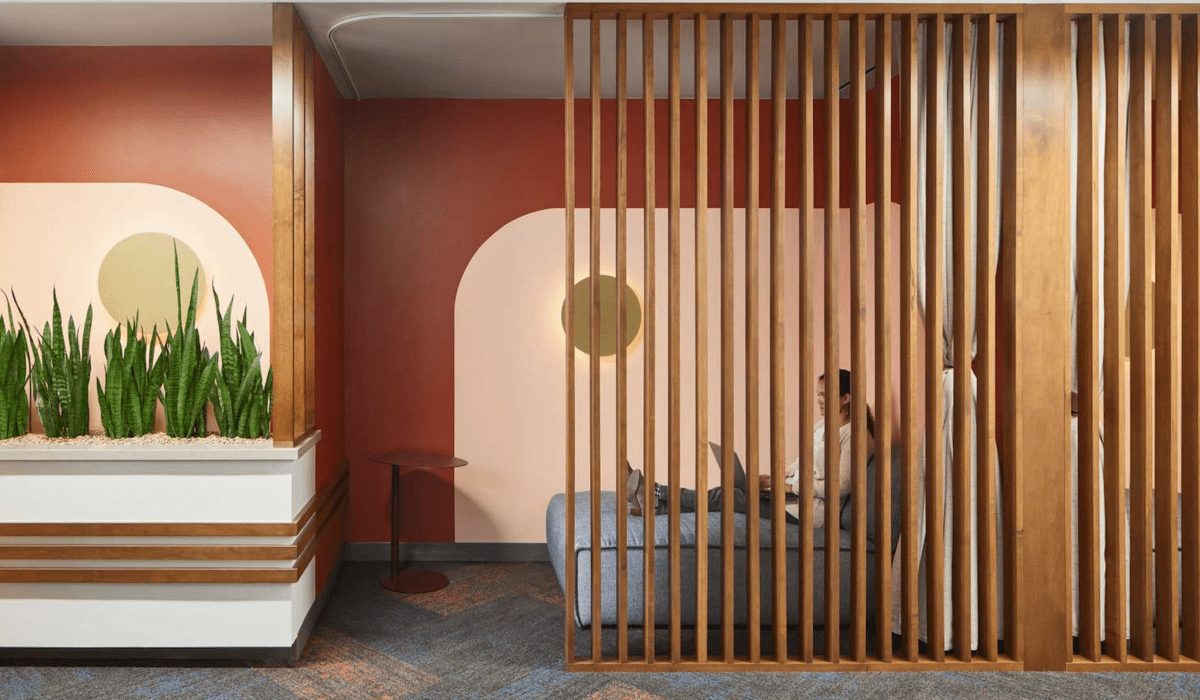 The future is hard to predict, but a few design tricks can help, says Sandi Rudy, Associate/Senior Interior Designer at Cushing Terrell
Of all the places we've mused over returning to since the onset of the pandemic, toward the top of the list is the workplace. While there's no across-the-board strategy that's been adopted to get us there — and some workers never left their posts — one particular sentiment has risen to the top: office work will never be the same.
We know that work environments must support the changes in how we've come to work today, as well as how we'll need to work in the future. Luckily, many positive trends that were becoming popular before the pandemic are leading the way to help employees feel safe and productive now, especially as it relates to access to technology and enhanced workplace health and wellness.
Read more: 7 tips for supporting employee wellbeing during the return to work
The goal moving forward will be to emphasise these qualities so employees can focus on their work in the ways that best suit their needs and the needs of each organisation. As we design for the future of work, it helps to optimise for productivity by focusing on three concepts: third spaces, density, and flexibility. Below, I look at each and lay out some of the questions managers and other company leaders may have about designing for a more modern workspace.
Third Spaces
Third spaces are alternatives to traditional office spaces (such as desks and conference rooms) and can be on- or off-site to best suit the work being done. These spaces can include lounges or retreats for uninterrupted, heads-down work.
Q: How can we be sure employees can get work done if they're not at their desks?
If you can create third spaces that encourage work away from desks, you actually create more opportunities for productivity. Not every project requires the same environment or workspace, and offering numerous options gives people a greater chance to optimise their time.
To design areas of the office that can be used as workspaces away from the desk, consider offering ergonomic lounge seating with adequate surfaces to hold laptops, cups, and other personal items. Provide seated and standing tables, touch-down spots for quick meetings, or booths adjacent to workspaces that are still quiet enough to focus. And ensure all these locations have convenient access to power.
Q: Doesn't a third space invite interruption?
The opposite may be true. While an individual desk, cubicle, or office is most often considered personal space, it also invites interruption because colleagues know where to find you. Some employees will seek a third space that is more private than their desk and lets others know they're not available at that time. For example, this might be a nook with a sheer curtain or a divider that gives a visual 'do not disturb' cue.
Density
In the past, employers tended to maximise the number of workers they could accommodate in a given space — but safety precautions and distancing guidelines that became necessary during the pandemic turned this notion on its head. We've had to rethink the concept of density and what makes the most sense, not only from a health and safety perspective, but also in terms of productivity.
Q: What's wrong with a traditional meeting room?
Aside from packing people into a static space that's often devoid of quality air circulation, most office interactions are not adequately supported by the physical arrangement of a traditional meeting or conference room.
In a performance review, for example, a long rectangular table creates an atmosphere of confrontation. If the goal is to collaborate and generate ideas, a static workspace with someone seated at the head of the table creates an uneven distribution of power. Rather, the goal should be designing spaces that encourage collaboration, creativity, and dialogue.
Q: Won't larger rooms and more square footage be needed to accommodate safe distancing practices?
Many meeting rooms are used less than 40% of the time, making such spaces a prime opportunity to serve a secondary function for much of the day. Features like movable walls and furniture, as well as space for lounging would make these spaces ideal for bookable collaboration throughout the day. This type of multi-functional planning maximises the cost per square foot investment, reducing an office's overall footprint but not losing any functionality of the space.
Q: There's still a lot of uncertainty around how many people will be in the office. How do we allow for this without creating a lot of expensive, unused space?
With a hybrid work future, headcount is no longer tied to desks. We're now seeing desks provided for about 60-70% of employees, assuming that some may not be in every day. To accommodate all employees, the ancillary or soft seating ratio has gotten larger.
Think in terms of neighbourhoods, not individual desks: Employees can be assigned to small neighbourhoods that accommodates 10 to 12 people, for example, so co-workers have familiar faces around them when they come into the office but may not have a specific desk. Neighbourhoods based on teams who work closely together tend to be highly functional.
With a mix of customisable desk and lounge space, each neighbourhood can accommodate different modes of working. And allowing employees control over their environments raises the likelihood that they'll be productive, happy, and engaged.
Flexibility
Flexibility should be the guiding principle for any modern workplace. What that means varies by company and employee but start with what your workers need to best perform their jobs — which may not necessarily be what's always been done.
Q: Working from home has increased employees' desire for choice and control in how and where they work. How can we cater to this in the office?
Likely, there will be employees who continue to work remotely on a permanent basis but still want and need to come into the office occasionally. In this case, why not offer the ability to work from anywhere within the office? Cafés or lounge areas can work well, or a person's particular neighbourhood (mentioned earlier). Comfortable areas for remote workers can double as workspaces for visitors as well.
Q: Mobility and technology can be a challenging combination. Can we have both?
You need to offer employees the ability to work completely on Wi-Fi, and all ancillary space needs to have power and Wi-Fi in the area to provide mobile power, especially if you're offering outdoor workspaces. The bonus is that technology can solve many other workspace issues: smart building design should allow employees to interface wherever they need to and cater to the best conditions for working, whether that's individual or collaborative work.
What it comes down to
Instead of designing the best desk solution for the office population, we should be designing the best overall workplace solution. This hinges on diversity and flexibility of spaces. What someone is working on throughout the day might change.
The best environment for heads-down work may not be the best for collaboration, and it's OK if those things don't happen in the same place. What's key is for the workplace to offer a variety of spaces that do work for a variety of tasks throughout the day.
Image courtesy of Cushing Terrell