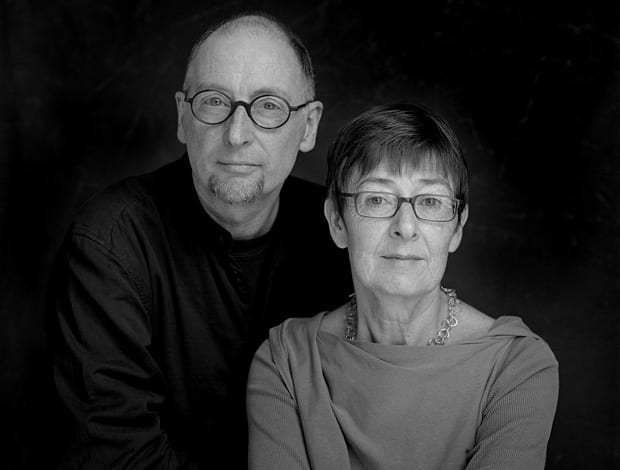 John Tuomey and Sheila O'Donnell|Saw Swee Hock student centre © Alex Bland|Saw Swee Hock student centre © Alex Bland|Saw Swee Hock student centre © Alex Bland|CEU campus, Budapest © CEU|CEU campus, Budapest © CEU|CEU campus, Budapest © CEU|CEU campus, Budapest © CEU|CEU campus, Budapest © CEU|CEU campus, Budapest © CEU|Lewis Glucksman Gallery in Cork|Lewis Glucksman Gallery in Cork|The Lyric Theatre in Belfast, Northern Ireland|An Gaeláras in Derry, Northern Ireland||
It's tempting to pin the label of 'starchitect' on Sheila O'Donnell and John Tuomey since they became recipients of the RIBA Gold Medal, arguably the world's most prestigious architecture award. But Onoffice's interview with the husband and wife duo revealed them to be the least starry of architects.
"The thing about architecture," says Tuomey, " is that building anything is a bit of a miracle."
"You just have to keep going and be optimistic," O'Donnell adds, before Tuomey finishes the point off: "And then once it's finished it's just another little building in the world."
The sentiment is clearly at odds with their Gold Medal win, which is awarded in recognition of a lifetime achievement and "substantial contribution to international architecture". However, O'Donnell and Tuomey clearly feel they have much more to achieve and are eagerly anticipating the larger commissions that'll no doubt be coming their way now.
Following a stint in London at James Stirling and Colquhoun & Miller, the pair founded their own practice in 1988, when Dublin was bogged down with recession. In their Gold Medal acceptance speech, the pair said they envisaged they'd be taking on small-scale, civic projects, but a London friend told them to "go back and change the face of Irish architecture".
"Half jokingly, we held onto this idealistic dream," they said.
Over the subsequent 17 years, they have carried out a number of feted civic projects both at home and overseas. These include the Lewis Glucksman Gallery in University College, Cork; the Lyric Theatre in Belfast; and the Photographers Gallery in Soho, London.
It is their interest in educational buildings that really provides a thread through their careers, from meeting as students at University College Dublin (where they now teach), to designing the LSE Saw Swee Hock student centre, and on to the three-phase masterplan of the Central European University in Budapest. Tuomey describes them as "cities in themselves".
The Saw Swee Hock project has been showered with awards and seems to have catapulted the mid-sized practice into the big time. The building was a favourite for last year's Stirling Prize (though the prize eventually went to Haworth Tompkins' Everyman Theatre in Liverpool) and they are one of five European practices in the running for the Mies Van Der Rohe award. The winner will be announced next month.
The project was severely constrained by its location in the heart of Holborn, where a series of roads converge, but O'Donnell and Tuomey say they allowed the property lines and "rights to light", plus other complexities that come with dense urban areas, to determine their design.
"The campus is so particular, it's kind of tangled and even Medieval in its origins," says Tuomey. "We decided the best way to win the competition was to yield to [the site's] every demand. We pushed back, to the side, we responded to all its demands.
"The motto for our competition entry was 'street life' and it is open like a street. It's very helpful to have a motto, because you have to say there can't be any corridors or lobbies and there can't be any division doors because that doesn't happen on the street.
"Anyone can walk in without being asked questions. It's like going down a street."
O'Donnell & Tuomey are champions of traditional building methods, but this was their most complex use of brick to date. "We've been building up to it," he says and laughs when he realises his accidental pun. It required 100 different brick designs in various colours and shapes, and depended on close collaboration with the bricklayers and "a mutual respect".
"Craftsmen like rising to the challenge, if it's difficult I think they do it better," says O'Donnell. "I was on site one Saturday and the master mason, Jason, was showing his father, a retired bricklayer, so he could see that kind of work still goes on.
"There's a strong tradition in England of brickwork and attention to the way things are made, and we're very pleased to be able to give that a leg up."
The practice is currently being kept busy with "a few other university projects", the largest of these being Budapest's Central European University, based in the city's historical centre, facing the river Danube. They aren't concerned about being typecast though, since each project, they claim, is strongly informed by its location and its future occupants.
"We're generalists not specialists, so people find it hard to categorise our work," says O'Donnell, "but perhaps the method of design is the same. When you're working on universities you have to consult quite widely and listen to what everyone has to say."
For the Budapest projects, they ended up having 50 meetings with different user groups to build up a picture of the institution, from the academic units through to the students, societies and maintenance staff. The result, they say, is a better university.
Similarly, they sat down and listened to the students at the University College Cork in Ireland, for whom they're designing a student hub. This led to the student union independently taking a pilgrimage to the Saw Swee Hock campus, and deciding that they too would like a glass-fronted student radio studio at the heart of their building.
"They need to know that you're making it for them, not in spite of them," says O'Donnell. "I think a lot of people think architects are making buildings for themselves."
Her comment happens to coincide with the V&A's exhibition 'All of This Belongs to You', which examines the role of public buildings and their civic responsibilities. O'Donnell and Tuomey are one of the six shortlisted teams for the 'Olympicopolis', the proposed cultural quarter in London's Olympic Park that'll include new sites for the V&A, Sadler's Wells, Smithsonian Institute, University College London and University of the Arts London. It could be the major project O'Donnell & Tuomey have been waiting for.
"So far it's going well," says O'Donnell cheerfully, "but it's a competition, so all you can do is lose it."