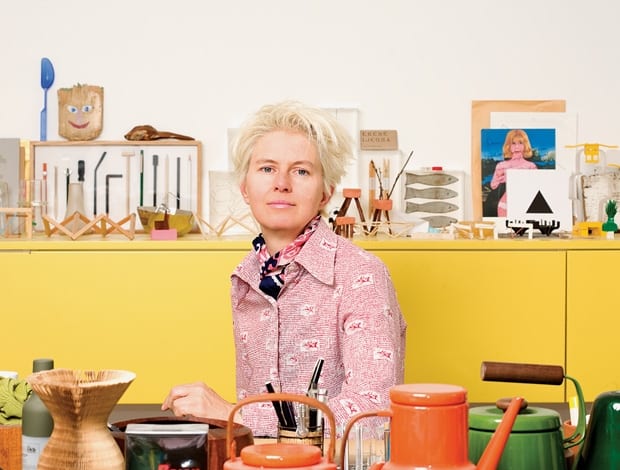 Nina Tolstrup in her east London studio, before a recent move to Stockholm|Before: Tolstrup's collection of chairs found near her Bethnal Green home|After: the Re-Imagined chairs, with David David textiles, are unrecognisable|Chairs made by skilled cabinet-makers from Bloomberg's waste pallets|Lexon's On/Off alarm clocks; users tilt it onto its side to turn it on or off|T-table, made from walnut, glass and powder-coated steel|Chair from the Pallet project; Tolstrup sells the instructions for £10|Lamp from the Pallet project|Pallet chandelier|Habitat's One Line range|An alternative Pallet light||
Nominated for this year's Designs of the Year prize for her Re-Imagined range of upcycled chairs, the Studiomama co-founder fully subscribes to the notion that one person's skip-fodder is another's treasure
Studiomama founder Nina Tolstrup is at a significant juncture in her life when onoffice turns up at her studio/home in Bethnal Green. After 13 years living in the UK, the family is upping sticks to Stockholm, due to Tolstrup's husband Jack Mama (also a silent partner at the studio) landing the role of creative director at Electrolux. It's clear that Tolstrup is more than a little hesitant to leave her home – "they'll be dragging me out I think!" she jokes – and it's easy to see why. Not only do the couple and their two children occupy an envy-inducing modernist home in a cobbled alley 10 minutes' walk from Shoreditch but, perhaps more importantly, much of Tolstrup's best-known work has been directly influenced by her immediate surroundings and the hidden gems she finds strewn around her local streets.
Her latest project, Re-Imagined Chairs (left), is a prime example, made by reupholstering and sprucing up frames of discarded chairs foraged from what she calls "chair graveyards" near her studio. "A designer loves to make chairs," she laughs, "but I worry it might be one too many. So what I've done is to not make a new chair but reinvent ones that are already out there." For an eco-conscious product, it looks distinctly un-eco, which is perhaps what has earned its nomination for this year's Designs of the Year award at the Design Museum. Contemporary and colourful (thanks to textiles from David David) with a sleek Scandinavian aesthetic, it wouldn't look out of place in any designer showroom, and yet, through clever reuse of waste materials, it also boasts serious green credentials.
"A designer loves to make chairs, but I worry it is one chair too many"
Before upcycling hit the mainstream, Tolstrup's Pallet Project was a pioneering concept in designing with reclaimed materials. It was first shown at 100% Design in 2006 as part of TEN, where a collective of ten designers created products using materials sourced from within 10km of their studios, restricted by a budget of £10. A resourceful Tolstrup made her collection using discarded wooden pallets found near her studio, creating a chair, stool and lamp, and the collection was widely lauded, with orders immediately streaming in – but that presented a problem. "The whole idea was about how, as designers, we could be more sustainable in our approach," she explains, "so making a chair in London and shipping it to Athens was not part of that." Since pallets are a generic worldwide product, she instead made assembly instructions for people to buy and use at home. Such was the success of the idea she is still selling instructions on a daily basis.
Though this project cemented her place as an "eco" designer, Tolstrup doesn't label her products as such, instead preferring to talk about process, and insisting that nowadays a sustainable ethos is commonplace. "For most designers it's not really something you talk about anymore, you just do it," she says. As standard practice she is constantly reassessing the amount and the type of materials she's using – whether it is recyclable, what lifespan it will have – aiming to make a desirable product that also happens to be responsibly made.
Her local focus extends beyond just salvaged materials; she also uses local welders, powder-coaters, upholsterers, painters and wholesalers, and even a foundry she discovered on east London's Broadway Market. This isn't just to reduce her carbon footprint, but also to support local business and control the quality of her products. This becomes more difficult, she says, on an industrial scale, where it becomes harder to control. "There's only so much influence you have as a designer, but you can build in your ideas so the final product ticks a lot of boxes. There are a lot of companies that are 'greenwashing' and using all the right buzzwords, but it's not done with integrity. But consumers today are very clued in, and legislation is increasing, so it's slowly changing."
"Some people only do furniture or ceramics, but I like to do all of it"
Tolstrup found her way to design indirectly, via many different ventures. Originally from Denmark, she studied marketing and worked in advertising in Copenhagen before moving to Paris to study industrial design at Les Ateliers, working as a trend forecaster on the side. Afterwards she returned to the Danish capital, running two vintage design stores and working as a photographer for interiors magazines. It was only once she'd met her husband Jack Mama and moved to the UK in 2000 that she set up a studio. Her first project was 2001's One Line collection for Habitat; inspired by renting a flat for the first time, it included a towel rail, coat rack and toilet-roll holder that are freestanding or wall-leaning, so can be moved when a tenancy is up.
The following years saw work for brands Lexon and TripTrap, commissions for Bloomberg (creating furniture from the firm's waste pallets, this time with the help of skilled cabinet-makers) and the Danish Embassy, and projects with galleries such as Phillips de Pury and Libby Sellers. Seeing her work exhibited wasn't something that Tolstrup expected, but was an opportunity she couldn't resist grabbing. This is characteristic of her reactive attitude to work, which now spans products, interiors, architecture and books, with an upcoming jewellery project and more exhibition curating for the Danish Craft Collective, as well as an extension to the Re-Imagined collection with London's 19 Greek Street gallery.
"I always jump at things I haven't done before," she says. "I like those challenges. Some people only do furniture or ceramics, but I just like to do all of it. For me it's all the same process, it's just a matter of different scale and materials." Now, with a whole new culture to absorb, adapt and react to, it will be interesting to see what the streets of Stockholm will bring to Tolstrup's ever-evolving portfolio.