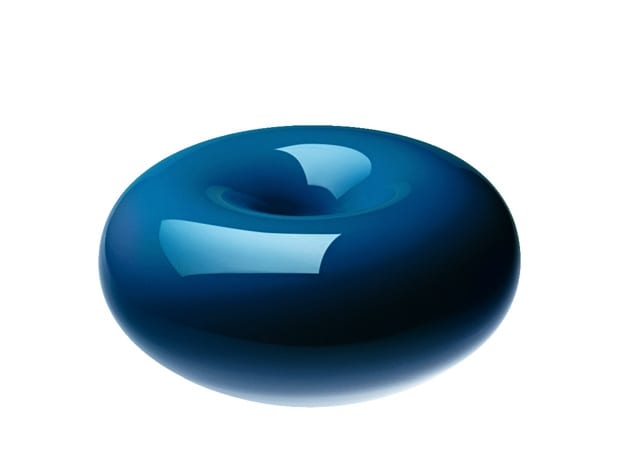 Humidifier for Plusminuszero, 2003|130 Chair Series for Thonet, 2010|Soho office chair for Magis, 2008|Twist & Groove pencil holder for B&B Italia, 2005|Shelving System for Artek, 2009|Desk calculator for Plusminuszero, 2010|CD player for Muji, 1999|Bincan Energy Desk for Danese, 2004|Chair from the Hiroshima series for Maruni, 2010||
His products may be steeped in conceptual theory and philosophy, but prolific Japanese designer Naoto Fukasawa really just wants to make people feel good
In a celebrity design culture littered with flamboyant "look at me" products and inflated egos to match, Naoto Fukasawa is a bit of an enigma. His products are quiet and unobtrusive – almost as if they want to disappear into the background – and yet they are everywhere.
Year on year, the Japanese designer is one of the industry's most prolific talents. Involved in a whopping 13 projects in Milan this year, he appears to be inexhaustible in his creative pursuits – punters couldn't round a corner in the Salone del Mobile and other capsule events without setting eyes on a Fukasawa chair, shelving system or piece of electronics equipment.
The lengthy roster of companies he has collaborated with in 2010 alone includes Thonet, B&B Italia, Artek, Boffi, Maruni, Magis, Danese, Nava and De Padova. Over the last 30 years he has worked with most of the big manufacturers and designed everything from sofas, task chairs and desks to cuckoo clocks, mobile phones, pencil holders and toasters.
Considering his omnipresence on the international design scene and his enormous output, regarded by peers as some of the best design out there, it's a wonder that the bedrock of Fukasawa's vision is still modesty, simplicity and objectivity. It's a tension thoughtfully manoeuvred in his work, which goes beyond the usual equation of seductive form plus function.
"I don't think design is a format to express ourselves," says Fukasawa. "We need to create appropriate tools for situations. It is a professional ability and I should not be the artist of what I design. I think people are now getting bored of so-called 'design objects'."
It's very much in line with the "Super Normal" school of thought, a term Jasper Morrison coined in answer to design that he believed was polluting environments instead of providing simple solutions to everyday life. Morrison's idea was sparked after seeing Fukasawa's aluminium stool for Magis in 2005, and the two designers went on to collaborate on a book and major exhibition on the subject in 2006.
"It is important that an object dissolves into the environment without expressing its existence," says Fukasawa. "This harmony is what is important."
"I think people are now getting bored of so-called 'design objects'"
It's not difficult to see some of these principles at work in his designs, particularly the soft squares and curves of his electronic gadgets for Plusminuszero, or the minimalism of his office chair, Soho. "I think the functions of furniture change depending on the tasks that are undertaken," he says. "There is no longer a clear line to separate office and home. There is office furniture that somehow resembles a homely environment, yet functions as office furniture. If we focus on what is needed, ideas for what office furniture should be naturally become irrelevant."
Fukasawa's interest in people's collective memory, habits and behaviour, and their connection to objects, is evident in his recent 130 Chair Series for Thonet.
"There is no particular shape that identifies Thonet other than the use of bentwood," says Fukasawa. "But I think I sense 'classic' from them, and this is because the relationship between Thonet products and people is longstanding and polished by time. So when I think how to maintain such a relationship, the design naturally becomes friendly and as if we had seen it somewhere else before."
Over the years, Fukasawa has faithfully explored how design can enhance the relationship between people and their surroundings. The most satisfying products are ones that remain in the subconscious and bring us peace, he says – a view that is deeply connected with traditional Japanese aesthetics and ideas. One such idea, Hari, has been hugely influential on Fukasawa's work, though it's a somewhat slippery concept to grasp.
"Hari is the outline of things drawn by a tension between object and environment," he says. "Both objects and environments have pressures or reasons against each other. At a point, these pressures are harmonised. This very fine outline is the power of Hari."
Born on the island of Honshu, Japan, in 1956, Fukasawa set out on his career path in the 1970s when he saw a listing in a college catalogue: "Making people happy through industrial design."
He graduated from the product design department of Tokyo's Tama Art University in 1980 and shortly after took his first job at Seiko, at the height of the digital watch boom, where he stayed until 1988.
The next year he moved to San Francisco to join IDEO, at the time just a small design consultancy, developing hardware and graphic interfaces for Silicon Valley companies. It was there that he began to form some of his big ideas alongside colleague Sam Hecht of Industrial Facility, who also cut his teeth at IDEO and whose work shares some common themes.
During that time, Fukasawa began his "Without Thought" workshops, which he still runs now, to explore how unconscious memories and actions lead the way to intuitive design.
In 1996, Fukasawa returned to Japan to help set up IDEO in Tokyo. He stayed on as creative director until 2003, when he left to set up his own design firm and co-founded Plusminuszero, which produces domestic objects ranging from humidifiers to desk calculators.
"We're working on many everyday products that a lot of people may not even care about," says Fukasawa. "Usually people think cheap products are not good enough. But I would like to design things that will make people feel, 'Does it cost only this much?'"
"Many designers feel that objects should somehow be stimulating and eye-catching," he says. "However, I feel that it's important that people don't notice them unless they are needed. I am trying to create a feeling of, 'I don't know exactly why, but I feel good.'"