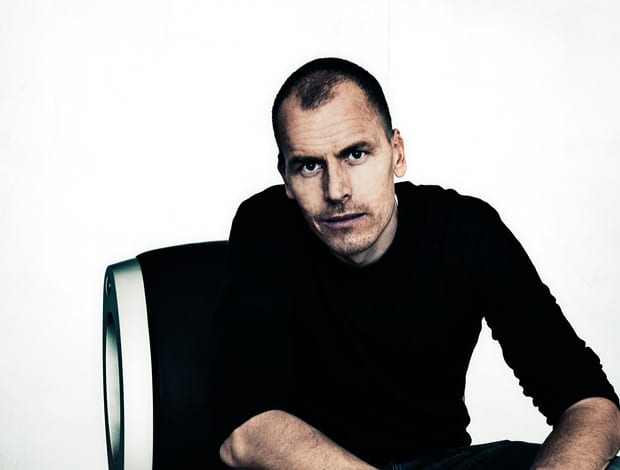 Copenhagen-based designer Søren Rose|Rose keeps it Danish for his latest project, Copenhagen office The Generator Hall, with Panton furniture upholstered in Kvadrat textiles|'The neon heart', a look-at-me solution to problem of big ugly servers cluttering up floor space|The Generator Hall's occupants are a new media company, so Rose gave them a very old-media, CMYK colour scheme|The MILK desk features heavily in the design scheme, as does Socialite, a timber seating/storage area|More MILK, this time with a jaunty pink desktop for the reception area. The lighting is cosy and domestic|Rose with some of his self-designed furniture: further pieces are set to be launched soon|A limited edition bench with diamond-stitched leather cushion|MILK, manufactured by Holmris Hansen, was borne of Rose's frustration at not being able to find the perfect desk||
Multi-tasker extraordinaire Søren Rose brings his far-reaching design experience to the workplace with the completion of a Copenhagen office
It's hard to put your finger on what Søren Rose does exactly. According to his studio website, he's an "artist, designer, merchant and entrepreneur" – and as it turns out, he's all these things and more. I'm due to chat to Rose primarily about The Generator Hall, a rather magnificent office space for a Copenhagen-based digital company he has just completed, but this is a mere sample of his current output.
This particular week, for example, he's gearing up for an exhibition called VinylCph, which he's curating himself. And although I don't immediately grasp what it's about I get the impression it's going to be big. Around 500 people are invited to the launch party in Copenhagen and he's very excited, if frantic.
The exhibition is (as Rose predicted) a big success, which means he's busier than ever – rushing off to make appearances on Danish TV and radio. He sends a quick email apologising that our chat will have to be delayed slightly, along with images of some dinky Japanese toys.
"They're vinyl toys," Rose explains later.
The VinylCph exhibition (his second on the theme) includes 30 of the things, each decorated by a different artist, hand-picked by him, to be auctioned off in aid of the Red Cross. Rose is really into vinyl toys. They pop up in quite a few of his interior schemes, from offices to stunning apartments and chalets.
The VinylCph adventure is one of several projects he's involved in, complementing a long-standing interest (and countless experience) in branding, marketing and digital media. Rose set up his own web agency when he was just 20.
He went on to establish an online casting agency followed by a high-end image archive representing "80 of the best photographers in the world". Then, last December, he launched the Søren Rose Studio, dedicated to his "greatest interest", interiors and furniture.
"I do a lot of projects but it's really the studio that I'm most passionate about," Rose confirms. "I've been designing furniture and interiors for myself for a long time."
Some of his furniture is already in production including the MILK workstation, designed primarily out of frustration. "I had a beautiful new Mac and a horrible black laminate-topped table and the two just didn't add up. I wanted a nice white table to go with it with compartments to stow away my pencils, my watches and my gadgets, and space for the cabling. It was a product that emerged from my own needs, essentially."
MILK features heavily in the aforementioned Generator Hall project, as you might expect. What is less expected, considering its immaculate execution, is that the scheme was completed in just one month.
The client, digital company In2media, was previously ensconced in a storage facility in old Copenhagen, but required more space and a new identity as part of its growth strategy.
They found a perfect new home in Østerbro (East Bridge) Copenhagen in the shell of an old telephone exchange. Dating back to the 1920s, the building itself is interesting enough, but In2media wanted to give clients a "surprise" and that's when Søren Rose Studio stepped in. There was a lot of work to be done and pretty much from scratch, as Rose says: "It really looked like shit. There were wall-to-wall carpets, awful lamps, all kind of wall dividers and we didn't have long to change it."
"I do a lot of projects but it's really the studio that I'm most passionate about"
The finished scheme is surprising enough, centred around a clever feature nicknamed 'the neon heart' – essentially the company's server, boxed up to look like something out of Doctor Who (the David Tennant era, obviously). Internal fluorescents highlight the server's tangled innards, which are essential to the smooth running of the business.
"They don't deal with paper at all really," says Rose. "Everything that they do is stored on the server, so we said okay, let's work around that."
The neon heart has become a big talking point among clients and staff, evolving into an object they can "brand themselves around and be proud of." Overall, the office is clean and crisp with an industrial edge. One area, which Rose calls "the garage", is closed off by a series of metal, cantilevered doors, which, when shut, act as a big magnetic wall.
At the moment the garage is home to various office playthings, but it's a flexible space, made to accommodate any activity from brainstorming sessions through to organised fun.
There are residential touches here and there including opulent chandeliers in the main workspace, and rather homely looking lamps on the desktops rather than conventional task lighting. Wall decoration is generally sparse apart from in the bright mosaic-clad bathroom and a meeting room that's papered with a bold Cole & Son pattern.
It's the furniture that adds real colour and interest, from iconic pieces to future classics. The army of MILK desks (some of which have hot pink tops just to liven up the mix) are accompanied by Aeron chairs. There's also an Eames conference table and two Panton pieces: the VP Globe lamp and Pantonova sofa, reupholstered by the Studio in a fetching grey fabric by Kvadrat.
Much of the cabinetry was tailor-made for the office by Søren Rose Studio. A communal seating-cum-storage unit called Socialite is another welcome bespoke touch and one, like MILK, that could doubtless have wider appeal. There are slick units with acrylic doors in CMYK colours – a tongue-in-cheek reference to the bygone age of printing, now surpassed by the digital age of which In2media is a big part, of course. Seeing the funny side, the client has incorporated these colours into its new identity.
The next time you hear about Søren Rose Studio it may well be something to do with its furniture. Apart from MILK, it has various other designs in production or about to go into production, including a fabulous cabinet called Gymnasium History Lesson, made up of bits of old gym flooring and sporting sneaker-style legs with laces.
There are more interior projects in the pipeline for the new year, both residential and office. Rose also hopes to complete a book of the studio's work to date, which you can imagine will feature the kind of immaculate photography he has at his fingertips, and a vinyl toy empire is still in his thoughts. Busy just isn't the word …