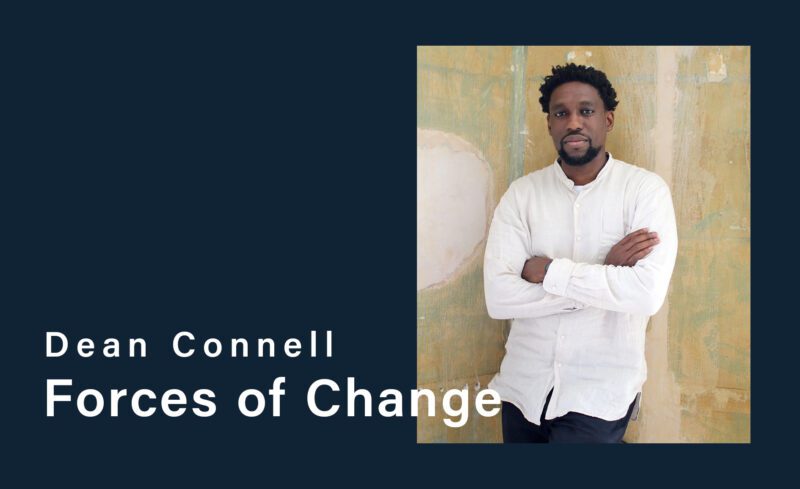 OnOffice sat down with Dean Connell on developing a new type of members club exploring new ways of working in a post-pandemic world
OnOffice: Please tell us about your role and what you do.
Dean Connell: I'm a furniture designer and Creative Director for Knotel. Based in London, I oversee product development and brand design globally. Since joining in September 2021, my primary focus has been developing a new member club concept that explores the popular theme of 'Future of work' in a post-pandemic world. I'm also a co-founder of a furniture concept brand, Capxule, where I'm developing a furniture system that can help reduce commercial furniture waste. Previously, I was one of WeWork's founding employees who helped disrupt the world of flex office spaces globally between 2013-2020.
OO: When did your interest in design begin?
DC: From the age of 14. I was fascinated with geometry from my maths classes and developed a passion for 'technical' design drawing. The main reason for this newfound passion was that I was not a very confident 'free hand' drawer at the time. I would compare myself to my older sister, who was much more expressive and artistic, especially when drawing portraits. So, my interest in design increased when I learned that I could visualise 3-Dimensional (furniture) objects and interior rooms using scale rulers, set squares and compasses. I was comfortable on a drawing board and found a medium to build my confidence. In 2004, I decided to go to university and study Interior Design. I wanted to explore my passion for furniture and architecture by focussing on the in-between realm of interiors, where most people spend their time. I've been designing ever since.
OO: Can you describe what an ideal working day looks like for you?
DC: I like spending half my day creating, seeking inspiration and thinking through problems independently—the other half collaborating and working with others. I enjoy agile working, where I change my surroundings and set up for different tasks. Since my WeWork days, flexible working has been a norm, where the emphasis was more on my productivity to get the job done rather than 'where I worked'. Something that has now become ubiquitous for many since the pandemic in 2020. The best part of my day is always solving problems and collaborating with others. The process of 'figuring it out' is what I value most.
OO: What inspires you (in your work)?
DC: I generally seek inspiration from furniture and interior design styles from the past 120 years. The concept of 'timelessness' and 'utility' are ideas that I think through daily. How can something from the past inform your designs of today and then be helpful in the future? I don't know if I will ever directly answer this question. However, it's the basis for my approach to design. "Inspired by yesterday, I create things that can add value to culture and society today and have the ambition for my designs to be useful in the future."
OO: Can you tell us more about your project at Old Sessions House in Clerkenwell?
DC: Globally, the pandemic has accelerated a shift in how many people live and work. No longer is 'work' linear, commuting from one static place back and forth. Instead, I believe the future for the hybrid worker will consist of a variety of moments throughout their day – a zoom meeting, a team gathering, a client catch-up, taking out the washing during lunch etc. As experts in flexible office space, we are developing and building a 'Workclub' that explores two key themes: Firstly, many businesses are finding it difficult to incentivise employees to go back to the office. As a result, company culture and team collaboration have been negatively affected. Secondly, for individuals working from home doesn't always work. Our workclub will offer agile workspaces to meet, host events, gather and socialise. For our network of office spaces across London, the Old Sessions House provides that third space for companies looking to inspire their employees to come together and collaborate, change the pace of their day, meet with a client or grab a drink. For individuals, this aspirational location can be your HQ, a space to impress potential clients, network and meet others who can help your business or brand grow.
OO: What's the most interesting thing you've read or seen this week?
DC: The Blue Ocean Strategy. I've been reading it for a few weeks now, and the key concept I've taken away is that; the customer should be at the centre of a business strategy. Why? Because you'll end up just like your competition if you focus too much on them. In a world of saturated products and homogeneous styles, I believe that the pathway to long-term success is to build a tribe that buys into an aspirational and authentic mission with them at the centre and not just another 'cheaper' alternative on the market.
OO: Where can we follow you and keep up to date on your latest projects and work?
DC: Please follow my journey on: capxule.co.uk, iamdc.co
Image courtesy of Dean Connell
As featured in OnOffice 160, Autumn 2022. Read a digital version of the issue for free.