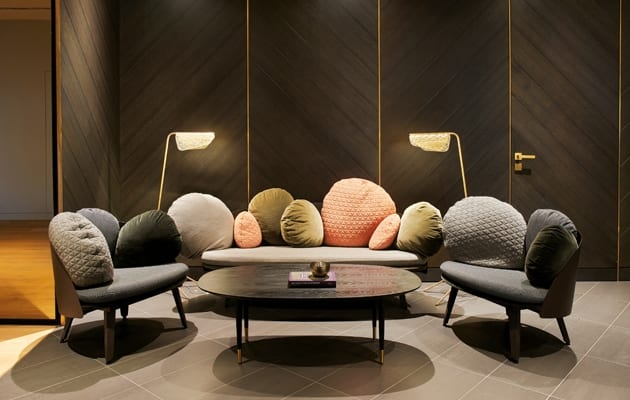 Clubhouse City's interiors eschew industrial chic for grown-up tastefulness|||
The recent news that the workforce is ageing has been glaringly obvious in my co-working space for some time. In January, two of us celebrated (if that's the right word) our combined 110th birthday.
Here in our double-fronted Georgian townhouse, young blood is pitifully thin on the ground. While yet more of the stalwarts edge towards their sixth decade and beyond (apart from those who doctor their date of birth, obviously), we're lucky if new arrivals are in their thirties. However, in the early days at the turn of the millennium, the place was overrun by twentysomethings. I blame the parlous state of freelance journalism.
There are now 24 million over-fifties in the UK, and they are set to make up the majority of the self-employed workforce in the next seven years, according to the Centre for Economics and Business Research, and Hitachi Capital UK.
That's partly because "an increasing number of 50 to 64-year-olds choose not to retire", say the researchers. Their "choice" of verb may fox some under-remunerated readers.
Whatever. The point is that while the popular image of a co-worker is fresh-faced, the reality has crow's feet. The Clubhouse, whose core demographic is mid-thirties to mid-sixties, is milking this. Rather than yet another co-working offer, the edgling London chain provides rooms, lounges, desks and tables where members can do a bit of work, and – more importantly – meet clients. This members' club model borrows more from the serviced office and the hotel lobby than it does from any WeWork. Because, as founder Adam Blaskey says: "Corporates are our target demographic, and most of them have their own of ces elsewhere."
Formerly in property, Blaskey had the idea for The Clubhouse in 2009, "when the world was turned on its head. Then, corporates and professionals set up their own businesses. We suit people who are used to corporate life, and might ask themselves 'would I want to meet my first client at my kitchen table or in Starbucks, or in The Clubhouse?'."
The third Clubhouse opened in November in the City, on the seventh and eighth floors of Angel Court, a Fletcher Priest-designed octagonal of ce building. The rm also did the interiors, creating a no-nonsense aesthetic for strait- laced grown-ups (lovers of industrial chic and exposed ceilings need not apply). So no surprise to spy well-groomed men in open- necked shirts chatting meaning- fully around small tables.
Tasteful touches include handleless oak lockers, and Another Country's round-edged timber tables. And because just one corner has allocated desking, there are mercifully few task chairs creating an eyesore.
Fees are structured thus: there's a £250 joining fee for access to one site, then £2,850 a year plus VAT for individuals to use the communal space for up to two days a week. Meeting rooms start at £55 an hour for a six-person space.
Fletcher Priest is now working on a Holborn site, opening in May. Funded by private individuals and investors, The Clubhouse plans to have eight to ten sites in London and major European business hubs. Interestingly, Blaskey won't be following the co-working chains to other UK cities: "We have so many members who come from places such as Edinburgh and Manchester to have meetings, we wouldn't ght against that."
As conventional co-working grows more congested – dare we say oversupplied? – it's refreshing to see an operator narrowing its sights.
As the market matures, so does its customer base. With this is mind, the Clubhouse's latest City is going all out to capture that sophisticated middle-aged corporate demographic.