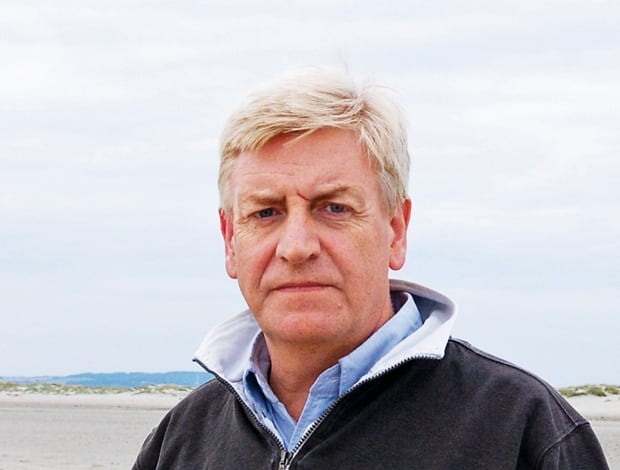 Jenkins on West Wittering beach, his number one spot for recharging his creative batteries|An exploded view of Broome Jenkins' Touch desk for Arenson|Burgess Works' Meet-U conference tables link together with a concealed metal plate|Herman Miller's Cubix desktop storage – a low-rise, more functional alternative to partitions|Jenkins' beach-hut design for Selsey, near Chichester: "My broader interest lies in the public realm"||
BroomeJenkins' thoughtful, well-engineered furniture shows its founder's 30 years of experience in every component – and he can design you a beach hut as easily as he can a conference table
A stone's throw from the train station in a surprisingly gritty area of Chichester I find design company BroomeJenkins inhabiting what appears to be some converted holiday chalets. Company founder and director Barry Jenkins greets me at the door. He is neatly dressed in ironed shirt and slacks, but I don't get the feeling this is for my benefit.
In modern parlance, Jenkins is old school, having been in the design industry in one form or another since 1979.
But don't be fooled into thinking that his company is nostalgic or backward looking. Through research, writing, teaching and (of course) designing, Jenkins has managed to keep pace with a rapidly changing working world. Products such as Cubix, a storage unit designed to demarcate territory often lost in the melee of open-plan offices, is a good example.
With his softly spoken, thoughtful manner, Jenkins is not unlike his well-considered products.
"When I first started, workplace design was all about supporting technology or housing paper. Now we have got to this," he says, gesturing towards his rather snazzy-looking laptop. "It is throwing up a lot of opportunity to reconsider space efficiencies and I think we are facing a massive period of change." Undaunted, Jenkins is relishing the challenge. "One of the great things that is happening now is we can concentrate on reflecting culture rather than providing a means of support."
At the moment, the company is working on a new product for Herman Miller. It's strictly on the QT for now, but it leads me to another question.
Do furniture giants like Herman Miller have too much influence on the way we work?
For Jenkins, the answer is multi-layered. "From our own observations, large organisations like Microsoft or Cisco are companies that enable the way we work. That feeds through to manufacturers; it creates the briefs and sets the bar."
Alongside this trickle-down effect is the furniture companies' own research. Jenkins points out that firms such as Steelcase and Herman Miller spend a fortune on R&D and future trends. The new ideas, he believes, are invaluable to companies that lack the financial clout to flesh out their own workplace strategies. "Of course, then there are the companies that see what Herman Miller are doing and just copy it."
Jenkins demonstrates a considerable empathy when it comes to this touchy subject, comparing design to creating a totally new piece of music with a finite number of notes.
"It is very easy to be critical of things that copy other ideas, but inevitably things come into the market as an originator, and anything that comes after is bound to be peering over its shoulder." BroomeJenkins' most recent launch is Meet-U, a conference table system for manufacturer Burgess Furniture's new workplace/hospitality spinoff, Burgess Works.
Tapping into the company's existing knowledge of desk design, Jenkins decided to push the product's flexibility. A simple metal plate concealed underneath the tabletop slides out to attach to the next link in the chain, allowing for a myriad of configurations. It's an effective approach made possible by the frame's straightforward engineering.
"Clients want to eliminate risk. To survive, you need to keep innovating, and carve that niche in the market"
In this instance, Jenkins applied techniques to the corporate hospitality world honed in the workplace. This highlights an aspect of BroomeJenkins' modus operandi, which sets it apart from many small design companies.
Although specialising in workplace design, the company has its fingers in other, surprisingly diverse pies. In his later years as director of PSD Associates, Jenkins became increasingly involved with urban regeneration projects. This aspect has to an extent been carried over into BroomeJenkins' work, which positions itself somewhere between product design and architecture.
"I think if I had my time again I would have gone into architecture rather than product design," Jenkins says.
It is not unusual for architects to dabble in product design – David Chipperfield was the last big name to have a pop, with a folding chair for Alessi – but for the creative juices to flow the other way is rarer.
It is something that Jenkins clearly enjoys, though, and it has seen the company experiment with a variety of public works including temporary bus shelters with concrete bases (the idea was to avoid digging up roads to install them) and some beach huts for the Selsey Coastal Trust, Jenkins' personal favourite."We cannot limit where the inspiration comes from. My broader interest lies in the public realm and how cities develop and some of that has a direct relation to the workplace." The beach huts may seem an unlikely project, but since decamping to Chichester from London, Jenkins has found the best place to kick-start the grey matter is on nearby West Wittering beach: "It's a tremendously calming influence."
BroomeJenkins' work has become far more research-led, resulting in a strange paradox. Although keen to pursue other fields, overall Jenkins believes that the future lies in specialist design.
"Briefs are getting tighter and clients want to eliminate risk. They want to know if you have done it before. I would love to design a yacht but I don't have that naval knowledge; it's just a fancy. To survive, I think you need to keep innovating, and carve that niche in the market."