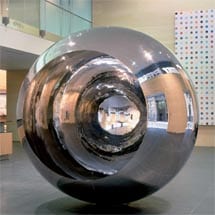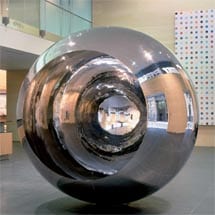 Words by Frederika Whitehead
Frederika Whitehead talks to representatives from companies that are leading the way in sponsoring
the arts and asks, what's in it for them?
Private companies spent a whopping £530 million in arts and culture in 2005-6. Art, of course, is a sound investment. With some careful research and considered advice it is fairly easy to make money from an in-house art collection – but the motivation for companies to buy art is not only financial.
The most obvious added benefit is that artworks can improve the office environment, making it a brighter, nicer and more interesting place to inhabit. And once you've finished cheering the staff up, there is the bonus of an enhanced public image. A carefully chosen crop of works made by rising stars can bolster a company's reputation. Nothing says "Look at us: we are stylish, cultured and we have our fingers on the pulse" like a well-selected display of cutting-edge art.
So that's money in the bank, a nicer-looking office to make staff happy and a shiny new public image. The fourth most popular reason cited by organisations wanting to stimulate creativity in their workforce was improvement to the psychological wellbeing of staff. They also said that the process of choosing and installing new artworks in the office space increased sociability. Staff who had never spoken before would find themselves side-by-side on a selection panel discussing the merits of hanging a Damien Hirst in the canteen or a Tracey Emin in the lobby.
Channel 4 recently launched ART4, the new collection of contemporary art for display in its London headquarters. A panel of art world insiders was asked to suggest works to collect and commission, but the final decisions were made by a committee of Channel 4 staff. A company representative, Cristina Fedi, explained that, "It is about making people feel their workplace is creative in all its aspects and it's about transmitting that creativity into their work."
Alistair Hicks, art advisor for Deutsche Bank, which, with just over 50,000 artworks, has the largest corporate collection of contemporary art in the world, made a similar point: "One of the important things for the company in its policy towards collecting contemporary art is that putting art on the walls improves the environment and brings ideas into the office. It keeps the staff's minds open at all times and, in business terms, obviously this is good."
The legal firm Geldards recently moved into new offices at the Arc in Nottingham. Together with local artist collective Contemporary Independent Artists – who it found through the government advisory body Arts & Business – it commissioned nine artists to produce site-specific pieces for its meeting rooms, board room, reception and lobby area. Geldards also chose to involve staff in the selection process, resulting in a unique collection of locally produced artworks. It now holds four temporary exhibitions a year and at the end of each exhibition staff vote on their favourite piece of work, which the company then buys for its permanent collection.
Any business wanting to invest in art needs to find a suitable advisor. Since a vague request for "some art for our office" could land a company with a gilt-framed oil portrait of the company director or a selection of chain-store Impressionist prints, it is essential that businesses find someone that fully understands their requirements.
The range of services offered by the people who call themselves art consultants is variable. It ranges from the odd-job man with a good eye who will come around and hang a few pictures to financial experts who have chosen to specialise in the art market and will suggest works of up-and-coming artists based on probable financial gain. Many of the large investments banks now offer art advisory services aimed at individuals and other companies.
Going back to school might be helpful. Most of the larger auction houses will offer both on and off-site advice and training for those interested in entering the art market. The Contemporary Art Society (CAS) also runs a group called Blood – an events-based membership club run by a committee of art world professionals. Blood members visit galleries out-of-hours and meet gallerists, curators and artists to discuss potential purchases.
Other top tips from the consultants for getting to know what's what in the world of art include attending art fairs and degree shows, and assiduously reading the art press, auction reports and newspaper reviews. Would-be investors are advised to look out for young artists whose work seems to be gaining prominence. Questions for dealers should include who else owns work by the artist, how widely has his or her work been seen and is it on tour now. It is also important to know if the artist been nominated for any awards.
CAS is the grandaddy of art consultants. It was the first organisation in the UK to start advising companies on their art collections, beginning with De Beers in the 1970s. Others that have followed include the British Airports Authority, NatWest, Imperial Chemical Industries, Glaxo, Seagram, Unilever, Pearson, Pearl Assurance, British United Provident Association and etc.venues.
What makes CAS unique is that consultancy is not its raison d'être – it is a registered charity set up to promote the collecting of contemporary art. The money it raises through the provision of advice and guidance to companies is used to buy art, which it donates to public museums. Because of its links to the museum sector, it has immense intellectual kudos as an art advisor.
Curator of projects for CAS, Nour Wali, is currently working with the Economist group curating exhibitions for its sculpture plaza. It is currently showing a sculpture by Matt Franks, a white polyurethane cartoon style explosion called Foooom!!!,created in 2007.
Jackie Keane, head of global marketing at the Economist, told Wali that she loved the Matt Franks installation because it represents everything that the company is trying to express through the arts: the explosive cloud as a brainstorm of thought, innovation and thinking outside the box.
Wali says: "The Economist as an intellectual organisation is very interested in new thinking and intellectual innovation. Matt Franks is the kind of artist they want to be working with because he has shown at the Tate Art Now space and he represents the younger, emerging generation of artists. He has toured international shows. The Economist might be seen by some as being a conservative organisation but with this choice of art they are thwarting expectations."
Wali also acts as the consultant curator for etc.venues, which provides spaces for meetings, training and conferences. It wanted a selection of works that could improve the service it offers and make its venues memorable to visitors. Wali introduced the company to artists Lothar Götz, Cerith Wyn Evans and Adam Dant.
Götz produced the site-specific installation Canopy for the reception at the offices of etc.venues in Hatton Wall. Canopy is a wall painting that evokes a temporary space, somewhere to eat food, camp, pass through. For visitors to the building, who have come for training sessions and meetings, the reception is a transient space. The idea behind Canopy is that it will both empty their minds of the day they have had so far and stimulate their thinking before they enter the meeting rooms.
Wyn Evans' work Later that Day… is subtle yet effective. The phrase is reproduced in neon on a wall in the underground cafeteria. The effect is that visiting diners become like actors on a stage or a still from a cartoon, the sign above their heads acting as their subtitle.
What makes art good for your office is exactly the same as what makes art good anywhere else. Good works are the ones that make you stop for a moment and think, that make you see your surroundings afresh. If an artwork can do that then it is likely to stimulate the people who live and work around it. And if you happen to have bought a piece from a young artist who turns out to be the next Tracey Emin, Barbara Kruger or Sol LeWitt, well, so much the better.
WHO TO CONTACT
ADVISORY BODY
Arts and business www.aandb.org.uk
CONSULTANCIES
The Contemporary Art Society www.contempart.org.uk
Blood www.bloodarts.org
ART FAIRS
The Affordable Art Fair, Autumn Collection,
18-21 October 2007 www.affordableartfair.co.uk
Frieze Art Fair, 11-14 October 2007
www.friezeartfair.com
ESTABLISHED COLLECTORS
Deutsche Bank www.deutsche-bank-art.com
Channel 4 ART4 www.channel4.com/art4
etc.venues www.etcvenues.co.uk