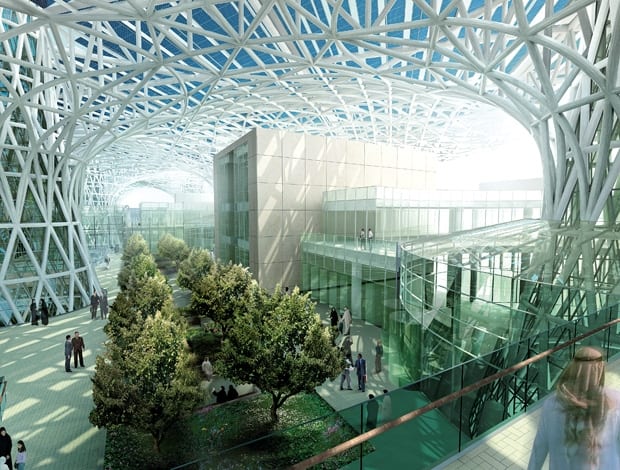 Masdar's roof garden by Adrian Smith + Gordon Gill Architecture|The world's first (and only) Ferrari theme park is due to open in 2010|Doubts remain over the future of Masdar zero-carbon city masterplanned by Foster + Partners|Under construction: the Corniche district is being peppered with high-rise buildings|Abu Dhabi marine operating headquarters|Yas Marina hotel, part of the Yas Island entertainment district|Abu Dhabi's World Trade Centre||
Abu Dhabi has replaced Dubai as the booming centre for construction of office and commercial space. Michael Willoughby explains why
When Dubai property developer Nakheel, owned by Dubai World, threatened to default on a $4.05bn sukuk or bond in December last year, it was fellow United Arab Emirate Abu Dhabi that saved the day, releasing $10bn to more than cover repayments. The incident marked the low point of Dubai's construction boom and subsequent bust, perhaps the most extraordinary and flamboyant the world has ever seen.
Analysts estimate the region owes more than the $90bn (£57bn) it admits to, including billions due to UK contractors. The government has recently said it would pay all creditors back over a period of five to eight years.
With Dubai a basket case and more traditional commercial markets at home, in Europe and in the US likely to remain subdued for the near future, a large number of consultants and contractors are now turning to Abu Dhabi for a much-needed source of cash flow. In the past year, firms such as Artillery Architecture, BDP and the Interiors Group have established operations there.
And with good reason. The emirate, which has an estimated 92 percent of the region's oil wealth versus less than 6 percent in Dubai, wants to take its population from around 1.5m currently to three or even five million in the next 30 years. Meanwhile, analysts estimate that the amount of Grade A office space is set to double by 2012. Commercial, residential, leisure, hotel and retail facilities are set to follow suit.
However, unlike the uncontrolled expansion that occurred in Dubai, new growth in Abu Dhabi is planned and laid out in a 180-page document which was published in 2007.
The emirate has been praised for its foresighted vision of public transportation, infrastructure growth, phasing and preservation of both human and natural habitats. The 30-year plan divides the emirate into around 20 different districts, many of which have been well-publicised and include a nature reserve, Lulu Island, a cultural quarter on Saadiyat Island set to host "district branches" of the Louvre and Guggenheim museums and a new zero-carbon city called Masdar.
"The market has increased over the last year and we are seeing a lot of people sending their London-based project managers to the UAE to work on new things"
More pertinent for UK firms, the plan also breaks down where the 7.5m sq m of office provision will be by 2030. The capital core will host 1.9m sq m, where much current office space is on its last legs.
Another 1.6m sq m is planned for the Central Business District Financial Centre which comes with a new stock exchange. Al Suwwah, Al Reem and Al Mina islands provide another 1.2m sq m of office space. Despite its oil wealth, Abu Dhabi was not immune from the credit crunch. It suffered the type of market freeze which was seen globally.
However, vacancy rates are lower than Dubai (6 percent vs 30 percent) and much local stock is not fit for purpose, agent Jones Lang La Salle told the local business paper, Gulf News recently. So while rents fell in Abu Dhabi, they only toppled 25 percent from the peak. Work is now picking up again in certain regions.
John Ellis, business development director for the South East Centre for the Built Environment (SECBE) which helps UK firms to do business in the Middle Eastern-North African (MENA) countries, agrees: "Work is happening in very specific areas," he says. "Some projects have been delayed, others have been cancelled, but it's still looking very positive if you take a medium or long-term view."
Apart from this, UK firms say they feel more at home in Abu Dhabi than Dubai. It's more conservative and has a pre-existing townscape. If anything, things happen too slowly here rather than too quickly and the emirate is too cautious.
For example, in November, the emirate reigned back the amount of residential and office space that it would allow to be built over the next couple of years, to only 3,500 homes and 140,000sq m of commercial space, to limit the fall in prices. This was even though Abu Dhabi has a 20,000 home shortage.
Andy Locke, sales director at fit-out company the Interiors Group, said he immediately felt at home in Abu Dhabi: "Two years ago, we were convinced we should move to Dubai, but then we spent two days there and two days in Abu Dhabi," he says. "We immediately felt … there was a synergy with us that Dubai didn't offer. It was over-cooked and felt like it was a bubble waiting to burst. It's just no one in Dubai would talk about it."
The group now has a handful of people on the ground in Abu Dhabi: an ex-pat who knows what Locke calls the "pitfalls" of the marketplace and pre-contract and quantity surveyor facility.
"Some projects have been delayed, others have been cancelled, but it's still looking very positive if you take a medium or long-term view"
It has recently signed up a "mixed bag" of projects, including the administrative offices of a US private clinic and those for a government agency, a US project management consultancy and the firm's own solicitors' practice. Liz Walsh, sales and marketing manager for Artillery Group, which opened up an office in the region in December is also focusing on refit.
She agrees that there is a lot of confidence in the region. Her firm is supporting its London clients out there and, she says, providing a similar service to the one they would expect at home. Walsh says the group is supporting many large firms, particularly in the financial, legal and insurance sectors.
"The market has increased over the last year and we are seeing a lot of people sending their London-based project managers to the UAE to work on new things. It's hard to be anything but positive," she says.
Another plus is that Abu Dhabi's plans have incorporated improvements to infrastructure: tunnels, road and sewer widening, and the Al Salam Street expressway are all under way or nearing completion.
"In Dubai there are," says Locke, "beautiful buildings standing completely unused because there's no services or roads to feed them."
That's not to say the construction market is as efficient as we are used to. A recent rush to complete the F1 track caused 10,000 workers to descend on Yas Island, leaving other construction projects idle for weeks. A caution for fit-out firms there is a lumpiness about the supply of Cat A space. Much is expected to be completed in the next year to 18 months.
Locke says this has left him fending off requests for proposals from other countries, such as Qatar. But with new office stock set to grow by 50 percent by 2012, only time will tell whether the level of growth is more sustainable than in Dubai.
A new global property market has yet to become clear. Still, an underlying optimism is noticeable. Colin Calderhead, regional director of 3DReid, says that although conditions are currently difficult, a cautious growth would return, helped by the 30-year plan.
"Perhaps what both Abu Dhabi and Dubai possess is a bigger dream than elsewhere," he adds. "So while that dream remains – perhaps at this moment, slightly out of reach – it is still enough to inspire the architects, engineers, bankers, oil and gas workers to want to remain a part of it."