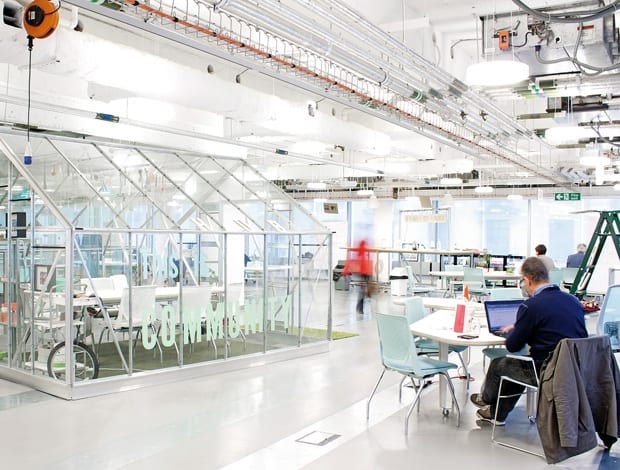 40% owned by the council, Hub Westminster is where start-ups take root|Desks areas are built at an angle "to give a little nudge to collaboration"|Scaffolding poles and CNC timber make up the open-source "wikitables"||
It's first thing on Monday morning and the team behind start-up superstudio Hub Westminster have got the coffee on, but it doesn't feel like they really need the caffeine hit. If Ken Livingstone was said to think in soundbites, these guys have them hardwired into their brains. And that's not a diss. "We're like a 21st-century members' club," begins Alice Fung, co-founder of this Hub, the latest incarnation in what has become a 28-strong global network of places for small businesses to come, grow and flourish. "It's not a static environment, it's a catalyst for diverse use," adds Joni Steiner, a designer with 00:/, the strategy and design practice that worked on the fitout.
Steiner continues: "The first Hub in London, in Angel, had more of a hippy vibe and the second in King's Cross was more accessible for businesspeople, with more high quality finishes. This place is faster-paced and experimental, though there are still a lot of the same principles that tie all the Hubs together."
The official Hub blurb talks in highfalutin terms of "helping entrepreneurs and changemakers drive the impact economy," but put simply, if you're a small company looking to meet equally driven, equally creative people; if you're not averse to the whole rough-and-ready aesthetic; and if you prefer Pall Mall to Old Street – then this is your kinda place.
Hub Westminster covers 1,115sq m on the first floor of New Zealand House on Haymarket. It used to be the place where you'd go to appeal about parking tickets, and was previously a warren-like set of cellular offices. "We wanted to change that bad vibe," says Steiner. "Once we got rid of the partitions, we found we had this amazing big open space to play with." His colleague at 00:/, architect Lynton Pepper, continues: "It had a low ceiling and brown carpet so the project was a lot about taking things away and simplifying the space."
The services were spray-painted white and 00:/ set about creating a series of different work settings, from smaller soft spaces to a large conference room. The cafe, where my tour begins, is intended for use for two to three hours at a time. "Writable surfaces and things on wheels are really important," says Fung, while Steiner ably demonstrates how users keep the noise down by enclosing a meeting table with whiteboards. It's hard not to be drawn in to their enthusiasm, and they've barely even started.
Next, we're whizzing past the beanbags, the greenhouse meeting space and some high chairs and desks. Even the more regular-looking workstations are not quite what they seem. "The tables have been built at an angle to give a little nudge to collaboration," says Fung. The tables consist of leaves that can be extended for more space or folded away as required.
Steiner then wheels up a mobile storage unit "pet", designed by Umut Yamaç of design studio Rus in Urbe, that doubles up as an extra meeting seat. Needless to say, this young design practice has had a lot of fun in the workspace: for example, relay cords can be pulled down from the ceiling to provide extra power points. You really believe them when 00:/ talk of one day creating a hydroponic area in the ceiling for growing mint for a high-level hit of freshness.
Then it's up and into the Wiki, a wooden raised meeting area that 00:/ designed themselves and offered up to open sourcing – they worked with programmers, so the design can be replicated and evolved through people using it online. Also on the theme of reuse, East London Furniture has made shelving from upcycled repurposed elements including timber studwork and ceiling tiles, while 00:/ has used offcuts from meeting-table legs to make a screen.
It's not all emerging design talent though. 00:/ is working with furniture giant Haworth on exploring future workplace set-ups and Muraspec has supplied a wall of whiteboard paint in a workshop room. Much of the lighting comes courtesy of Spectral, part of the RIDI portfolio, which supplied more than a hundred Iris pendants, specified with their circuitry exposed to match the other exposed services.
Scaffolding poles really come into their own in this office too. They make up a freestanding bar in the cafe, as well as bleacher-style seating, plus they frame off the adjacent self-service kitchen. The kitchen is named Escoffier's, in honour of the chef who worked at the hotel owned by the Ritz group that was once located on the site. A nice touch. Plants wind their way around the scaffolding here and Fung points out that they have a "growing club" for the green-fingered Hub members. There's a poster advertising yoga too. It's probably the closest that the 21st-century twentysomething office worker will get to the 1970s ideal of communal living. But with more social media and no rota to clean the compost toilet. Oh, and some serious business talk to back everything up too.
"There are three parts to the business," explains Fung. "It's a place to work, a place to learn and a place to get investment. All three help to drive new members." Hub Westminster, which is 40% owned by the local council, is based on a pay-by-time membership model, where tariffs range from an unbelievably small £20 through to £350 per month.
Members can switch between tariffs on a month-by-month basis, with off-peak tariffs for students and others who want to make use of the space outside of regular working hours. "We have an ideal quota from each membership type, and we want enough churn so the community doesn't feel static. We also want to members to take ownership of the space," says Fung.
As if to ably demonstrate this, we see a couple pushing a table half-way around the doughnut-shaped space. We then also come across some old first-class airline seats – bought and installed by another member. "We want to allow members to imprint on the space," says Fung finally. "It's 50% designed by the 00:/ team and 50% by the members themselves. We really wanted to allow things to happen."